Check Out 5 Teammates who became bitter enemies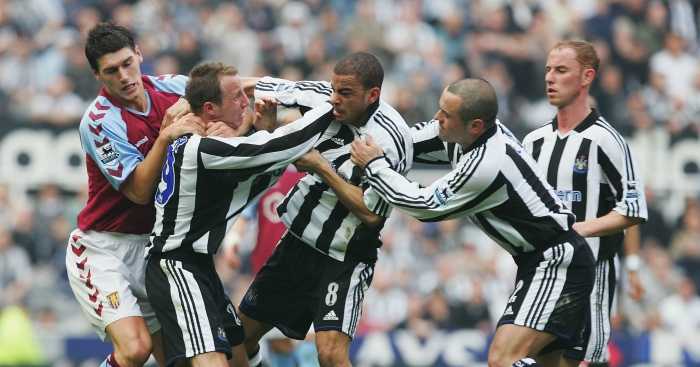 From blaming each other for the team poor performance to sleeping with teammate girlfriend, check out five teammates who became bitter enemies
Rooney vs. Ronaldo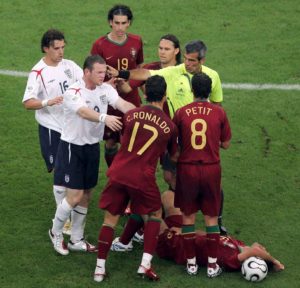 Although this rivalry did not last long, it had huge on the field implications. In the 2006 world cup England played Portugal in possibly the most boring quarter-final ever until the 62nd minutes when Rooney got confused on which kind of ball he was meant to kick and left Carvalho in unbearable pain.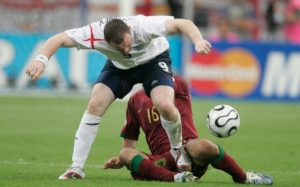 Ronaldo has the good sportsman he is sprinted to the Argentine ref to persuade him to have club teammate sent off which he succeeded in. Rooney felt betrayed has a red card was shown, and Ronaldo infamous wink cemented the fact that a knife has been firmly placed in Rooney's back.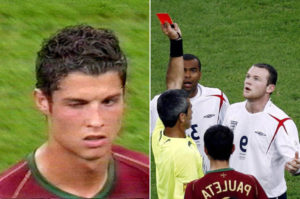 Portugal when on to win the game on Penalties with Ronaldo scoring the winner. The on-field moment in Germany turns Ronaldo from hero to temporary villain in Manchester. The problem almost pushed him to, but luckily Sir Alex Ferguson was there to calm things down, and Ronaldo enjoyed another three years at the club before leaving for Real Madrid
Wayne bridge vs. John Terry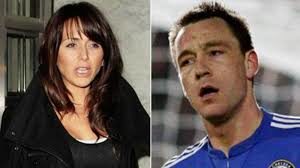 When you mention the name Wayne bridge must people don't think of the premier league, FA cup and league cup he won with Chelsea or the fact that he was in PFA premier league team of the season in 2002. The first thing we think of is John Terry and the infamous handshake. The Blues captain had a series of love affairs with former club and country teammate Ex-girlfriend.
Nothing they say last forever, and after some months, the whole world found out. Wayne bridge was furious had publicly announced he does not want to be part of the England team.
Kolo Toure and William Gallas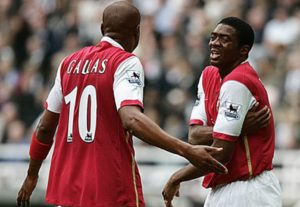 Kolo Toure enjoyed an healthy seven years with the Gunners picking up an undefeated season with Sol Campbell as his defensive partner. All was rosy until Campbell left for Portsmouth in 2006 and his replacement William Gallas came and shook things up with Toure.
The tension was set to have started after Gunners conceded a late equalizer against Newcastle in the 2007/2008 season and Gallas blamed Toure for the goal. Temper flared, and the two got into a heated argument in the dressing room after the game. Kolo was dropped for the next match which infuriated him to hand in a transfer request. Things got worse as both players avoid talking to each other while on the field. Toure later moved to Manchester city while Gallas left for Totheanm.
John Terry vs. Rio Ferdinand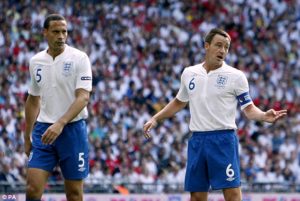 Suprise, Suprise it is John Terry again. Less than two years news broke about is scandalous with Wayne Bridge's girlfriend went on to call QPR defender Anto Ferdinand a black Co*k on the field. This time a newspaper investigation to reveal what was said because everyone saw the video evidence. This led to a fierce clash with England defensive partner and Anto's brother Rio who label the FA a joke for their dealing with this situation.
Lee Bowyer vs Kieron Dyer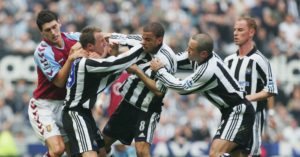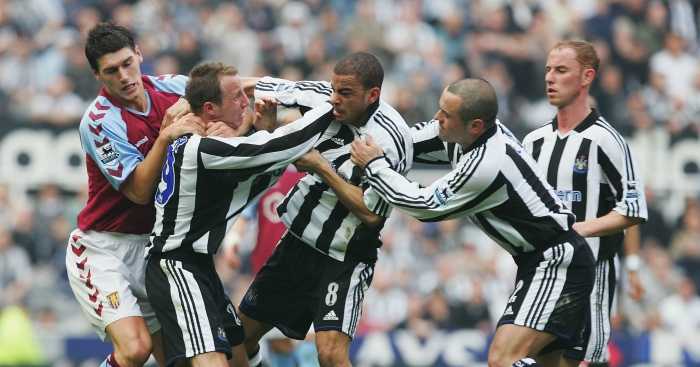 In 2005, the whole world was shocked when Newcastle midfielders- Lee Bowyer and Kieron Dyer went into a brawl in front of 52,000 fans after Barry scored his second goal and Aston villa's third of the game. It understandable to be furious to be losing 0-3 at home but the two lost their heads when they blamed each other for the 3rd goal, and within seconds they both started exchanging punches. The pair were sent both off, and the fight continued in the dressing room until their coach came to calm things down
Tags :
English Premier League
Football