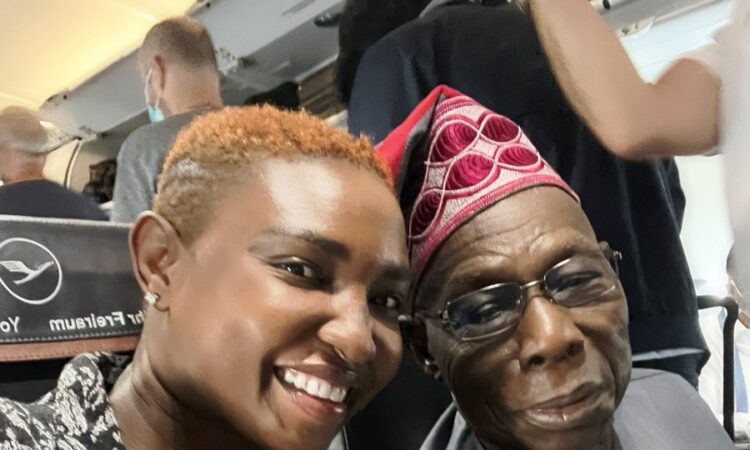 Popular social media influencer and writer, Ifedayo Agoro has taken to twitter to share the series of questions she asked former president Olusegun Obasanjo on the plane.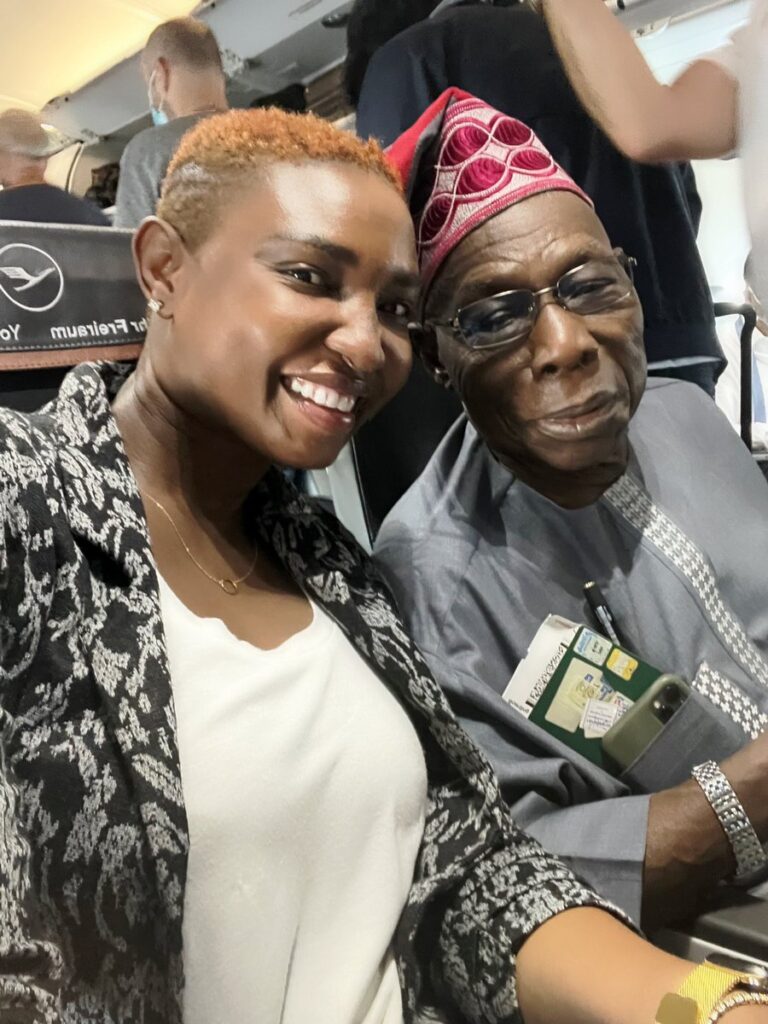 According to her, the moment she saw President Obasanjo at the airport, she asked God to allow her to speak with him. She also went further to pray that God should allow her sit beside him.
Unfortunately she didn't sit besides him until she asked a passenger to swap seats which he agreed without complaining.
According to Ife, Chief Olusegun Obasanjo was friendly and answered all of her questions with open hearts.
The writer also said that Obasanjo revealed to her that he made a mistake supporting Buhari and that he knows nothing about the Economy.
Obasanjo also revealed that he never wanted a third term and that if he wanted a 3rd term, he would have gotten it.
Below is the full questions and answers culled from @diaryofa9jagirl.
Me: What would you say about Buhari and how he has managed the country so far?
OBJ: I made a mistake supporting Buhari, he knew nothing about the Economy.
Me: So why did you and Babangida support him?
OBJ: Because we thought he would fight corruption and insecurity …then hire people who know about economy and infrastructure. Big mistake.
Me: From where you sit, what's the general character of the Nigerian Youth?
OBJ: The youths can't agree. Not only do you not agree, many of you are still confused as to who to vote for.
Me: Are you a feminist?
OBJ: What is that? Why is there feminism? Why don't you ask me if I'm a manist?
Me: Because women have been subjugated for the longest time and not given equal treatment as men- morally, socially, financially…
OBJ: I don't believe that is a general truth. My first child is a female, her name is Iyabo. She is the head of the family, nothing happens in the family without her knowledge, she is given all due respect as such. I give people responsibilities according to their capacity.
Not their gender. Look at how many women I hired when I was president. Personally, I believe women take their jobs more seriously than men, but as I said, different people, different capacities.
Me: So you're a feminist
OBJ: No, I'm a humanist.
Me: How has aging affected your life view?
OBJ: I have no regrets…When you've done everything at a certain age and you have the grace to still be alive, all you can continue to do is better your immediate environment,which then grows into bettering the world.
Me: Does this mean you feel at peace with how you left the country after your tenure?
OBJ: Yes. I did all I could with the resources I had then, even though I didn't do all I wanted to do. [Pause] No one is perfect.
Me: Is that Why you wanted a third term? Because you felt you hadn't finished what you wanted to do
OBJ: I didn't want a third term, if I wanted a 3rd term, I would have gotten it.