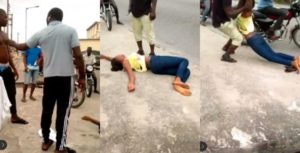 An unknown lady took to the streets of Lagos this morning to cause a big scene as she fainted repeatedly after begging her boyfriend to marry her.
According to eyewitnesses  the young lady was screaming and crying for her boyfriend to marry her or else she will die.
Rumors has it that the lovers have been dating for more than 3 years which necessitated the woman to act that way.
A young man with his clothes off, believed to be the boyfriend was heard saying;
this girl go put me for problem, what's all this na, which kind scam be this