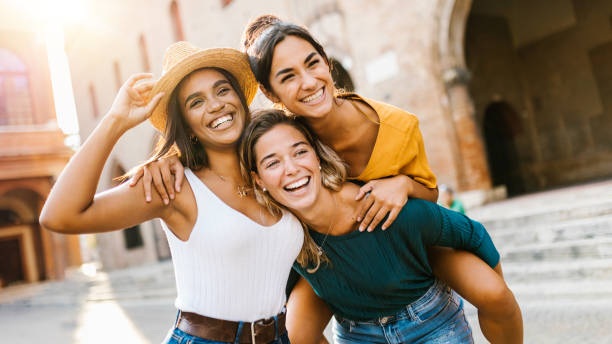 Multiethnic group of three happy young women having fun on summer vacation - Diverse female friends laughing together during their holidays - Multicultural united people concept
Making friends can be hard, especially if you're new to an area or are just starting at a new school.
There are plenty of apps that can help you find new people to meet and hang out with, but not all of them are good. Some of them even charge you money or have other hidden costs.
We've rounded up ten of the best totally free ways to make friends online. Check them out below:
10 Best Apps for Making Friends in 2023
1. Facebook
It's no secret that Facebook is one of the best ways to make new friends and stay connected with old ones. If you already have a Facebook account, then you're halfway there! Just use Facebook's friend search feature (found under the "Friends" tab) to find people who live near you. If they accept your request, then you've got yourself a friend!
2. Meetup
Meetup is a great place to find people who share your interests. You can join groups or start your own, and Meetup will help you find events happening in your city.
Meetup is free to use, but if you want to unlock more features and make it easier to find events near you, there are paid subscriptions available too.
The app has a lot of positive reviews on the Google Play Store and has been downloaded more than 3 million times.
If there isn't an event nearby that interests you, create your own! Meetup makes it easy for anyone with an idea for an event to create their own group and invite others to come along.
3. Bumble
Bumble is a dating app that's all about making friends. The idea is simple: You swipe through potential matches and if you find someone you like, you can start a conversation. If not, the match disappears after 24 hours.
Bumble launched in 2014 as a response to online harassment and other problems women face when using dating apps. It was originally just for women, but now there are also Bumble Boosts for men who want to make more connections.
The app has grown into a larger social network with its own events and groups — although there are still plenty of people on it looking for love too.
4. Meetme
Meetme is a popular, free app that allows you to find new friends in your area. It has a friendly user interface and a broad range of features. The app allows you to connect with people in your area and make new friends. You can meet new people from all over the world who share common interests with you, or just chat with people near you.
MeetMe has different categories such as dating, dancing, fitness, friendship and more. It also has an option where you can see the nearby users' profiles and check out what they are doing at that moment. The MeetMe app also has many features such as chat rooms, photo sharing etc., which make it easier for users to interact with each other.
5. Hoop
Hoop is a social networking app that allows you to share videos and photos with friends, as well as meet new people. It's available for both iOS and Android devices.
Hoop is a fun app to use if you enjoy making videos or taking photos, or if you like to keep in touch with your friends on a regular basis. You can also send private messages to other users, which makes it a great way to make new friends and stay in touch with old ones.
The main selling point of Hoop is its ability to allow users to create short videos, which are then shared with other users through the app. This makes it easy for people who might not be comfortable talking face-to-face with their friends to share things they wouldn't normally share otherwise.
The user interface of Hoop is simple and intuitive, making it easy for anyone who wants to use it without having any experience with video editing software or similar programs. The app also has plenty of privacy settings so that you can decide exactly who sees what content on your profile page.
5. Hey! Vina
Hey! Vina is a dating app that caters to women. The app is designed to help women find new friends in their area, as well as make plans with them. Hey! Vina was created by the same company behind Match Group, which owns Tinder, Plenty of Fish and OkCupid.
This means you can expect a similar level of user experience from Hey! Vina. The app has a great design, and it's easy to navigate around the different features. There are some annoying ads here and there, but nothing too bad.
One of the best features about this app is its ability to match you with other women who have similar interests. For example, if you love hiking or going to rock concerts on the weekends, then Hey! Vina will find other users who enjoy these activities as well.
6. Twitter
Twitter is one of the most popular social media platforms in the world. It's a great way to share your ideas, connect with people and find new friends.
If you aren't already using Twitter, it can seem like a daunting task to sign up and figure out how to use the app. You may be wondering if it's worth signing up for or not. The answer is yes! Here are some reasons why:
Twitter has over 300 million active users, which means there are tons of people on Twitter who want to connect with others.
The interface is simple and easy to use, even if you haven't used Twitter before.
You can follow other people who share similar interests as you and learn more about them through their tweets (which are short posts).
7. Deiteu
Deiteu is an app that helps you meet people nearby and around the world. You can use Deiteu to find people who share your interests, such as hiking or travel, or simply connect with new friends through chat and messaging features. The app also has a dating feature, so you can use Deiteu for romantic connections as well as friendships.
8. Friender
Friender is a great app to make new friends and meet new people. It lets you set up a profile and search for friends based on your location or interests. You can chat with other users, share photos, and make plans to meet in real life.
Friender is a fun way to find new friends and make plans with them. The app's design is simple and easy to use, but there are some features that could be improved. For example, it would be nice if the app had more filtering options so that you could narrow down your searches by age range or location.
9. Yubo
Yubo is a social networking app that allows users to meet new people and make friends. It's similar to other apps like MeetMe and Highlight, but it has a different focus: Yubo is more about meeting people nearby and making plans to hang out.
The app uses your location to find potential matches who are nearby, so you can connect with them through the app's messaging service or by sharing photos with one another. You can also use Yubo to meet new people at events near you by searching for events in your area.
You can post status updates, photos, and videos, as well as send direct messages to other users. Yubo also has an "Intro" feature that lets you send out personalized messages to people who live near you.
10. BarkHappy
BarkHappy is yet a friendship platform for dog-lovers and dog-owners. It aims to connect people who share the same level of love and care for their animal friends. According to its developers, the app is dedicated to making dogs and their owners happy and social.
The app offers several features that are dedicated to serving pups and their owners. Some of these features include dog-friendly events and special products and deals. Note, however, that the special products and deals are exclusive to BarkHappy members. It is a free app, but you need to register in order to get these deals.