Top 10 Richest Pastors In Nigeria 2024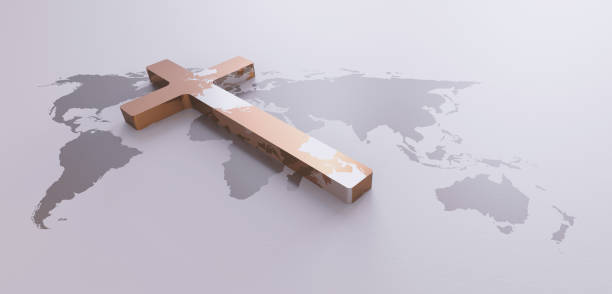 The holy cross of Jesus Christ, world map, global missions and evangelism
Nigeria is home to hundreds of successful pastors who have built thriving ministries over the years. Some of these men of God have grown tremendously wealthy due to the size and resources of their churches.
As we roll into the new year 2024, here is an updated list of the top 10 richest pastors in Nigeria based on their estimated net worth:
Top 10 Richest Pastors In Nigeria 2024
Bishop David Oyedepo
Estimated Net Worth – $150 million
Heading our list of richest pastors in Nigeria is Bishop David Oyedepo, the founder and presiding bishop of the Living Faith Church World Wide, also known as Winners Chapel. With its headquarters in Ota, Ogun State, Winners Chapel is one of the largest churches in the world and has parishes established in over 300 cities, in over 60 nations of the world.
Bishop David Oyedepo is regarded as the richest preacher in Nigeria with an estimated current net worth of $150 million. His publishing outfit, Dominion Publishing House, publishes all his books as well as those of other anointed authors. He also owns two private jets and four helicopters, as well as several luxury homes in Nigeria and the UK. The ambitious bishop is also involved in various business activities such as Real Estate, Agriculture, Transportation and Education. He controls the Covenant University, Landmark University, and Faith Tabernacle (a 50,000 seat auditorium – one of the largest church buildings in the world). No doubt, Bishop Oyedepo exemplifies success, influence and wealth.
Pastor Enoch Adeboye
Estimated Net Worth – $120 Million
At number two of the richest pastors in Nigeria is Pastor Enoch Adeboye, the General Overseer of the Redeemed Christian Church of God. Pastor Adejboye is well respected across Nigeria as a man of integrity and great faith. Through his leadership, the RCCG has grown into one of the largest evangelical church denominations in the world, with churches established in over 198 countries and territories around the world.
With over 15 million members worldwide, the Redeemed Christian Church of God is one of the largest churches in Nigeria. Pastor Adeboye's weekly national broadcasts attract viewing figures estimated to be in millions. He also owns a private jet and shares ownership of Miracle TV, one of the largest Christian television networks in the world. His net worth is estimated to be at $120 million, making him one of the richest men in Nigeria.
Pastor Chris Oyakhilome
Estimated Net Worth – $50 Million
In third position is Pastor Chris Oyakhilome, the founder and president of Believers' Love World, also known as Christ Embassy. With his inspirational teachings available through various media outlets, his ministry has an enormous global reach estimated to be over 50 million people from different parts of the world.
Pastor Chris owns two private jets and is the owner of Nigeria's second largest broadcast network – LoveWorld TV, as well as several satellite Televisions and gospel music production houses in South Africa, United Kingdom, and several African countries. He owns luxury properties in Lagos and Johannesburg estimated to be worth over $50 million. With these assets and his multiple business interests, Pastor Chris Oyakhilome is regarded as one of the richest men in the country.
Pastor Matthew Ashimolowo
Estimated Net Worth – $20 Million
One of the prominent pastors in London, UK is Matthew Ashimolowo, founder and senior pastor of Kingsway International Christian Centre (KICC). KICC boasts a 7,000-seater auditorium and three other London sites.
Coming to Nigeria, Pastor Matthew owns the now defunct Hillside Television Network (KICC TV) and also has an indigenous church in Lagos called Winners Chapel International. With ongoing real estate projects in London and Nigeria, the respected preacher has amassed an estimated net worth of $20 million.
Pastor Sam Adeyemi
Estimated Net Worth – $15 Million
With an estimated net worth of $15 million, Sam Adeyemi stands out as one of the richest pastors in Nigeria. He is the founder and senior pastor of Daystar Christian Centre, one of the largest churches in Africa with over 15,000 members. The ministry owns several branches of churches within Nigeria as well as abroad such as the UK, US, Canada and South Africa.
Sam Adeyemi is also a publisher and the author of several bestselling books including "Having It All" and "Great Faith". His preaching and counselling sessions attract over 15,000 people weekly. The pastor lives a modest lifestyle but wields significant influence using various media platforms to spread inspirational messages.
Pastor Paul Adefarasin
Estimated Net Worth – $8 Million
Leading the House on the Rock church is Pastor Paul Adefarasin and his wife Ifeanyi. What started as a small Bible study group has grown into a church with over 30,000 members in attendance. With branches across Nigeria, UK and US, the House on the Rock church is one of the largest in Africa.
Apart from pastoring, Paul Adefarasin is involved in various businesses including real estate, agriculture and media. He owns a mansion at Banana Island worth over N500million and luxury properties abroad. His estimated net worth stands at $8 million.
Prophet T.B. Joshua
Estimated Net Worth – $10 Million
The founder of Synagogue Church Of All Nations (SCOAN) – Prophet Temitope Balogun Joshua was one of the most influential and famous televangelists from Nigeria, with an estimated net worth of $10 million.
He attracted a large international audience through his weekly broadcast on the Emmanuel TV station. SCOAN accommodates thousands of pilgrims daily and has satellite stations across Africa, Europe and America.
Before his passing in 2021, Prophet T.B. Joshua owned properties in Nigeria and abroad worth millions of dollars. At SCOAN headquarters in Lagos, he organized free accommodation, treatment and food for thousands of pilgrims regularly. His charitable acts and fame made him one of the richest men of God in Africa.
Pastor William Kumuyi
Estimated Net Worth – $5 Million
The General Superintendent of Deeper Christian Life Ministry, Pastor William Kumuyi is renowned for his humility, dedication to spiritual matters and distaste for materialism. The Deeper Life Bible Church has millions of members globally and owns properties such as schools, hospitals and farms.
However, Pastor Kumuyi maintains a simple lifestyle while expanding the church's charitable acts. He owns a modest home and is often spotted travelling economy class. Nonetheless, the prosperity of Deeper Life Ministry under his leadership commands a personal net worth of $5 million for this iconic preacher.
Pastor Bakare
Estimated Net Worth – $4 Million
Pastor Bakare is the founder and head pastor of Citadel Global Community Church in Lagos, Nigeria. The church has grown tremendously since inception in 2001 and now has branches in other states of Nigeria and internationally.
Bakare oversees various outreaches and community development initiatives by Citadel. He resides in a palatial home and owns luxury vehicles for evangelism within and beyond Nigeria. His investments in real estate and tech ventures are estimated at $4 million.
Pastor Poju Oyemade
Estimated Net Worth – $3 Million
Covenant Christian Centre is led by the dynamic preacher – Pastor Poju Oyemade. With over 15,000 members across Lekki, Victoria Island and Mowe, he has introduced specialized programs to develop members.
A renowned author, Poju invests heavily in educational empowerment of young people. Through his software and media agency, he stays involved in community impact projects. With property holdings in prime locations of Lagos, Oyemade's net worth stands at $3 million.
In conclusion, the list of top 10 richest pastors demonstrates the huge resources available to prosperous ministries in Nigeria. While material wealth is not necessarily an indicator of godliness, it reflects the scale of vision and entrepreneurship shown by these men of God over the years. As their ministries continue expanding both locally and globally, we can expect their fortunes to increase substantially over the coming years as well.
I hope you found this article informative. Please let me know if you need any other details on these influential Nigerian pastors and their estimated wealth. I'm always happy to provide more context. Thanks for reading!