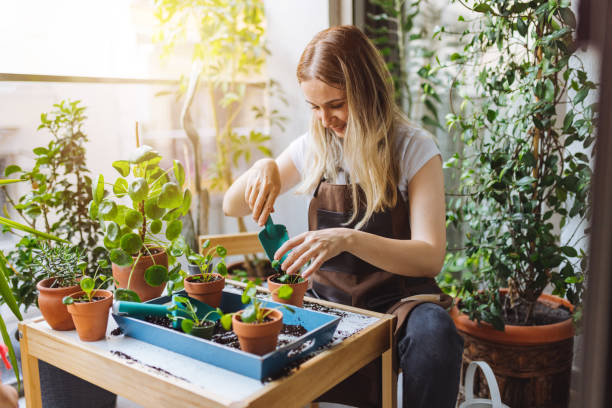 Pretty woman grows tropical plants in her garden. Gardener in working outfit looking after different exotic flower and herb. Close up of woman's hand spraying water on houseplants.
If you're looking for the best gardening apps for Android, look no further. In this article, naijmobile.com has round up the 10 best apps to help you with everything from planting and watering your garden to keeping track of your progress.
With these apps, you'll be able to get the most out of your gardening experience and make sure your plants are healthy and happy.
Best Gardening Apps for Andriod
1. Planter: Garden Planer
Planter is a gardening app that lets you plan your garden and keep track of what's been planted, where. The app has a simple interface that makes it easy to add plants and edit existing ones, as well as add notes about each plant.
Planter also includes features like reminders so you don't forget when to water or fertilize your plants, and it integrates with Google Maps so you can locate your garden on the map.
The app also has a social aspect: You can share your garden plans with friends and family members, who can then add their own plants or make changes to yours.
2. Sowing Calendar: Gardening
Sowing Calendar is a free gardening app that is available for Android and iOS. The app helps you to plan your garden by calculating the days to sow, grow and harvest your vegetables, fruits, flowers and herbs.
It has over 6,000 plant varieties that are categorized into dozens of groups like vegetables, fruits, herbs, flowers, etc. You can also add your own plants if they aren't already in the database.
The app provides you with suggestions on what to eat when and how much to eat daily based on your age, height and weight. It also includes calorie counters for food items so that you can track how many calories you consume.
This is a great tool if you want to grow your own food supply at home or just want to learn more about gardening and agriculture without having to spend money on books or classes!
3. Urban Veggie Garden
The Urban Veggie Garden app is an excellent app for those who want to start a garden but are unsure where to begin. The app's interface is very intuitive and easy to use, which makes it perfect for beginners who are just getting started with gardening.
The Urban Veggie Garden app features an extensive database of plants that can be grown in your garden, along with simple instructions on how to grow each plant. The database also includes information about soil types, temperatures and sunlight requirements for each plant.
The Urban Veggie Garden App also contains instructions on how to take care of your plants once they have been planted in your garden. It also contains information on fertilizing as well as watering techniques that can help improve the health of your plants.
4. Garden Manager: Plant Alarm
This app is a great way to help you keep track of your plants and flowers. You can use it to monitor the growth of your crops, as well as when they need watering or pruning. The app is easy to use and allows you to record all sorts of information about your plants, including their name, location and even what type of soil they're planted in. This will help you to keep track of your garden's overall health over time.
The Garden Manager: Plant Alarm also allows you to set reminders for yourself so that you don't forget when it's time to water or fertilize your plants. It even lets you know when there might be pests in your garden so that you can deal with them before they become an issue.
5. Container Gardening
Container Gardening is a gardening app that helps you to grow any vegetable or flower in containers. You can grow vegetables and flowers on your balcony, terrace or even on the floor using these app.
The app has been designed with a unique algorithm that helps you to grow plants without having to worry about the soil quality.
You can use this app to grow vegetables and fruit trees even if you don't have a green thumb. It will tell you how much water to give, when to fertilize and what kind of fertilizer should be used.
It also tells you which type of fertilizer is best for each plant. The app also has a section where it tells you what kind of insects are present on your plant and how to get rid of them.
6. Veggie Gardner Planner
Veggie Gardner Planner is a great app for the gardeners who are looking for the best gardening apps. This app allows you to keep track of all your gardening activities, like watering and fertilizing. It also allows you to create a plan and follow it accordingly.
You can plan your garden, mark the dates and times when you will do something and then use GPS to see where your plants are located in your garden so that you can take care of them properly.
The app has an inbuilt calendar which allows you to plan your tasks easily. You can also set reminders for yourself so that you don't miss any important tasks.
This app also allows users to add plants and animals into their gardens, which helps them keep track of what they have planted or added into their garden.
7. Fine Gardening
Fine Gardening is a subscription-based gardening app that offers a wealth of information on everything from plants and flowers to gardening tools, garden plans and more. The app offers users the ability to create their own garden plan and share it with others. It also provides information on local nurseries, plus tips and advice on how to grow specific plants.
The app has more than 40,000 different plants listed under its database, which includes pictures, descriptions of each plant's functions and characteristics, as well as tips on how to grow them. The app also features a "plant finder" tool that allows users to search for specific plants by name or category.
Fine Gardening is available for $5.99 for 2 months or $29.99 per year on Android devices only.
8. Candide: For Plant Lovers
This app is a perfect way to keep a record of your garden. It helps you identify and track your plants, and also offers useful tips on how to care for them. The app's database contains more than 20,000 plant species from around the world, so you can be sure that it will have what you need. This app makes it easy to keep track of your plants' growth, their size and any problems they might be having. You can also use it to record how much water or sunlight each plant receives.
If you want to know more about gardening, this app is a great choice. Find out what type of soil each plant needs and how much water or fertilizer they should get every day.
You'll also learn about common pests and diseases that affect plants in different regions around the world. This app has an extensive library with excellent pictures that show you exactly what these pests look like.
9. Plant Care Reminder: Plant Watering
This is a free app that allows you to water specific plants, flowers and trees. It's easy to use, and has an intuitive interface that makes it simple for anyone to use. This can be especially useful if you have pets or kids who might forget about watering your plants.
The app also has a handy reminder feature that will prompt you to water your garden when it needs it most. This is particularly helpful if you are away on vacation or work long hours during the week; with this feature, you won't have to worry about forgetting to water your plants when they need it most!
10. Plantnote: Plant Diary and Water Reminder
Plantnote is a great app for keeping track of your plants. It's simple, easy to use and it has all the features you need. The app has a calendar with weekly reminders and a journal to write down your plant's progress.
You can add pictures to your plant notes, add notes to each day (for example, if the plant was watered or not) and share them with others. You can also see how many times you watered each day and how much water was added or removed from the pot.
The best feature of this app is its automatic notifications when it's time for watering. It uses local weather data so that you don't have to enter any information manually and all you have to do is open the app before watering time and then go about your business!
Conclusion
We hope you enjoyed our list of the best gardening apps for Android. These apps are sure to make your gardening experience more enjoyable and productive.
Do you have a favorite gardening app that we didn't include? Let us know in the comments below!