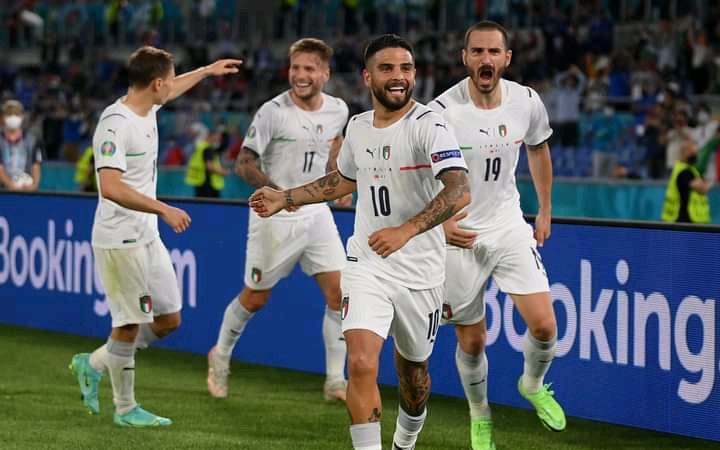 Euro 2020 favorite- On Friday night, the Azzurri defeated a tenacious Turkish side 3-0 in the tournament opener.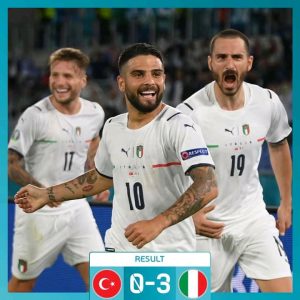 Italy has been unable to qualify for the 2018 FIFA World Cup for three years. Under Roberto Mancini, they kicked off their Euro 2020 campaign in style on June 12. They now appear to be genuine contenders for a trophy they last won more than 50 years ago. Despite Mancini's side going into the competition with a 27-match unbeaten streak, Italy will most certainly remain Euro 2020 favorite.
Italy's superb performance against a resolute Turkey team demonstrated how far the team has progressed under Mancini. The Azzurri put up a commanding display, easily dispatching Turkey.
From the opening whistle, Italy seized command of the game. The Azzurri used a style of play that was entirely different from that of previous Italian teams. Italy dominated possession in the first half, with 67 percent of the ball but no points to show for it. The Azzurri attempted 13 shots, three of which were on goal, but they lacked the cutting edge. The two greatest moments in the first half were Lorenzo Insigne's wasted opportunity and Giorgio Chiellini's saved header.
Attacking Mindset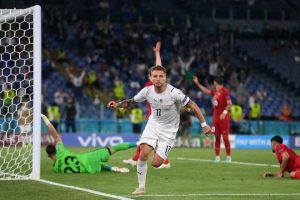 On paper, Italy lined up in a 4-3-3 formation, but their real shape on the pitch was rather different. A team that had previously been known for being a defensive one that lined up with a back-five was suddenly attacking with only five men. The 4-3-3 was frequently converted to a 3-2-4-1. This adaptability was aided by Leonardo Spinazzola. The left-back was used more as a winger, with his deft footwork proving to be a valuable asset in the final third. His impressive display earn him the man of the match.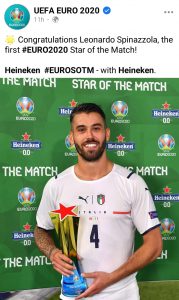 Italy was able to attack with five players and stretch the line thanks to Spinazzola's attacking movement. Along with Domenico Berardi on the other side, he supplied the width. Ciro Immobile was up top, with Nico Barella and Insigne on the half spaces.
The ball was maintained moving thanks to Jorginho and Locatelli. They immediately regained possession and pinned the Turkish team in their half. As he slipped in as right centre-back, Alessandro Florenzi's adaptability was on display. Even on the right, he made overlapping runs. Italy used a back three on occasion, but it was nothing like Antonio Conte's. Chiellini's late goal-saving tackle also kept a clean sheet.
Euro 2020 Favorite- A New Italy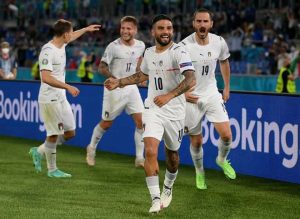 Italy had a strong record going into the competition. It's no small feat to go 28 games without losing and keep eight straight clean sheets. What was most striking about this Italy team, though, was the way in which they won. Barzagli, Pirlo, Marchisio, De Rossi, Chiellini, and Bonucci were all vital members of a club that was known for its defensive strength and seasoned talent. The Italian camp under Mancini has a youthful and exuberant energy that knows how to switch to a high-tempo, high-pressing, possession-based expansive playing style making them Euro 2020 favorite.