Beauty + Brain: 6 Beautiful Nigerian Ladies Who Graduated With First Class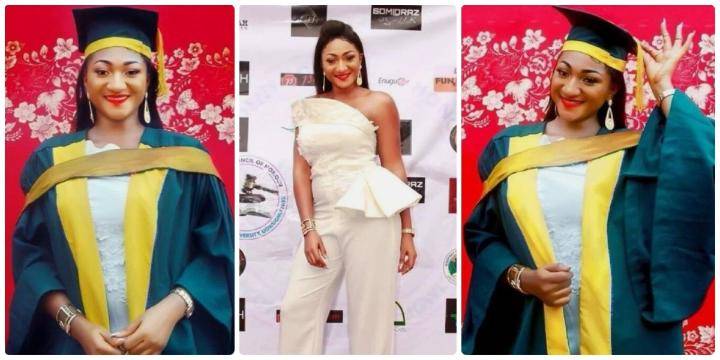 There are many beautiful ladies in the world but some distinguish themselves with great academic achievements and it makes them stand out.
These beautiful Nigerian ladies listed below all graduated from university with First class
MEKOWULU PRECIOUS CHIBUZOR:
Mekowulu Precious Chibuzor bagged a first class from the Nigerian Law School after graduating from Chukwuemeka Odumegwu Ojukwu University.
Precious received praises from Nigerians on social media after her friend identified as Chukwugozie took to Facebook to share the exciting news.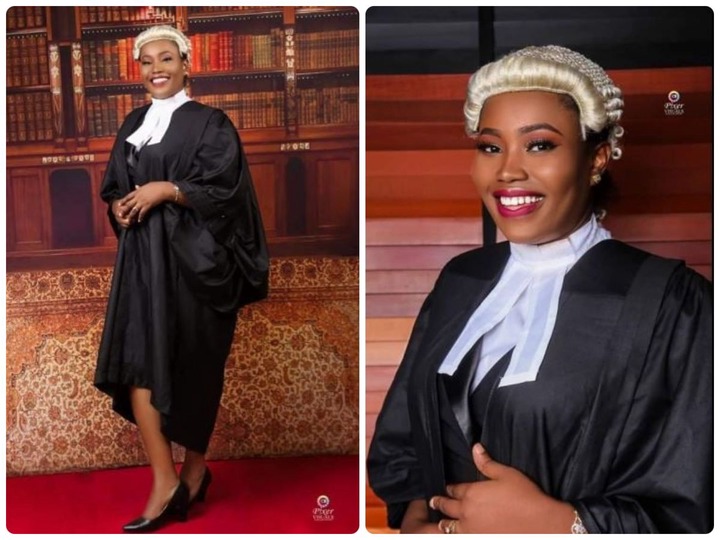 View pictures in App save up to 80% data.
Chukwugozie wrote in his post on Facebook:
"Let me introduce to you the First Class Lawyer. A product of Chukwuemeka Odumegwu Ojukwu University. Meet Barr Mekowulu Precious Chibuzor. She graduated with first Class at Nigeria Law School Lagos.
What you should know about Barr. Precious (first class Lawyer):
1. When she couldn't get admission to study law, She did 2 years Diploma in Law in Unizik.
2. After her diploma in Law, she wasn't able to secure admission to study law. She went home frustrated.
3. After one year at home, Barr Precious secured admission to Study law in Chukwuemeka Odumegwu Ojukwu University.
4. She was elected to be Lawsa Vice President then she became the first Female Lawsa President in COOU.
5. Barr. Precious graduated as the 4th best in her Class in COOU.
6. She was admitted to Nigeria Law school Lagos where she came out with First Class and was the only student from her set that got First class in Nigeria Law school.
Why do I tell you this story… Impossible is Nothing. Destiny can be delayed but not denied."
OYINKAN ATOYEBI:
Young Nigerian lady, Oyinkan Atoyebi, bagged a first class in Nursing from Igbinedion University. In addition to this achievement, Oyinkan was also the best graduating student in her department.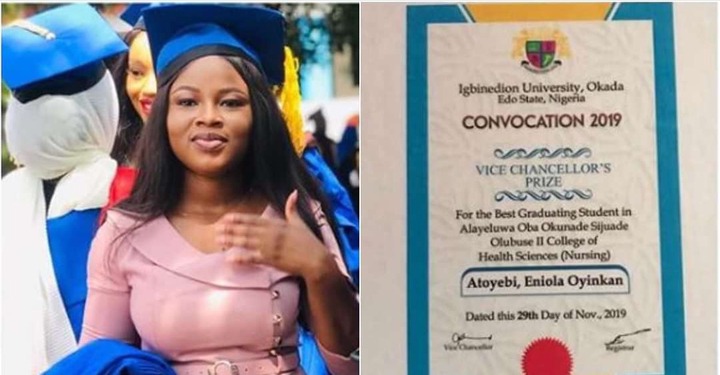 View pictures in App save up to 80% data.
The proud nurse had shared a photo of herself in her graduation gown on social media along with the Vice Chancellor's prize she received. In her caption, she wrote:
"Bagged a first class in nursing and emerged the best graduating student in my department, all thanks to the Almighty. Happy convocation to me!".
Read also: Check Out NYSC Secretariats in Nigeria (36 States and FCT) and Contact Details
HANAN BUHARI:
President Buhari's daughter, Hanan Buhari graduated with a first class from a UK University.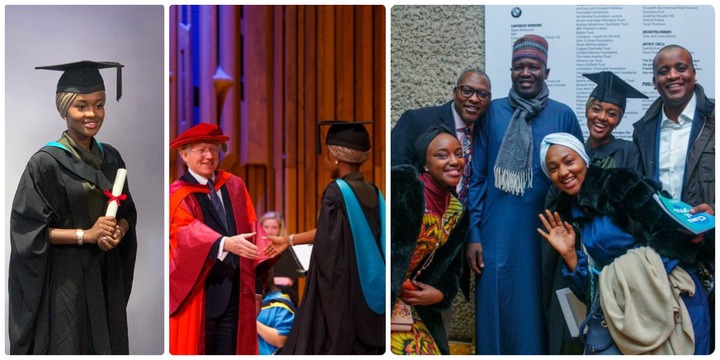 Hanan's family and friends all joined her as she had her degree conferred at her convocation ceremony which held on Tuesday, December 3, 2019.
Her proud mother, First lady, Aisha Buhari shared lovely photos on social media from the graduation.
SEN LUWA:
Nigerian pretty young lady, Senluwa, recently dazzled Nigerians on social media when she graduated from Babcock University, B.Sc Business Administration, with First Class Honours and shared pictures online.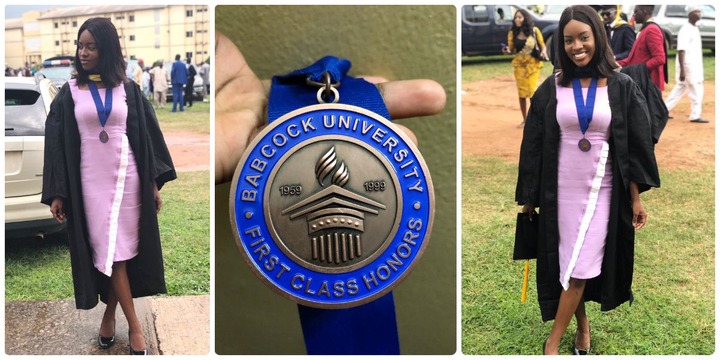 Sen did not only get a First Class, she was also the top of her class and emerged as the best graduating student in the entire university community.
Sen thanked God for giving her the ability to achieve this wonderful feat.
VIOLA-NUELA ECHEBIMA:
Stunning Viola-Nuela Echebima was part of the 4,294 lawyers called to bar who graduated from the Nigerian Law School after the August 2017 bar examinations.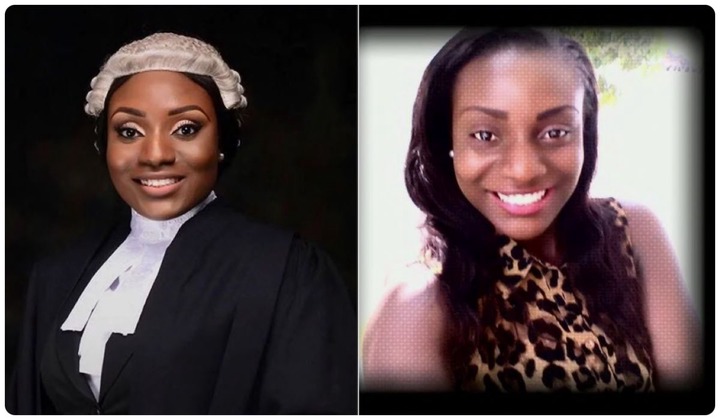 Viola emerged as the best student from the Nigerian Law School after she was called to bar. She also graduated with first class from the University of Nigeria, Nsukka (UNN) in 2016.
This pretty lady also graduated as the best student from the university and made herself, parents and family so proud.
CATHERINEMARY NNEAMAKA:
Young Nigerian beauty queen, Catherinemary Nneamaka, graduated with a first class from Godfrey Okoye University in Enugu state.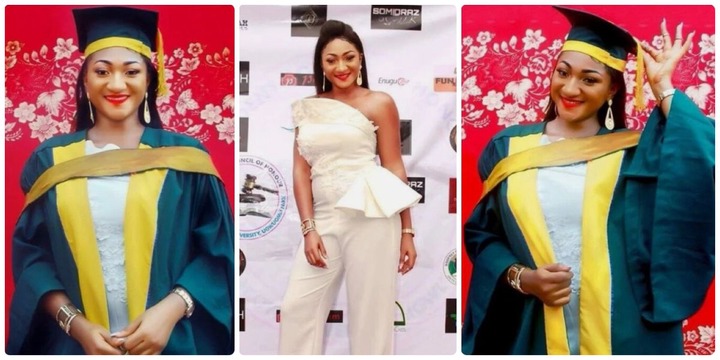 The young lady also received the award for the best graduating student in her set. She was also given the award for beat in natural and applied science faculty, best in computer science, best in computer and mathematics department.
Nneamaka, who gave the valedictorian speech at her convocation, advised more ladies to participate in computer programming, stating that there is beauty in programming and computing.
Tags :
Nigerian Universities
NYSC