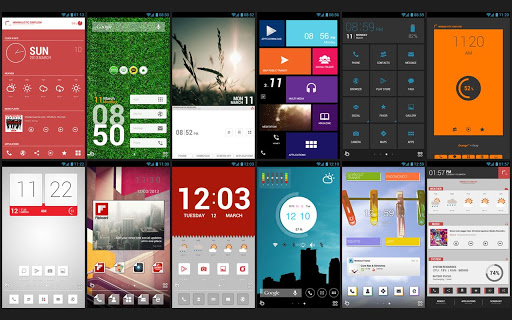 Top 10 New Android Launchers Of 2018 You Just Have To Experience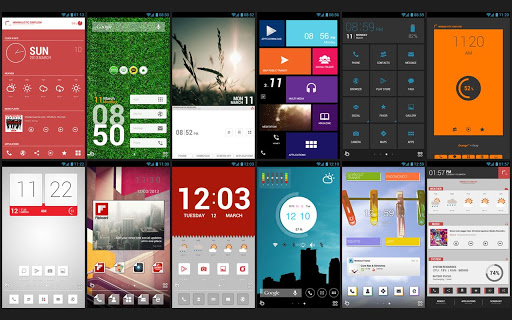 Customization is one of the standout features of Android devices like smartphones. Android launchers are up there as some of the most customizable apps.
Android Launchers give your devices, especially the home screen, that unique look and feel peculiar to you alone. It is the interface others see first when they look at your device.
If you know what you are doing (the learning curve is not steep for newbies), the launcher can make a budget device look like a futuristic high-end gadget.
Extreme customization is what android launchers are about.
Below are the top 10 new Android launchers of 2018 in no particular order. If you are not using one of them, you are missing out on a lot.
1. EverythingMe Launcher
Everything_Me missed a trick when they brought down EverythingMe Launcher from Play Store back in 2015. If they had ridden out the storm, the world might be talking about them in revered tones.
However, they came back last year with better features in addition to what made them great the first time out.
EverythingMe Launcher has everything you need in a launcher. The user interface is beautiful, well-laid out and easy to navigate.
Some of the cool features include a prediction bar that acts as an extension of you. It correctly predicts what apps you need at any time and serves them up.
The smart folder feature, by default, organizes your apps into the appropriate folders according to your settings.
The launcher is free and you can get it here on Play Store.
2. Go Launcher
Go Launcher is stylish; it is smart and very intuitive. Though it has been around for several years, the developers made sure it remains one of the best launchers with continuous upgrades bringing new and exciting features.
Like all the best launchers, it is highly customizable with performance as the overriding consideration.
It has thousands of free themes for which are complemented by HD wallpapers. With over 20 screens available, you can make your smartphone look really multifaceted with top-notch animation effects.
Other features in Go Launcher include speed booster, device cleaner, apps and phone locks for security and unknown number identification feature.
Go Launcher comes in free and paid version and you can download it here from Google Play.
3. Microsoft Launcher
In the middle of last year, Microsoft rebranded Arrow Launcher to Microsoft Launcher. This is for those who are wondering why haven't heard of this launcher before.
Microsoft Launcher is mostly about synchronization with your Windows computer. It seamlessly integrates with several Microsoft services like email, calendar, schedulers, etc, in addition to integration with your Windows PC.
Though still in the beta phase, the user interface feels like the finished article. However, it is likely to be a bit buggy.
A standout feature of this launcher is the ability to utilize the universal search bar to navigate the Web, file explorer, apps, messages, and documents.
Microsoft Launcher is completely free. You can download and install here for Google Play.
4. Smart Launcher 5
For the skeptics, Smart Launcher 5 is vastly superior to the Smart Launcher 3 which so many users had issues with. The September upgrade to Smart Launcher 5 added several features making it one of the top best new apps of 2018.
The user interface is more modern than the previous iteration bringing it in line with industry standards.
Some of the features include adaptive icons, numerous widgets, and smart gesture controls.
In terms of utility and customization, it is competing with launchers at the top end of this highly competitive app niche.
Smart Launcher 5 is free. For additional features, you need to pay for the premium version though.
You can download it here on Google Play.
Read also Dark theme mode on WhatsApp, See the New features coming to WhatsApp Soon
5. Evie Launcher
Evie Launcher has featured in the list of several reputable websites top Android launchers since it was launched in 2016. Two years later, this lightweight launcher is still one of the best new Android launchers of 2018.
The app drawer slides up from the bottom mimicking Google's famous Pixel Launcher. So if you want your phone to look like a Pixel smartphone, this is the launcher for you.
The features include a universal search for all apps, custom shortcuts, and the ability to import and customize wallpapers, app icons, and icons size.
Evie Launcher is completely free. Download it here from Google Play.
6. Nova Launcher
Nova Launcher has certainly been around for quite some time. It makes our list of the top new Android launchers because the developers regularly update the app rendering it almost like new.
Many Android veterans swear by Nova Launcher. On Google Play alone, it has been downloaded over 50 million times.
As one of the top Android launchers, it comes with features to fit that bill. These include the ability to customize it easily, several themes, support pack for icons, and many more.
You can also backup and restore your home screen in case you purchase a new phone and want to hold on to your customized launcher.
Importantly, due to the numerous updates, it is one of the least buggiest apps in the market.
Nova Launcher has two versions: free and paid. No matter the version you chose, you won't be disappointed.
Download Nova Launcher from Google Play here.
7. AIO Launcher
AIO Launcher is the go-to app if you want your Android smartphone to look and feel completely different from regular Android phones.
Everything is different with AIO Launcher. There is no standard home screen here. Instead, the necessary info about your phone is displayed in the home user interface.
You get to see stuff like missed calls, new SMS, current system info and media player.
Like a news network scroll bar, info like current news, cryptocurrency, and Twitter are displayed on the home screen.
It does sound a bit cluttered, but it is all about customization. What you want is what you would get on the home screen.
AIO Launcher come is both free and paid version. You can download and install it here from Google Play.
8. ADW Launcher 2
The developers of this launcher decided to re-launch a new version recently after taking down the previous one a few years back.
ADW Launcher 2 comes with an updated UI that works brilliantly with stock Android devices. Other features include customizable shortcuts, extensions, and an exciting do-it-yourself widget.
The new ADW Launcher 2 certainly merits its place among the top new Android Launchers of 2018 considering the new features on display.
There is a free and paid version and you can download it from Google Play here.
9. Lawnchair Launcher
Lawnchair Launcher is a completely free open-sourced launcher. It is based on the Pixel Launcher made by Google.
Like Google's Pixel, it comes with features such as support for icon pack, Android Oreo-styled shortcuts, notification dots, Google Now integration, and adaptive icons.
Though it is very new and is still at the beta stage, it's better than most launchers already. And since it is an open source app, great things are expected of it in the future.
You can download Lawnchair Launcher here from Google Play.
10. TSF Launcher 3D Shell
TSF Launcher makes our list of the top new Android launchers of 2018 for a many of reasons.
Like the best launchers, it is easily customizable in a variety of ways. It also comes with full gesture support. Basically, it does a lot of things that makes it really cool.
Some of these include 3D animations, the ability to select things like icons and widgets in batches, and a dock bar that goes on forever.
Experienced Android users would have lots of fun with TSF Launcher as many if the features are familiar. In that respect, it is easy to navigate all the features.
You can download it here from Google Play.
Tags :
Android Apps
Android Lanunchers
Google Play
Top 2018 Android Launchers