Yassine Bounou Biography: Facts About Morrocco Penalty Master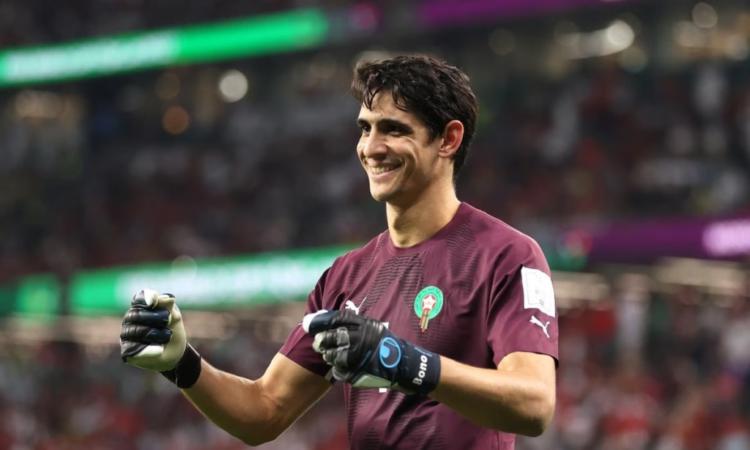 Naijmobile.com proudly presents the biography of world-famous goalkeeper known as Yassine Bounou.
Yassine Bounou has become a renowned name in the soccer world thanks to his incredible prowess between the goalposts.
With his impressive reflexes, shot-stopping ability and tremendous agility, Yassine is truly one of the best goalkeepers in the world today.
Yassine Bounou Early Life
Yassine Bounou, one of the world's top goalkeepers, has had a remarkable journey to become a professional footballer. Born on 5th April 1991 in Montreal, Quebec, Canada, Yassine was surrounded by family and friends who were eager to help him reach his dreams.
Yassine's parents, Mohamed and Zoha Bounou took great pride in their son's upbringing and did all they could to ensure he had the best childhood possible.
From an early age, Yassine was passionate about football and often played with his older brothers when not at school. He showed great tenacity during these games and it soon became clear that he had potential to take his skills even further.
Yassine Bounou Height
Yassine Bounou stands at 1.95m tall (6 ft 5 in), making him one of the tallest players on any field he plays on. But what makes Bounou truly impressive is not just his towering height but also his incredible talent and skill as a goalkeeper
Yassine Bounou Early Career
When talented goalkeeper Yassine Bounou was signed by Wydad Casablanca in 2011, little did they know that they had just taken a huge leap towards greatness. The Moroccan shot-stopper had already made a name for himself in the junior leagues and was keen to prove his worth at the top level.
At the tender age of 19, Bounou quickly established himself as one of the club's most reliable players. His outstanding reflexes helped him keep numerous clean sheets and earned him a reputation for being an unbeatable force between the posts. He wasn't afraid to take risks either, often pushing up from his line to intercept through balls and break up opposition attacks before they could become dangerous.
Yassine Bounou has had an impressive career in Spanish football, having played for some of the most prestigious clubs in the country. His journey started at Atletico Madrid, where he began to show his potential as a goalkeeper. While he was unable to gain first team experience at Los Rojiblancos, his performances with their reserve team caught the attention of another La Liga side, Zaragoza.
Bounou then joined Zaragoza and enjoyed a successful campaign with them. After two seasons there, it was time for him to move on and try something new. He headed up north and signed for Girona FC and made 38 appearances in all competitions while with them. It was here that he really began to establish himself as one of Spain's top shot stoppers despite their relegation from La Liga in 2018/19 season.
Not letting this setback affect him negatively, Bono signed with Sevilla FC in June 2019 and immediately established himself as one of their star goalkeepers. After a successful first season with Sevilla, Bono's potential was recognized by UEFA as he was named "Goalkeeper of The Season" for La Liga 2019-2020 campaign. This honor further solidified his status as one of the best up and coming goalkeepers not only in La Liga but also all over Europe.
Yassine Bounou Rise To Fame
Yassine Bounou is known for his incredible goalkeeping skills in LaLiga, but it was at the 2022 World Cup that he shot to fame. The Moroccan goalkeeper saved three Spanish penalties, leading his team to the quarter-finals of the tournament.
It all started when Morocco faced Spain in the last 16. With the score level at 0-0 and heading into penalties, Bounou had already made several saves to keep Spain from taking a lead – but nothing could have prepared him for what was about to happen. As Spain lined up for a penalty shootout, many were expecting them to take home an easy win – yet it was Bounou who came out victorious as he saved three Spanish penalties and sent Morocco into the quarter finals.
Bounou credits his success to dedication, hard work and practice. He would stay late after training sessions to perfect his technique when saving penalties, often repeating drills over and over until he was satisfied with his performance. As well as honing technical skills such as positioning himself correctly and timing the jumps perfectly, Yassine also focused on mental preparation such as building confidence and staying calm under pressure. With each passing season, Bounou's penalty-saving prowess improved exponentially.
Yassine Bounou Wife
Yassine Bounou, the Moroccan international goalkeeper is the proud husband of Imane Khb. The couple tied the knot in a small ceremony in Morocco surrounded by their closest family and friends. Since then, they have been inseparable – and growing their family together.
Their son Isaac was born in 2017, making Yassine a father for the first time. Ever since then he has found himself balancing his career as one of Africa's most promising goalkeepers with being a devoted husband and doting dad to little Isaac. Despite his busy schedule training on the pitch, Yassine always makes time to spend quality moments with Imane and Isaac – including going on outdoor adventures or enjoying dinner together at home.
In conclusion,Yassine Bounou has enjoyed a remarkable career and continues to be one of the most sought-after goalkeepers in Europe. He has achieved success at both club and international level, showing himself to be a talented, dedicated and reliable player that any team would love to have on their side. His hard work, passion for the game and determination to reach the top are an inspiring example for aspiring athletes everywhere.