"Nigeria wont break, North will lose power, number two will become number one" – Check Out Apostle Suleman 2021 prophecies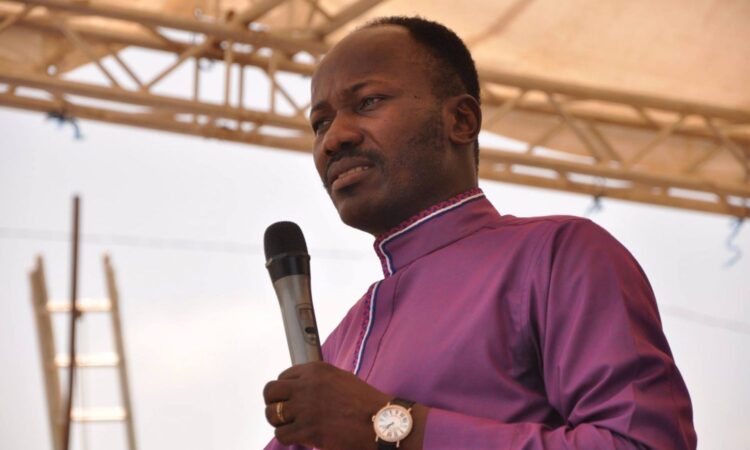 Apostle Suleman 2021 prophecies – The Scripture contains prophecy and promise of hope. It is a message of comfort, rest and peace, and it will come to pass because the Lord has made the promise.
That was the comforting atmosphere when on Wednesday, 30th of December, famous prophet of God, Apostle Johnson Suleman, reeled out his annual prophetic messages about Nigeria and her people.
Because it is the church's responsibility to provide strong prophetic speaking, the senior pastor at the Omega Fire Ministries (OFM) worldwide is regularly poised to satisfy the hunger for spiritual courage that speaks directly into the moral crises in the people.
While admitting that prophetic sermons are those that speak a difficult truth that some of those listening do not want to hear, Apostle Suleman reiterated at the end-of-the-year gathering that God told him Nigeria will have peace and a new region at the helm of power. The prophecy about power exchange he delivered first at the start of the nation's current challenges in 2019.
"In 2019, I said this and someone sent me a video that they were relaying it on a popular channel. The person said I should be careful but I said I would say it again. Now, I'm repeating it; I saw power leaving the North.
Since rarely does anyone appreciate someone speaking a difficult truth, Apostle Suleman insisted he was speaking God's words, regardless of opinions, reminding that he once told Nigerians that power was returning to the North eight years ago, ahead of the 2015 general elections, when he asked the then President Goodluck Jonathan to be ready to leave power for the incoming president.
"In 2012, which was not even an election year, I said I saw a new president. The people were confused when I said "God said Jonathan, go home. The Lord said you're the last PDP president". And I said again; "The Lord said that this one (Buhari) coming in, for six months, there would be no ministers". You can imagine the insults I received for that prophecy. Some said, this Apostle Suleman, we have to check his degree, we are not sure he went to school. They said "how can someone be president without ministers for six months?" The man (Buhari) was sworn in and for six full months, he appointed no ministers! Now, when the prophecy came to pass, nobody has called me to say pastor, you were right.
Giving his 2021 prophetic messages, Suleman saw power changing hands. He declared: "I am saying this again to you, God told me that this country will shake. I speak in parables. I said something during the independence celebration, I repeated it. It shall come to pass; this country will shake. That is what God told me. This is December 30th 2020, 6.35pm, note it. I am saying it ahead so that no one comes later and say he didn't say it. The Lord told me that 'Number Two Will Become Number One'. 'Power will leave the North'. It is a prophecy. Nigeria will not break. There will be no war in Nigeria. God will do what He will do silently. Those who are planning for 2023, they should pray to see it. While in Lagos, I prophesied that there would be no cabal anymore. Let's wait and see what God will do.
Like the Biblical Prophet Jeremiah, well trained, fully literate and with qualities that include not being afraid, standing up to speak and speaking as told, Apostle Suleman is blessed with the divine gift of not only seeing what is happening, he also has a sense of why it is happening and what God is going to do about it. Therefore, he insists: "I do not care whatever anybody says about the prophecies. I hear from God. You can only criticize prophecy, you should not attempt to fight prophecy else you will put yourself in trouble. When a prophecy is given, you ask the Lord for a way out.