Check out 7 most in-demand WhatsApp apps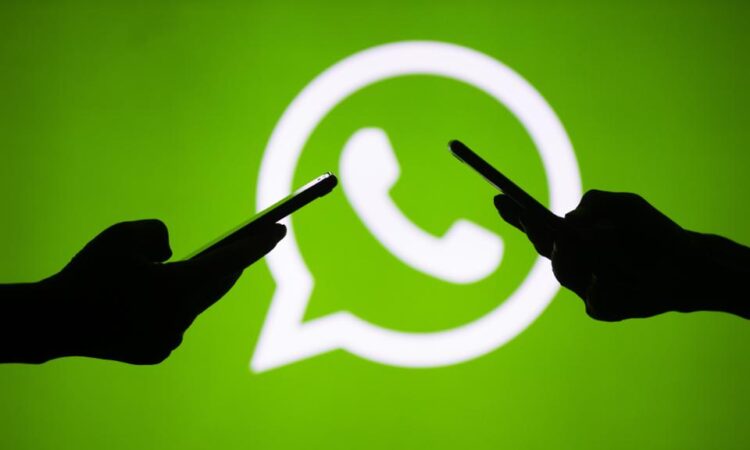 WhatsApp apps – Whatsapp now has over two+ billion active monthly users base and the numbers are still growing day by day. What is more fascinating is that more than half a billion people use WhatsApp Status every day.
So here we came up with the top 7 most in-demand WhatsApp apps.
Status Saver will help you to download any status from your friend's WhatsApp status. Through status saver, you can download photos/images, GIF & Video. Status saver also allows you to share your friend's status with just a single click to your contacts. Now it's very easy to save status. Watch & share it later even after it has disappeared.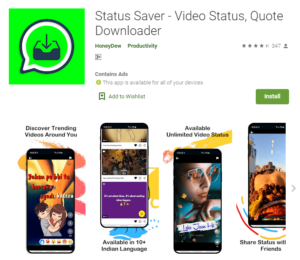 Not only this Status Saver app also comes with a bundle of other features like direct messaging to an unknown number without saving it on your phone. Not only that status saver app also has 1000+ video status for you to download from.
Download Status Saver (Free)
Tiki app is basically a short video collection app where users can find all kinds of video collections from Video Status, Text Status, DP's Status, Memes Status. It is the most trending short video collection app.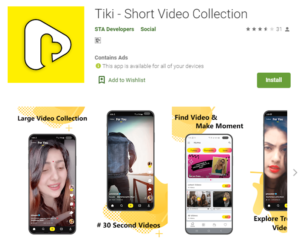 Tiki has huge categories for language collection. It's like you can find many language videos from the tiki short video community. Most of the time when we have such a huge video status collection, we are unable to find our desired videos at the right time.
So the Tiki team has developed the main feature on special requirements and feedback from our real users. So now users can save any video or add any video to the favourite list. And also create and manage the favourite lists all from one app.
Download Tiki – Short Video Collection (Free)
WhatsAuto is an autoresponder for your WhatsApp messages; it can simply reply to your messages using your own created chatbot. To activate auto-reply Turn on auto-reply with one click and you are good to go. 
WhatsAuto gives you the control to select whom you want to send auto-reply messages whether it be your boss, wife, or that one annoying friend who says you never reply on time and also supports auto-reply groups.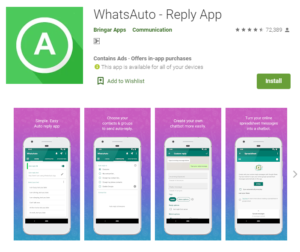 Also has an AI-powered tool to detect when you're driving and takes care of all your incoming messages by letting them know you're driving.
Download WhatsAuto (Free)
A few years back WhatsApp launched the ability to share stickers on Android and IOS. since then it's a new trend of sharing stickers instead of emojis. Hence WhatsApp has a limited sticker pack you can use Sticker maker to Create your own sticker packs from WhatsApp.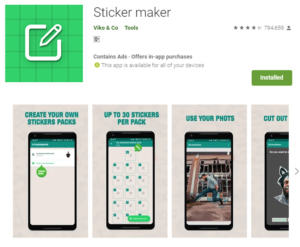 You can use memes, or your own photos, any photo from your phone will work,
Make Sticker packs in 4 easy steps.
Select a name for your pack

Add the stickers to the pack, cut them with your finger.

Publish the Sticker pack

ENJOY!
Download Sticker maker (Free)
SKEDit is a free message scheduling app that lets you schedule WhatsApp messages, schedule SMS, send emails later, schedule posts, and set call reminders.
You can schedule a message on WhatsApp with a couple of simple steps. It's a pretty straightforward app with no hidden caveats.
Step 1: Open the app
Step 2: Choose WhatsApp, and connect your WhatsApp account.
Step 3: New page will open to schedule your message. enter your and select time to send and you are good to go.
Now leave the rest on the app.
Download SKEDit Scheduling App (Free)
Do you want to check deleted messages on WhatsApp?
WhatsDelete Recovers all deleted messages of WhatsApp by scanning your device notifications.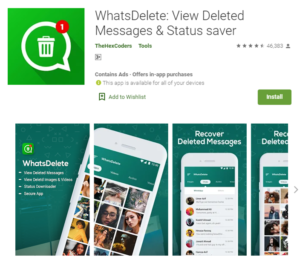 You can read your friends' deleted messages and chat anonymously.
Download WhatsDelete (Free)
Do you want to download video from internet sources?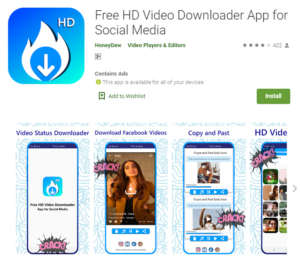 Free HD Video Downloader App can help you with a simple and effective tool to download a video with just two simple steps. Copy the link of the video you want to download then open the app and paste the link and click download. That's it you're done now. You can share the video directly from your phone.
Download Free HD Video Downloader App (Free)