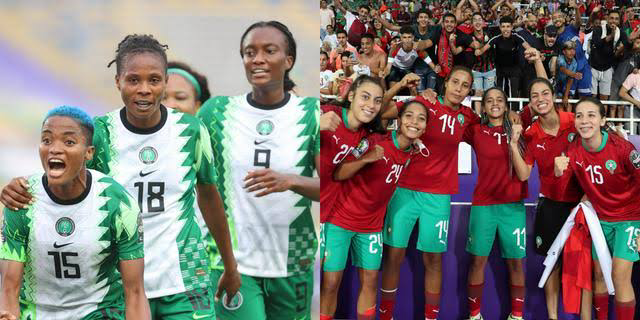 Randy Waldrum led Super Falcons of Nigeria team were in action yesterday in their semi-final clash in the current Women Africa Cup of Nations tournament against host Morocco at the Stade Mohamed in Casablanca.
The game between the two sides was such an anticipated one with both of them posing to be a strong favourite and contender for the title consequent to their brilliant form since the commencement of the competition.
The game despite been a bit controversial was a very entertaining one with the two sides playing their part and also contributing their quota in the thrilling encounter which was watched by a multitude of fans from the both sides.
The game was such a record breaking one as it set a new record of attendance at an African women's football match with a total number of spectators or fans amounting to 45,562.
In this regard, World football governing body popularly known as FIFA has reacted to this new record set in the clash with a post via their verified Twitter handle showing the caption that there was an incredible crowd for the semi-final between Nigeria and Morocco, which now has a new record of attendance at an African women's football game complemented with a clap emoji.
Nigeria in the game were a bit unlucky after putting in all their very best to turn the fortune of the game around by forcing the host to penalty shoot-out despite the defending Champions been reduced to nine, after Halimatu Ayinde and Rasheedat Ajibade were sent off the pitch of play in the second half for a red card offence.