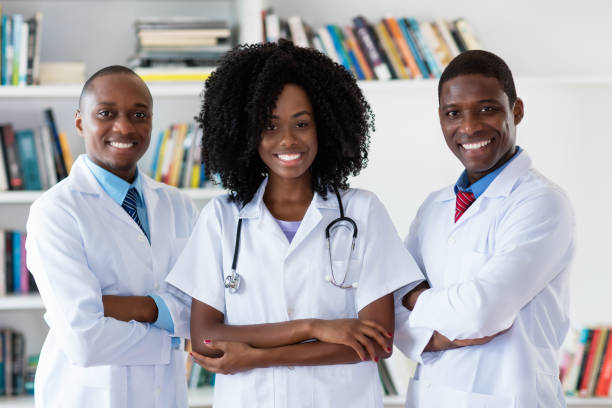 General practitioner and doctor and nurse as african american medical team at hospital
The nursing profession in Nigeria has grown tremendously over the past few decades to become one of the most sought-after careers. However, many Nigerian nurses continue to face challenges such as poor remuneration, inadequate facilities and equipment, and lack of opportunities for career growth. This has led a substantial number of nurses to consider migrating abroad in search of better prospects.
The United States presents attractive prospects for Nigerian nurses due to its high salaries, advanced healthcare systems and rising demand for nurses. However, migrating and establishing oneself as a nurse in the U.S. can be an intimidating process, especially for those unfamiliar with the requirements and procedures.
This comprehensive guide aims to provide Nigerian nurses with all the essential information needed to successfully migrate to the United States. We will outline the various pathways, explain qualifications, licensing and certification requirements, provide tips on preparing skills and documents, as well as guidance on securing jobs and resettling in America. By following the steps in this guide, any Nigerian nurse can fulfill their dream of practicing in the world's largest healthcare system.
Important Points About Nursing In The U.S.
Before delving into the migration process, it is important to understand some key aspects of the U.S. nursing profession:
There is a severe nursing shortage in the U.S. with demand projected to outstrip supply significantly over the coming years. This makes it an ideal time for Nigerian nurses to migrate.
Salary ranges for nurses in the U.S. are much higher than in Nigeria. The average salary for a registered nurse is around $75,000 per year but can go up to $100,000 or more depending on location, experience and specialization.
Nursing careers offer great scope for advancement through specializations like nurse practitioners which allows independent practice after additional qualifications.
The standard of healthcare facilities and available equipment/technology ensures nurses can practice at the highest level of their training.
English is the primary language, making it easier for Nigerian nurses trained in English to integrate into the system.
With proper planning and qualifications, migrating to the U.S presents Nigerian nurses unparalleled opportunities to advance their careers. Let's explore the key pathways available.
Migration Pathways For Nigerian Nurses
There are three main pathways for Nigerian nurses seeking to migrate to the United States:
1. Work Visa (H1B/O1)
Requires a job offer from a U.S. employer willing to sponsor the visa
Employer must prove there are no qualified American applicants
Valid for 3 years and can be extended
Leads to permanent residency (green card) with employer's support
Getting a job offer is challenging but some ways to increase chances include:
Developing specialized skills
Building a network of recruiters and employers on sites like LinkedIn
Considering jobs in rural areas with nurse shortages
2. Family Sponsorship (Spousal/Fiancé Visa)
Requires marriage/engagement to a U.S. citizen or green card holder
Provides work authorization immediately
Leads to permanent residency after 2-3 years
Marriage must be legitimate, not solely for immigration purposes
3. Diversity Visa Program
Limited number allocated annually via lottery system
Requires high school diploma equivalent and 2 years experience
Provides permanent residency directly if selected
Low chances of selection require multiple lottery entries
Out of these, employment-based visas offer the most viable pathway for skilled Nigerian nurses. Let's examine requirements in more depth.
Requirements For Nigerian Nurses
The minimum requirements to practice nursing in the U.S. vary slightly depending on the migration pathway and state of practice:
Education:
Completion of a Commission on Graduates of Foreign Nursing Schools (CGFNS) qualified BSc Nursing program is mandatory
Nursing programs taught fully in English are preferred
Licensing:
Passing NCLEX-RN licensing exam arranged after arriving in U.S.
Some states may require TOEFL/IELTS exam to prove English proficiency
Credentials:
Valid passport and Nigerian nursing license/registration
CGFNS Certificate for educational credential evaluation
Valid visa – H1B, family-based, etc.
Experience:
For H1B visa, 2 years post-qualification clinical experience required
Some states require minimum 1 year experience for NCLEX eligibility
The CGFNS qualification and passing NCLEX are essential to obtain state nursing license and practice legally in the U.S. Let's review how to prepare for these requirements.
Preparing Credentials For U.S. Requirements
The following steps will help Nigerian nurses prepare all required qualifications well in advance:
1. CGFNS Qualification
Apply to CGFNS after graduation to get educational credentials evaluated
Meet their English language and nursing education requirements
Writing IELTS/NLN PAX-RN and CGFNS exam if qualifications not from English program
2. Experience Requirement
Gain minimum 2 years experience (1 year for NCLEX in some states) in Nigeria
Specialize in areas like Critical Care for greater job opportunities in U.S.
3. NCLEX Prep
Study NCLEX content using review books, online resources from 6-12 months before travel
Practice thousands of questions to assess readiness
Consider review courses if short on preparation time
4. IELTS/TOEFL Exams
May be required depending on location of nursing education
Schedule exams 6-12 months in advance for official scores
5. Document Organization
Maintain credentials like degree certificates, transcripts, passport in order
Get documents certified and translated if not in English
The earlier nurses start this credentialing process, the better positioned they will be when opportunities arise. Regular practice and review also helps minimize risks of failing licensing exams.
Finding Employment In The U.S.
With qualifications and work authorization in order, Nigerian nurses can focus on the job search:
Leverage Networks
Connect with Nigerian nurses already in the U.S. through associations
Meet recruiters at expos, webinars organized by state boards of nursing
Consult placement agencies experienced in international nurse migration
Search Online Job Portals
Browse career sites of major hospital systems across the country
Apply directly and ensure profiles highlight relevant skills and experience
Monitor LinkedIn, Indeed, Monster regularly for new openings
Contact Facilities Directly
Research hospitals/clinics in desired cities and contact recruitment teams
Express strong interest in areas with severe shortages like California, Texas
Consider Short-Term Contracts
Good way to gain U.S. experience and references for permanent roles
Search sites like Vivian, HealthCareTravelers, Aureus Medical
With networking and persistence, securing an interview and job offer is very achievable for competent Nigerian nurses fulfilling American requirements. Relocating then requires careful planning.
Resettling In The United States
Relocating to the U.S. involves careful planning for:
Housing
Rent short-term housing 3-6 months in advance through sites like Airbnb, VRBO
Job location will dictate best areas to live long-term for convenience
Consider sharing with other nurses to save on rental costs initially
Banking
Open U.S. bank accounts before travel for payroll deposits and bills
Understand credit scores and build positively over time
Transportation
Factor in costs of car purchase/leasing, insurance, gasoline/maintenance
Investigate public transport options for commuting to work
Language Classes
Enroll in part-time English language/communication classes
Help build fluency for interactions at work and in daily life
Family Support
Investigate childcare/schooling options in advance if relocating dependents
Maintain close ties to support networks back in Nigeria virtually
With determination and proper planning, Nigerian nurses can successfully establish themselves both professionally and personally after migrating to live and work in America's advanced healthcare system. Their skills and experience will be warmly welcomed.
Conclusion
The nursing career presents Nigerian professionals unparalleled potential if willing to consider international migration. While pursuing this path involves challenges, following the guidelines, preparations and requirements detailed in this article will optimize chances of fulfilling that American dream. Through diligence, competence and perseverance, any Nigerian nurse can join thousands of their compatriots delivering exemplary care stateside. With continued hard work, career and personal aspirations of higher wages, ongoing development and an improved quality of life become very achievable.