Israel Adesanya Biography; Early life, Rise to fame, Relationship life and Untold facts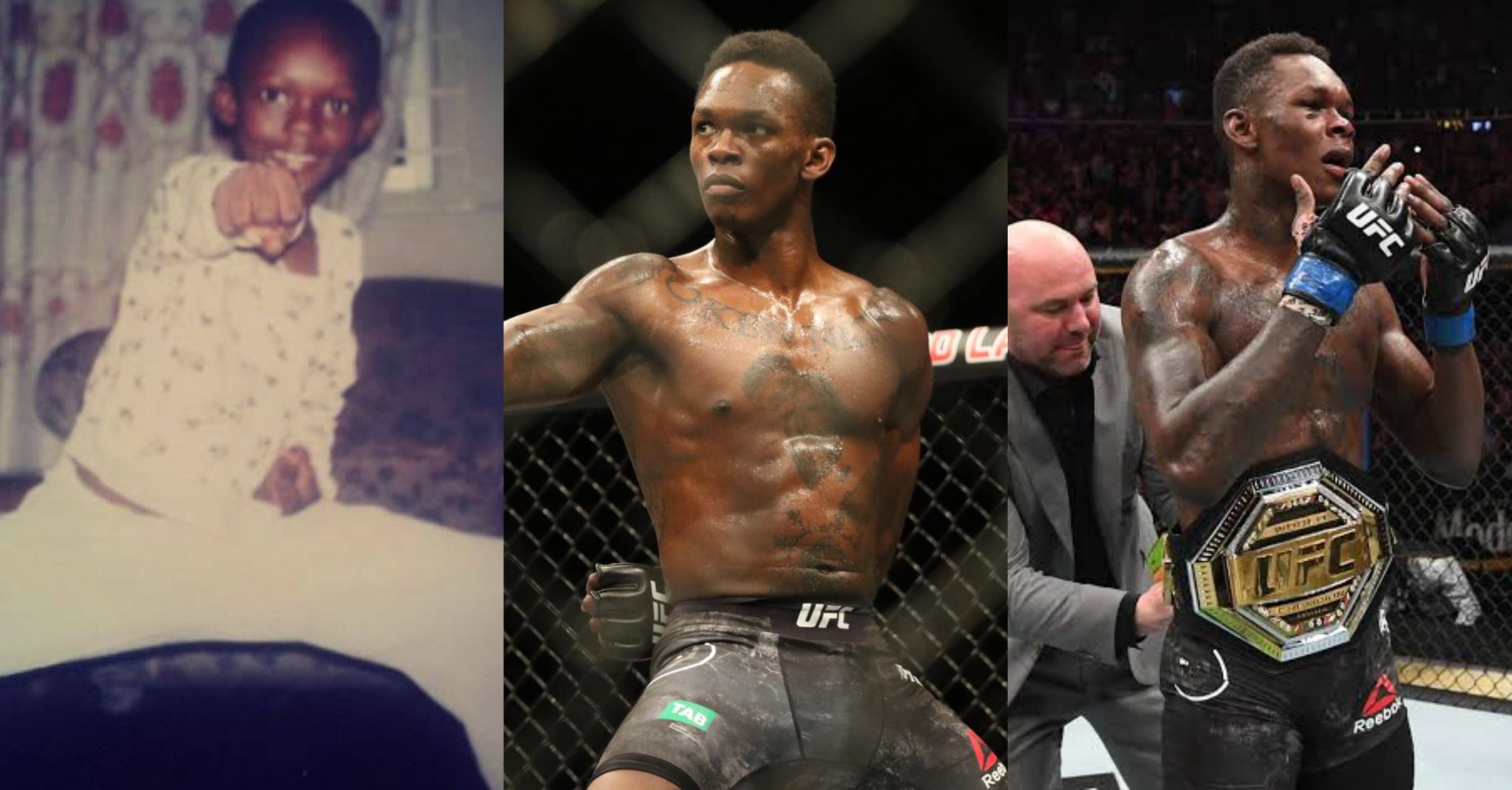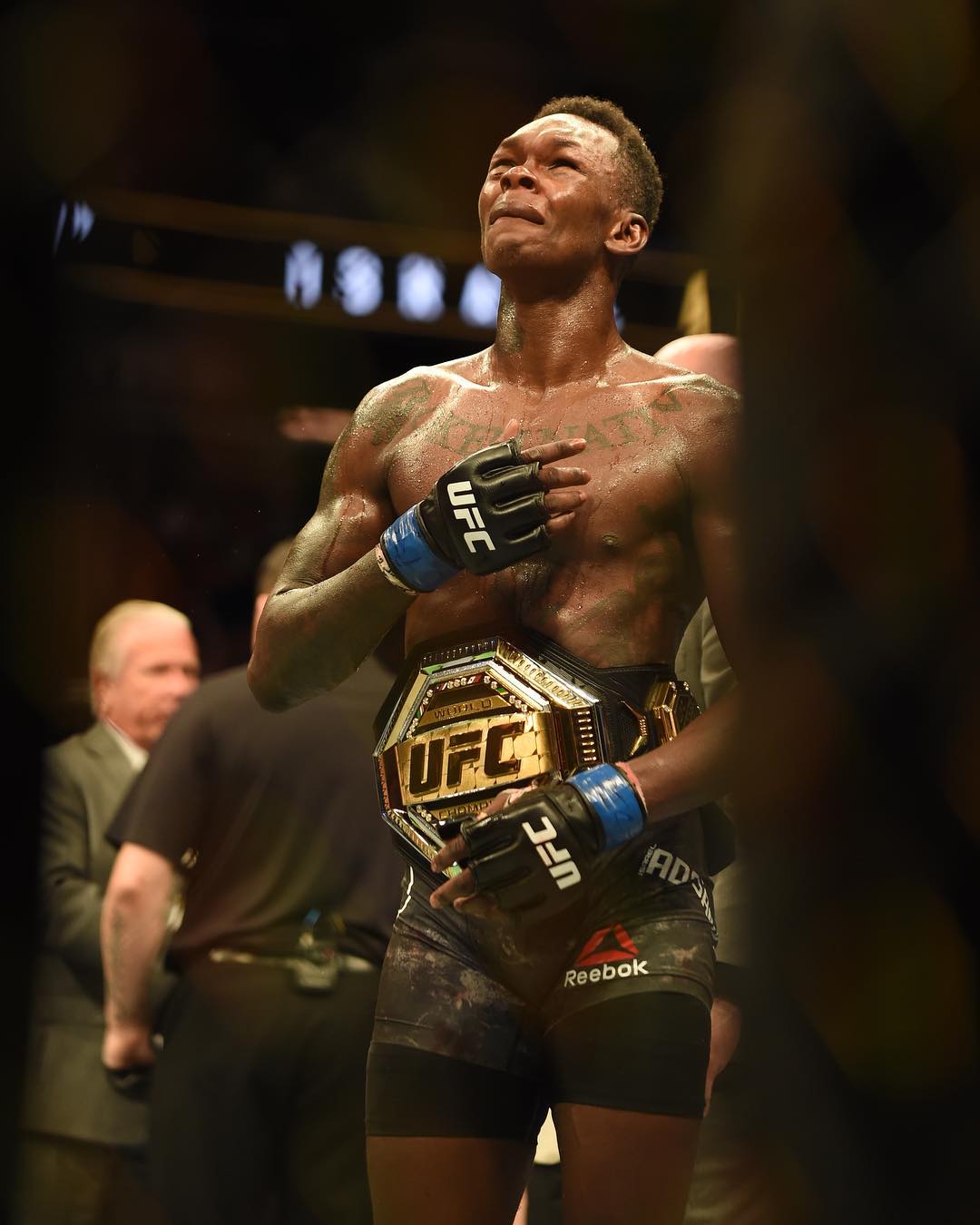 NaijMobile presents the biography of Isreal Adesanya, a Nigerian Mixed Martial Artist popularly known as "The Style Bender". Our Israel Adesanya  Biography Facts brings you a complete account of notable events from his birth to date. The analysis involves his early life, life story before fame, personal life and little-known facts about him.
Yes, everyone knows he is a fearless fighter. However, only a few consider Israel Adesanya's biography which is quite intriguing. Now, without further ado, let's begin.
Israel Adesanya Biography: Early Life and Family Background
Israel Mobolaji Adesanya was born on the 22nd of July 1989 at Lagos, Nigeria. He is the eldest of 5 children born to his parents Taiwo and Femi Adesanya. His father, Femi Adesanya is an accountant while his mother,  Taiwo Adesanya is a nurse.
Isreal came from an upper-class family and was raised in Lagos alongside his siblings: David, Bolu, Samuel, and Deborah.
"I was very privileged to come from a well-off family. For me, life was sweet and easy in a place where life could be anything". Isreal Adesanya
While he was a Child, Adesanya had the freedom to take part in any sport of his choice and he chose Taekwondo. The youngster taekwondo training was shortlived after he sustained the injury of a fractured arm. This injury forced his mother to withdrew him from training.
Israel Adesanya Childhood Biography: Education and Career Buildup
Isreal Adesanya had his primary education at Chrisland School at Opebi in Ikeja, Lagos. He thereafter proceeded to Bells Secondary School at Ota in Ogun state for his high school education. During his years at primary and secondary school, Adesanya developed an interest in martial arts and dancing.
"I first learned how to dance from a friend of mine in school. I'd hang out with dancers and they'd show me new moves. I'd copy it – I'm a good copycat. And the things that make me the fighter I am – the athleticism, the rhythm – fit right into dancing, too ". Isreal Adesanya
The then 12-year-old was not done with secondary school before his parents decided to leave Nigeria in search of better educational opportunities for their children. The first stop was in Ghana where the family spent 10 months weighing their options between immigrating to the USA in the aftermath of the 9/11 attack or New Zealand.
The family eventually opted for a move to New Zealand where they made their new home at the city of Rotorua in the country's north island. After some months, Adesanya was enrolled at Rotorua Boy's high school to round-up his high school education.
Israel Adesanya  Biography: Early Career Life
19-year-old Isreal Adesanya had always had a passion for martial arts, however, it was after he watched the Action movie 'Ong-Bak' in 2008 that he made his mind to become a fighter.
"I remember seeing the movie 'Ong-Bak', starring Tony Jaa. He was doing all this crazy (expletive) and I'm just like, '(expletive) – that's cool. I want to be a fighter". Isreal Adesanya
Adesanya got himself trained in Muay Thai for a year and stubbornly went against his trainer's(Derek Broughton) will to have his first and last amateur MMA fight with a certain Neroni Savaiinaea in 2009. Although Adesenaya was defeated, he didn't miss the lesson of the experience.
Israel Adesanya Biography: Road To Fame
Not weighed down by his first loss, Adesanya relocated to Auckland where he submitted himself to the tutelage of a new coach Eugene Bareman. Adesanya was no stranger to Eugene prior to before Eugene accepted him for training.
Eugene was at Adesanya's corner during his failed amateur MMA fight and resolved never to have dealings with the stubborn fighter. As a result, when Adesanya came seeking training at Euguene's gym he tried hard to reject the application but eventually accepted him.
"He was reluctant at first. Maybe it was flashbacks to that first fight; 'Not this shit again'. He tried to shoo me away, tried to guide me to other gyms. I was like, 'Nah – I'm good right here. This is where I want to be".Isreal  Adesanya
Eugene worked with Adesanya to help him master the elements of kickboxing and boxing. Although Adesanya recorded a few loses in the aforementioned combat sports, he worked tirelessly to avoid further losses after starting his professional MMA career in 2012.
Israel Adesanya Childhood Biography: Rise To Fame
Adesanya was not quite popular despite recording 11-0 MMA wins between 2012 to 2017. However, he became a household name in December 2017 when he got signed to UFC. Within the space of one year and a few months, Adesanya established himself as the next big thing in UFC by increasing his MMA records to 18–0. The rest, as they say, is history.
Israel Adesanya Childhood Story Plus Untold Biography Facts: Relationship Life
Following Adesanya's rise to fame, many fans have been wondering who is the woman behind his success. Well,  no one knows if he is single or in a relationship. He has remained mute about is relationship life.
Israel Adesanya Childhood Story Plus Untold Biography Facts: Personal Facts
Israel practices self-motivation by speaking uplifting words to himself. Israel adopted self-motivation during his high school days when he was bullied by bigger kids. Isreal is proud of his Nigerian roots and has a tattoo of Africa on his body with Nigeria outlined.
Adesanya has a good command of English, Yoruba language and Nigerian Pidgin. He currently resides in New Zealand and admits missing  Nigerian delicacies like Kilishi, Garri, Kulikuli, Suya, Eba, amala and Efo Riro. Adesanya does not practice any religion but appreciates the uniqueness of different religions.
"I don't practice any religion or follow any code but my own. I have the emotional capacity to appreciate the artistry and many other things from different religions, cultures, cliques…etc".Isreal Adesanya
Israel Adesanya Biography: Untold  Facts
To wrap up our Israel Adesanya biography, here are some facts that are rarely included in his bio.
Do you know?
Adesanya has a blue belt in Brazilian Jiu-Jitsu.
Adesanya has also earned a yellow belt in Taekwondo as a child but his mother stopped him out of training after he fractured his hand.
His catchy nickname"The Last Style Bender" was coined from the TV show, Avatar. "The Last Air Bender" (Avatar) mastered the control of fire, water, air, and earth. Likewise, the fighter is on a quest to master all the elements of martial arts.
FACT CHECK
Thanks for reading our Israel Adesanya biography. At Naij Mobile, we strive for accuracy as our slogan says –nothing but the truth. So if you see something that does not look right in this article, kindly notify us by dropping a comment.
Tags :
Israel Adesanya
Israel Adesanya Biography
UFC