Lagos State School of Nursing & Midwifery Form On Sale 2020/2021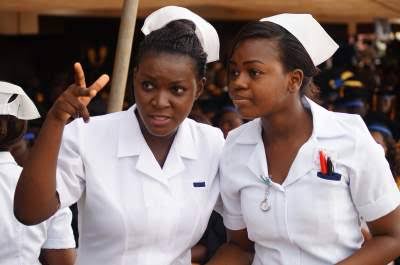 Lagos State College of Nursing, Midwifery and Public Health Nursing, Igando.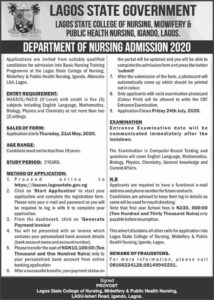 Lagos State is now selling application forms for admission into its general nursing training programme for the 2020/2021 academic session. In this post, you will find out the  requirements and how to obtain Lagos State School of Nursing form below.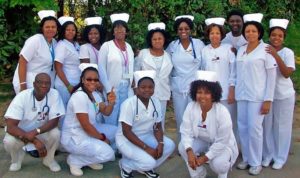 Applications are invited from suitably qualified candidates for admission into the Lagos State College of Nursing, Igando Alimosho LGA, Lagos, general nursing training programme for the 2020/2021 academic session.
Lagos State College of Nursing Admission Requirements & Duration
Entry Requirements: Applicant must possess five (5) Credit at not more than two (2) sittings, in the following subject; English Language, Mathematics, Chemistry, Physics and Biology from NECO, WAEC or NABTEB.
Age Range:  Candidate must not be less than 18 years.
Study Period: 3 Years.
How to Apply for Lagos State School of Nursing Admission Form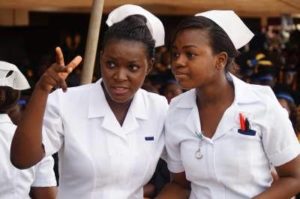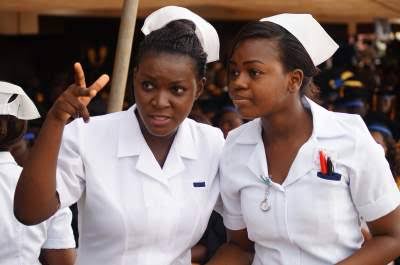 Click on 'Start Application' to start your application and complete the registration form. Please note your password as you will be required to log in with it to complete your application.
From the dashboard, click on generate 'Generate Payment Invoice'
You will be presented with an invoice which contain your personalized bank details (bank account, account number and bank name).
Please transfer the sum of NGN10,100 to your personalized bank account from online banking application
After a successful transfer, your payment status on the portal will be updated and you will be able to complete the admission form.
Only applicants with valid examination photocard (colour print) will be allowed to write the entrance exam.
Application closes Friday 13th June, 2020
Examination: Entrance Examination date will be communicated immediately after the lockdown. The examination is computer-based testing and questions will cover English Language, Mathematics, Biology, Physics, Chemistry, General knowledge and Current Affairs.
NB:
Applicants are required to have a functional e-mail address and phone number for future contacts.
Candidates are advised to keep their log-in PIN as same will be used for result checking.
Note that first year School fee is Two Hundred and Thirty Thousand Naira (N230,000) only payable before resumption.
For more information, please call 08166224128, 08149445251
Thanks for reading naijmobile.com
---
We urge you not to republish a part or whole of this content elsewhere without giving credit to Naijmobile which must contain a backlink. No tiff our contents o. We report to Google and we always win.
Tags :
Lagos State
Lagos State School of Nursing form