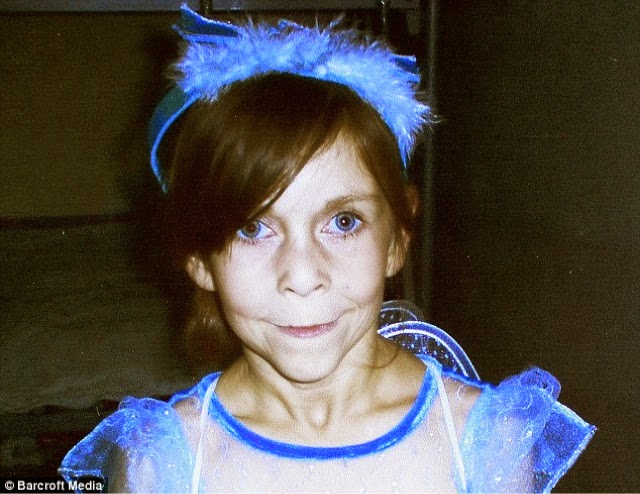 Ever heard of a disease called Lipodystrophy? No? Read on to know about it.
Adolescence is a tough time for everyone. From painful pimples to new social situations,  it is extremely difficult to excel during this stage of life. But for one teenage girl in Northern England life is very hard.
Zara Hartson was born with a condition called Lipodystrophy which causes her face to age rapidly as a result, she looks like a grand-mother even at the tender age of 13. Her mum took out of school because the bullying was so bad, her school-bus driver laughed at her face every day, strangers stare and point in the street. Kids call her grandma,  monkey, and baggy face.
In an interview with Daily Mail, Zara said:
" It feels like people are looking down their noses at me  and staring. You know when you get that feeling when you are being watched? I feel that everywhere I go'
Zara's mother Tracy feels her pain. She too was born with Lipodystrophy. Tracy who is currently 41, noticed tell-tale signs in Zara's face at birth. Speaking about her daughter situation, Tracy said:
I was grieving for a child that's got to go through the same things in life that I had to go through. I was angry at myself for actually having Zara.
Lipodystrophy is a genetic disease, It is hereditary. This disease robs the body of the ability to produce fat cells beneath the skin. Lipodystrophy is extremely rare and only 2000 people in the world are known to suffer from it.
Tragically this horrible disease as been passed down from many generations. In fact, all of the women in Zara's family suffered from Lipodystrophy as proven by a horrifying collection of family photos. But after suffering years of ridicule, a plastic surgeon at the University of Texas offered Zara and her mum help by offering them a facelift.
Over Joyed with her new face, Zara and her mum brimmed with confidence. But 4 years later. her saggy skin slowly returned. Now 20, Zara who is currently married admits she has accepted her condition and no longer cares about what people say about her. Even though she looks far older than age, Zara says she is determined to use her condition to help others suffering from the disease.
She said
In all honesty, i don't blame anyone for the illness. As daft as it sounds, everyone is born the way they are for a reason and there is a reason I am the way I am. For me the future is about trying to help as many people as possible that have got same condition as me. I would like to inspire and try to help and reach out to those peopel that are scared to come foward and admot to that thry have go this illness
Tags :
Lipodystrophy
Zara