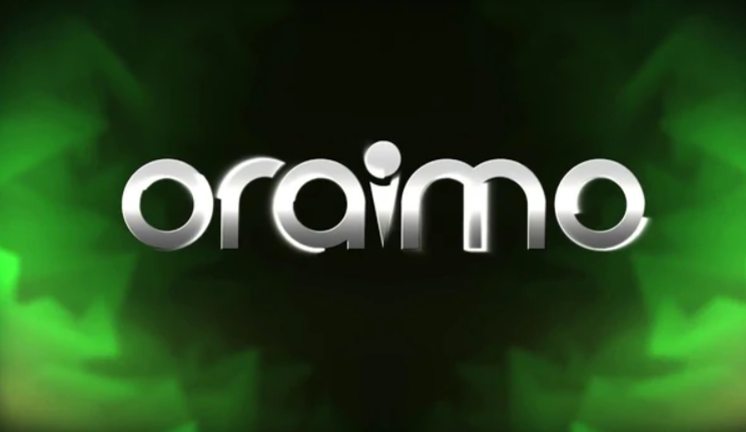 Oraimo, the makers of premium smart accessories, was founded in Hong Kong in 2013. Since then, the company has grown to more than 50 countries and amassed a massive fan base.
Oraimo has come a long way in ridding the market of mediocre sound quality and unreliable Earbuds. Regardless of your budget, Oriamo can provide you with exceptional noise cancellation and sound quality Earbuds.
Regardless of your budget, Oriamo can provide you with exceptional noise cancellation and sound quality airpods.
There are various Oriamo Airpods on the market, so it's best to learn about them before you go out and buy them. Whether you're searching for the best exercise airpods or a set that works pretty well for Zoom calls as it does for listening to songs or podcasts, here's a list of Oriamo airpods and their best features.
Oraimo Airpods in Nigeria and Their Best Features
1. Oraimo OEB-E98DN FreePod
What Do We Like About It?
Touch Controls and Instant Connection
Rich Sound
Comfortable on the ears
BT Version: V5.0
Talk Range: 10m
The Oraimo OEB-E98DN FreePod features Bluetooth 5.0 technology, a sleek design, and intelligent features. This earbud will fit perfectly into your ear and provide unrivaled comfort when controlling your volume, music, calls, and voice assistant.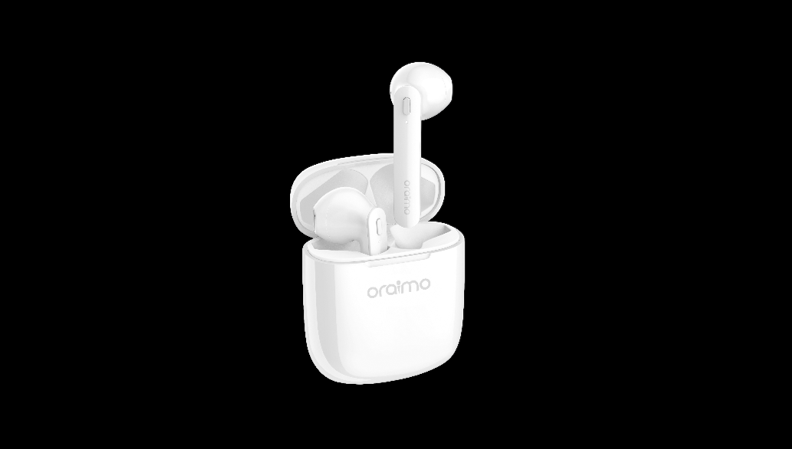 This earbud features 13 mm dynamic drivers that enhance music genres. The earbud has a good talk range of 10m and a battery capacity of 37mAh (earbud) and 500mAh (battery) (case).
2. Oraimo OEB-E95D
What Do We Like About It?
Rich audio and strong bass
Sweat-resistant
Swift connection
Ideal for gym use
BT Version – 5.0
The Oraimo OEB-E95D is one of the most relatively affordable and long-lasting earbuds on the market. There are several features of these earbuds that you should appreciate. such as the size and case Above all, the battery life is quite impressive at 85 mAh, which is higher than the Buds Pro. As a result, you should have about 6 hours of playback time.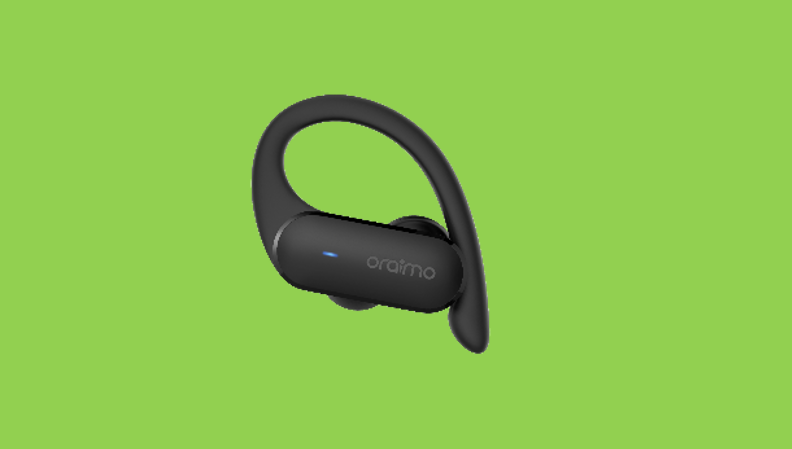 You can easily answer calls or change music with a single touch on the buds. This earbud has ergonomic earhooks that are gentle on the ears and will provide a secure and comfortable fit during exercise.
3. Oraimo Air-Buds-2S Super Bass
What We Love About It:
Strong bass
Range: 10m
Sleek Design
Fast connectivity
The Oraimo Air-Buds-2S Super Bass are the most personalized wireless earbuds available today – and some of the best-sounding, thanks to the 8mm NdFeB Drivers.
This airpod is both light and strong. It features an ergonomically curved design and a variety of silicone ear tips for a secure and comfortable fit. With touch sensor technology and battery capacities of 40mAh (earbud) and 400mAh (case), you can be confident that you are getting the most value for money.
4. Oraimo FreePods-2 (2Baba-version)
What We Love About It:
Incredible Sound
Lovely Design
Range: 10m
BT Version: V5.0
Touch Controls and Fast connection
The sound quality, battery life, and design of the Oraimo FreePods-2, like the legendary Tubaba, are simply iconic. The black and gold finish on the earbuds and charging case is stunning.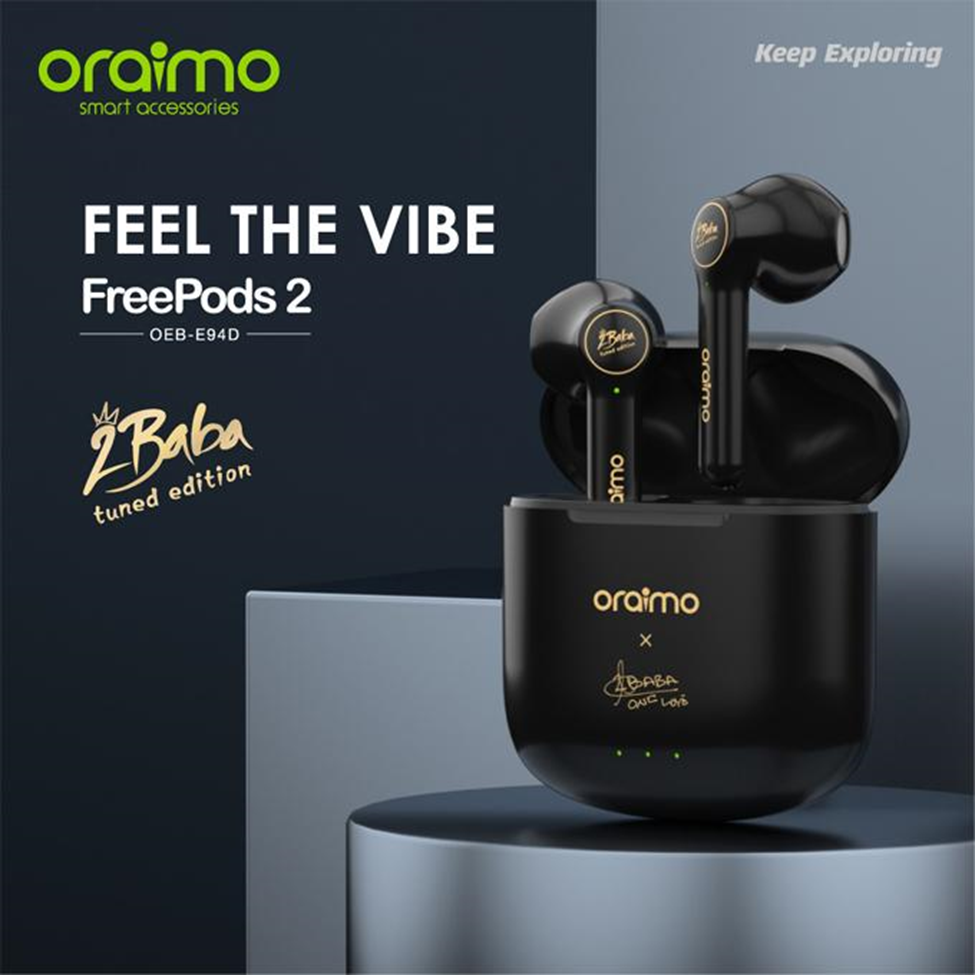 The earbuds and case are both lightweight and convenient to hold in your hands or take in your pocket. The Oraimo FreePods-2 (2Baba-version) has a rich sound, is easy to connect, and has a battery size of 37mAh (earbud), 500mAh (battery) (case).
5. Oraimo FreePods 3
What We Love About It:
BT Version: V5.2
Environmental Noise Cancellation
IPX5 Water & Sweat Proof
Incredibly Powerful Bass
Range: 10m
Touch controls
Fast connection
The Oraimo FreePods 3 has excellent sound quality, Environmental Noise Cancellation, and an IPX5 rating, so you don't have to stress about sweat or rain getting in the way of your favourite songs or podcasts.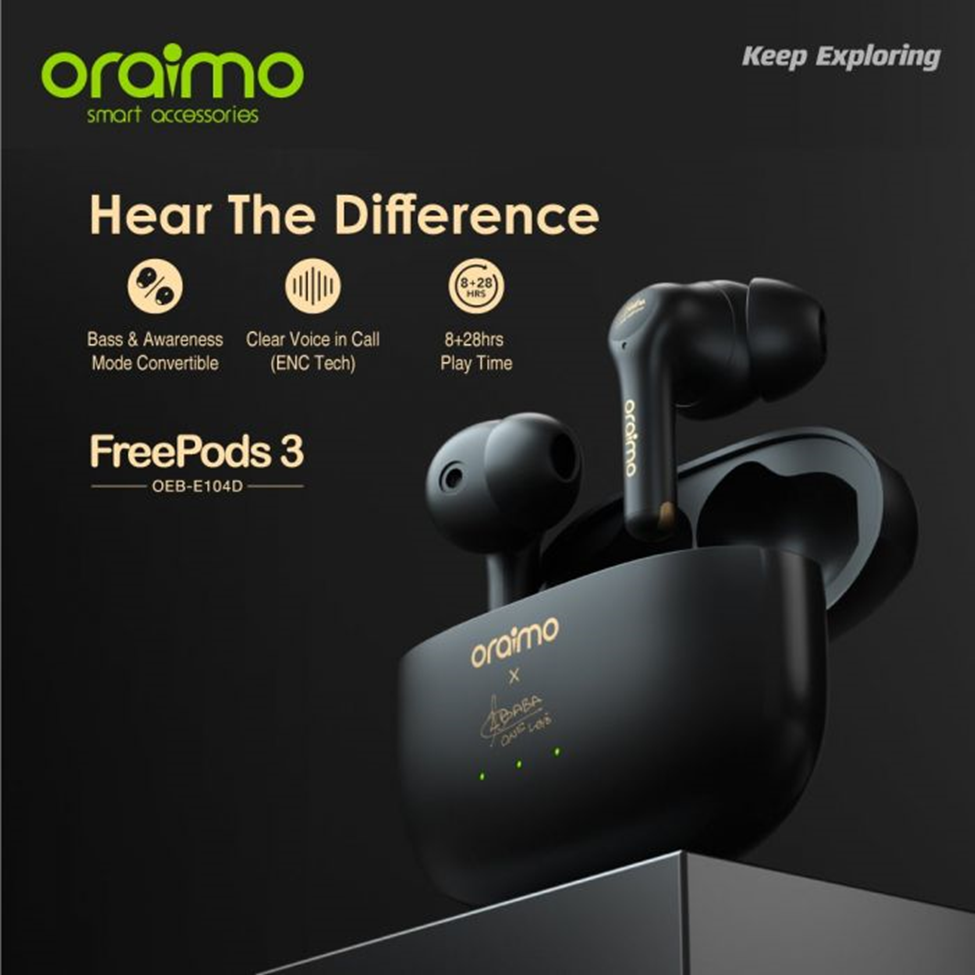 Each bud has a very cozy fit and is tucked right into the ear. You can shake your earbuds while listening to music or working out, and they will not move. This means you can jog with them on without worrying about losing one of them.
Each earbud has touch panels that are more responsive and consistent. For example, you can activate Google Assistant by tapping three times on one earbud.
What Makes the Oraimo Airpods Special?
Oraimo Airpods feature this as one of their main selling points. Regardless of the type purchased, users enjoy excellent sound quality.
Even in noisy areas, Oraimo Airpods are ideal for answering calls. This is due to the Airpods' built-in microphone. This microphone picks up the user's voice and filters out background noise.
Oraimo has always put a lot of effort into making their airpord designs appealing. Oraimo airpords are also simple to hold and carry around in the pocket.
Longer battery life and faster charging
The battery life is the last but not least consideration. Oraimo Airpords have a good battery capacity, as you can see from the specs above. When you go around with a case that costs extra, you can enjoy it a lot more. What's more? Oraimo Airpods charge quickly.
Shop for oraimo's FreePods Pro via its e shop ng.oraimo.com
Follow oraimo on social media.
Facebook: Oraimo Nigeria
Twitter: oraimoMate
Instagram: oraimoclub