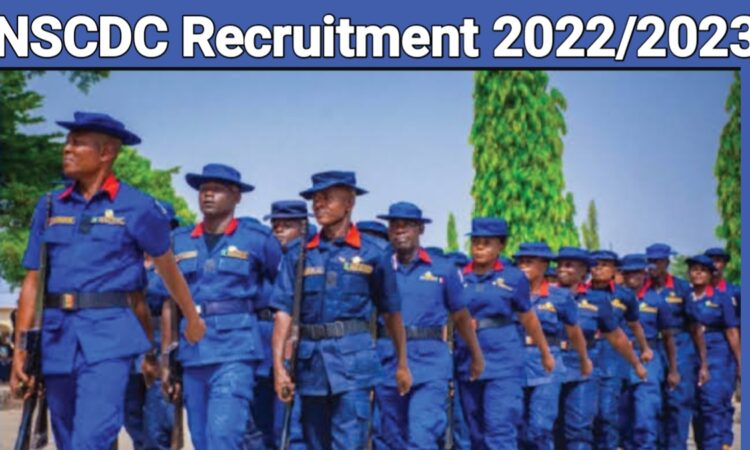 Are you looking for an opportunity to join the Nigeria Security and Civil Defence Corps (NSCDC)? The NSCDC is currently recruiting for the 2022-2023 period and this article provides a comprehensive guide on how to apply.
With key information about the recruitment process, eligibility criteria, important documents required and more, this article will help prospective applicants in their pursuit of joining the NSCDC. Here we provide step-by-step instructions on how to successfully apply for the available positions.
Meaning of NSCDC and Its Functions
The Nigeria Security and Civil Defence Corps (NSCDC) is an agency of the Nigerian government responsible for providing security services to the country. Its primary responsibilities are to protect individuals, properties, organizations and communities from any form of danger or harm.
The NSCDC was created in 2003 by an act of the Nigerian National Assembly with a mandate to protect public infrastructure, provide emergency response services, ensure fire safety compliance and control civil defence activities throughout the country. It also has a duty of providing assistance during times of natural disasters, such as floods, hurricanes or earthquakes. In addition, it is tasked with assisting law enforcement agencies in maintaining peace and order within Nigeria's borders. The NSCDC also works with other government departments on projects related to crime prevention and countering terrorist threats.
NSCDC Rankings
Assistant Cadre – Level 3 to 5
Assistant Inspectorate Cadre – Level 6
Inspectorate Cadre – Level 7
Assistant Superintendent Cadre II – level 8
Assistant Superintendent Cadre I – Level 9
Deputy Superintendent Cadre II – Level 10
Superintendent Cadre II – Level 11
Chief Superintendent Cadre – Level 12
Assistant Commander – Level 13
Deputy Commander – Level 14
Chief Commander – Level 15
Assistant Commandant General – Level 16
Deputy Commandant General = level 17
Commandant General = level 18
Eligibility Criteria for NSCDC Recruitment 2022-2023
The Nigerian Security and Civil Defense Corps (NSCDC) is the Federal Government agency responsible for protecting lives and property in Nigeria. As part of their recruitment process, all potential candidates must satisfy certain eligibility criteria to be considered for a position.
One such criterion is the minimum height requirement for both male and female applicants. Male applicants must be at least 1.65 metres tall while female applicants must have a minimum height of 1.68 metres.
Applicants must be between 18-30 years old to meet the minimum age requirement set by NSCDC. To qualify for recruitment academically, applicants must possess at least a Bachelors Degree (BSc), Higher National Diploma (HND), Ordinary National Diploma (OND), or West African Senior School Certificate Examination (WASSCE). In addition, they must also pass physical fitness tests and show that they are mentally fit and healthy.
Application Process for NSCDC Recruitment 2022-2023
To apply, applicants must first go to www.cdfipb.careers and click on 'apply'. Next, they will need to enter their bio-data including name, address and contact details followed by uploading all relevant certificates that prove they meet the minimum education requirements as set out by the NSCDC. After submitting these documents, applicants must wait to hear back from the NSCDC.
Preparing for the NSCDC Recruitment 2022-2023 Exam
The NSCDC Recruitment 2022-2023 Exam will be open to all citizens of Nigeria who meet the set criteria for recruitment. Prospective applicants should take this as an opportunity to make themselves better equipped for the exam by preparing adequately.

In order to have a successful outcome from the recruitment process, applicants must ensure they are physically fit, possess knowledge about NSCDC history, current affairs in Nigeria and other relevant topics related to security operations. They should also familiarise themselves with important rules and regulations governing the Corps' activities so that they can easily answer questions posed during the exam.
Tips for Acing the NSCDC Recruitment 2022/2023
With the Nigerian Security and Civil Defense Corps (NSCDC) Recruitment for 2022 officially underway, the competition is already heating up to join the ranks of this highly esteemed organization. While there are plenty of tips to help optimize your chances of getting accepted, nothing is more important than staying safe and avoiding any potentially scammy offers.
In order to ensure that you don't fall victim to any false promises or get taken advantage of in any way, it's important to remember that all NSCDC recruitment processes are free. Be wary of any website or recruiter asking you for money or other payment before they give you a job offer; this is a surefire sign that something isn't right. Additionally, always carefully read through all documentation before signing anything and make sure that everything looks legitimate before providing any personal information.