Best Christmas Resorts In Lagos You Should Visit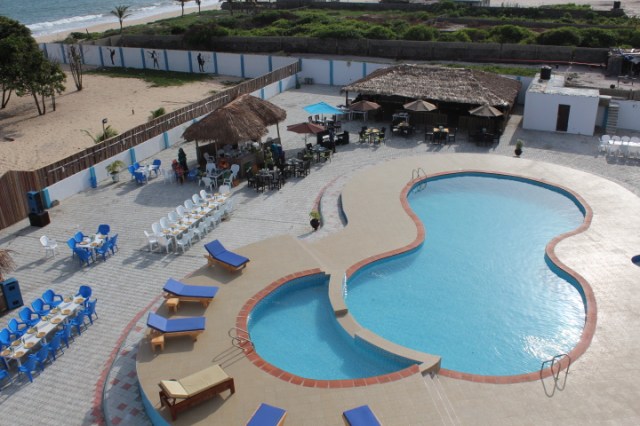 Christmas is just around the corner, and that means it's time to plan your holiday getaway! Are you looking for a luxurious resort experience in Lagos? Look no further – this article has got you covered! We've put together a list of the top Christmas resorts in Lagos to visit this year. From beachfront locations to city center retreats, there's something for everyone.
Resorts In Lagos To Visit This Christmas
If you're looking for an unforgettable holiday experience in Lagos this year, then visit any of these amazing resorts.
1. La Campagne Tropicana Beach Resort
The Christmas season is always an exciting time in Lagos. It brings with it a unique atmosphere of joy, relaxation and festivities. And what better way to make this period even more special than by visiting one of the best resorts in the city? La Campagne Tropicana Beach Resort promises to provide you with an unforgettable holiday experience!
From its pristine beaches and lush gardens, to its world-class facilities – including swimming pools, fitness centers and water sports – La Campagne Tropicana has something for everyone. The resort also offers a wide range of activities such as kayaking, fishing, hiking and horseback riding – perfect for those who want to explore the area. After a day of fun in the sun, guests can be treated to some exquisite cuisine at any of the resort's fine dining restaurants or enjoy drinks at one of their many bars.
Location: Ibeju-Lekki, Lagos.
2. Atican Beach Resort
Are you looking for a perfect getaway this Christmas? Look no further than Atican Beach Resort located in Lagos, Nigeria. This resort is the best place to stay and entertain yourself this holiday season!
Atican Beach Resort offers a variety of activities and amenities sure to please any traveler. From private beach access to swimming pools, spas, and even an on-site casino; there's something for everyone. The resort also boasts delicious restaurants, bars, lounges, and shops perfect for a night out or just relaxing after a long day at the beach.
For those who want to take advantage of their luxury accommodations even more so this holiday season, Atican Beach Resort provides special packages that include discounts on meals as well as complimentary spa treatments and pool access.
Location: Atican Beach Resort, Eti-Osa, Lekki.
3. Inagbe Grand Resort
This award-winning resort has everything that you need for a memorable holiday experience this Christmas. A stay at Inagbe Grand Resort will leave you feeling like royalty! From its warm hospitality to its luxurious facilities, your every need is taken care of here.
You can indulge in activities like boat rides on the lagoon, take part in sightseeing tours or simply enjoy the peace and tranquility of nature. The resort also offers various packages tailored to suit everyone's needs – from family getaways to romantic escapes – making it one of the top resorts around Lagos.
Location: Oladimeji Alo Street, 13 Abimbola Okulaja Cl, Lekki Phase 1, Lagos
4. La Casa Resort
La Casa offers a truly unique experience for guests, with luxurious facilities and amazing amenities. From sumptuous meals prepared by the expert chefs to world-class spa services and chic shopping boutiques, La Casa has it all. With top-notch service and elegance, all your needs will be taken care of at this exquisite resort!
This holiday season, make your Christmas extra special by visiting La Casa Resort. Enjoy breathtaking views from their infinity pool while lounging under a palm tree or take part in some exciting activities such as wave surfing or scuba diving – there's something for everyone here.
Location: Amuwo Odofin, Lagos
5. Kamp Ikare Beach Resort
If you are looking for the perfect place to spend your Christmas holiday this year, then Kamp Ikare Beach Resort is a must-visit destination! Located in Lagos, Kamp Ikare Beach Resort is one of the best resorts in the city. It offers an unforgettable experience with its stunning serene environment and picturesque beach view.
Whether you want to relax or party hard during your Christmas vacation, Kamp Ikare Beach Resort has it all. From luxurious accommodation to exciting activities such as swimming, snorkeling and kayaking, you will find something for everyone at this amazing resort.
The resort also features several restaurants that serve delicious local and international dishes that will tantalize your taste buds. To top it off, there are plenty of shopping areas nearby so you can pick up some last minute gifts or souvenirs before heading home.
Located at the end of the Lekki-Epe Expressway.
6. Eko Tourist Beach Resort
This luxurious destination offers an array of activities and amenities that will make your stay unforgettable. From shopping sprees to romantic boat rides, this is one of the best resorts in Nigeria to visit over the festive season.
Whether you're travelling with family or friends, Eko Tourist beach resort has something for everyone. Admire beautiful ocean views from private balconies, partake in thrilling water sports, or simply relax and indulge in a spa treatment. With its luxurious facilities and prime location near the shoreline, it's no wonder why this resort is a popular choice among tourists during this time of year.
Experience a truly magical Christmas at Eko Tourist beach resort!
Location:  Kilometre 22, Lekki-Epe Expressway, Ibeju, Lekki, Akodo, Lagos
7. Epe Resort & Spa
This stunning destination offers a variety of activities and amenities to make your stay truly unforgettable. From its world-class spa facilities and luxurious accommodations, to delicious dining options and fun-filled entertainment, there's something for everyone at this exquisite resort.

You'll be able to bask in the beauty of Nigeria while getting pampered with top-notch spa services. Its expert team of masseuses will ensure you're relaxed and rejuvenated during your stay. Soak up some sun on its pristine beach or take a refreshing dip in one of its many pools. Plus, enjoy amazing water sports like kayaking or parasailing.
Location: Itoikin Road, Epe Lagos
Conclusion
Lagos is the perfect place to spend the Christmas holidays. With its stunning beaches, luxurious resorts, and delicious cuisine, it's no wonder why this city is such a popular destination for holidaymakers. From the vibrant nightlife of Lekki to the spectacular beauty of Epe, there is something for everyone in Lagos. Whether you're looking for a romantic getaway or a family vacation, these resorts will make your holiday an unforgettable experience. So what are you waiting for?