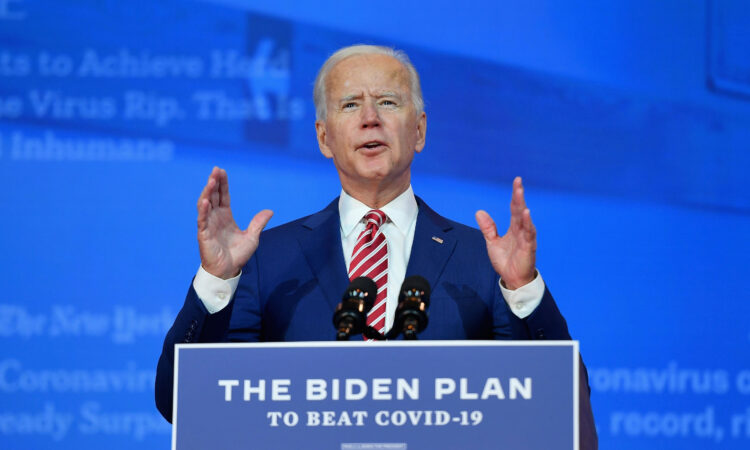 Democratic presidential nominee and former Vice President Joe Biden delivers remarks on Covid-19 at The Queen theater on October 23, 2020 in Wilmington, Delaware. (Photo by Angela Weiss / AFP) (Photo by ANGELA WEISS/AFP via Getty Images)
The Republican bid to overturn President-elect Joe Biden's victory ended early Thursday morning after the Senate voted 92-7 to dismiss a challenge to Pennsylvania's Electoral College vote.
The vote ended a nearly 12-hour saga that saw supporters of President Donald Trump mobbing the U.S. Capitol, in a violent incident that left four dead.
Senators had returned to their chamber to debate an objection sponsored by Missouri Republican Sen. Josh Hawley after midnight.
Senate Majority Leader Mitch McConnell, who told GOP senators not to engage in this effort to begin with, skipped two hours of permitted debate and went straight for a vote.
Hawley was joined by his co-accomplice, Sen. Ted Cruz, as well as Florida Sen. Rick Scott, Mississippi Sen. Cindy Hyde-Smith and newly minted Sens. Cynthia Lummis, Roger Marshall, and Tommy Tuberville.
The rest of the Senate voted the Pennsylvania challenge down.
Both houses have to vote in favor of a challenge for it to succeed.
The Democrat-controlled House is due to vote shortly on the Pennsylvania challenge, but the effort will fail there too.
Before Hawley threw the lawmakers back to their respective houses, Biden was on the precipice of the 270 Electoral College he needed: 244-157.
Republicans in the House and Senate had also challenged the votes in Arizona – which prompted two hours of debate, interrupted by the MAGA riot – and that objection was overwhelmingly overruled.
House Republicans also tried to challenge the results in Georgia, Michigan and Nevada, but didn't have Senate support.