TECNO's Trailblazing PHANTOM X2 Pro 5G Wins Gold at the International Design Awards 2022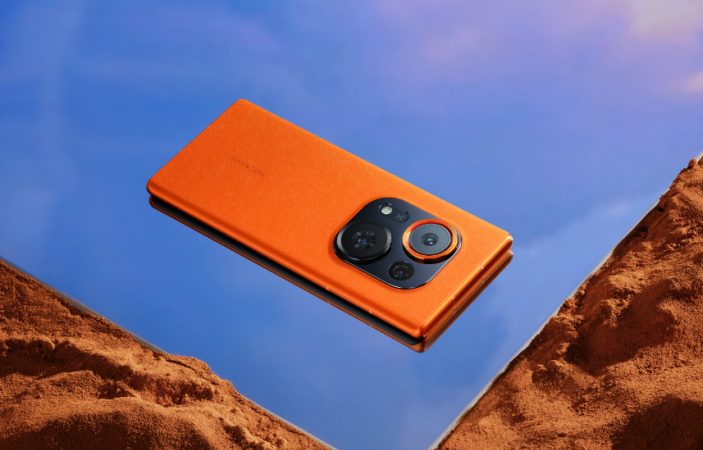 TECNO, an innovative technology brand with operations in over 70 markets globally, continues to rack up more accolades as the 16th annual International Design Awards (IDA for short) recently unveiled its full list of winners, where among those celebrated is the impeccable design team behind TECNO's newest flagship product under its premium sub-brand, the PHANTOM X2 Pro 5G Eco-Friendly Edition, winning the Gold Award in Media And Home Electronics-Phone and Other Communications Technology, and the Bronze Award in Design for Society-Eco-Sustainable-Design.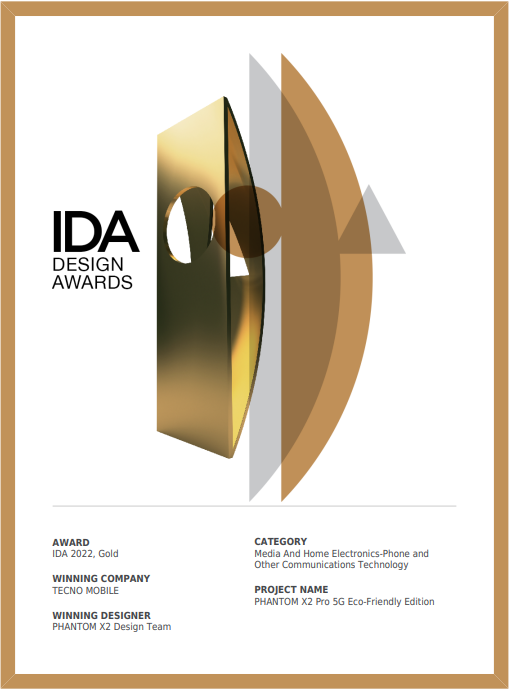 Founded in 2007, the IDA was created to appreciate, celebrate and promote the work of visionaries in design. As one of the world's most prestigious and authoritative design awards, this award means that the TECNO PHANTOM X2 Pro Eco-friendly edition has been recognized by international professional judges and the industry in terms of sustainability, technological and innovative aspects of the design concept. It is the world's first smartphone to feature
a retractable portrait lens comparable to a professional camera to create "studio-like" portrait photography. With a 65mm focal length and 2.5x optical zoom retractable portrait lens, the PHANTOM X2 Pro 5G revolutionizes smartphone image-making. The trailblazing smartphone also packs a powerful flagship MediaTek Dimensity 9000 5G chip, delivering outstanding performance and advanced power efficiency.
On top of its exceptional processing power, the PHANTOM X2 Series also has a unibody curved-screen design that softens the phone's appearance and feels. At the same time, its 3.5D lunar crater back cover reduces the impact of the camera module, eliminating sharp corners and giving it a beautiful, slimmer look.
Aimed to celebrate sustainable and smart designs from various disciplines, the IDA serves as an important spotlight for the winning designers and the environmental impact their products have on the world. Committed to the cause, the PHANTOM X2 Pro 5G Eco-Friendly Edition was built with sustainability, featuring an ultra-thin eco-friendly back cover constructed using recycled materials recovered from oceans. Each back cover contains 14.4% recycled material, which can reduce carbon emissions by approximately 38%, with each cover producing an estimated 2.4g fewer emissions on average. This significant reduction in carbon emissions has just been why it won the IDA Award in Sustainable Design at the first attempt. However, the work isn't done yet. The PHANTOM X2 design team hopes to encourage consumers worldwide to embrace sustainable lifestyles.
TECNO has always been committed to bringing outstanding products with technology and design to consumers through innovation that constantly breaks boundaries. From winning the Sustainable Product Design award at the Loop Design Awards in September 2022, to now winning gold at the IDA, TECNO has more certainly proven itself to be an impeccable force in the premium smartphone market. With the "Stop At Nothing" brand essence, TECNO will continue designing the best contemporary technologies for global users, giving them stylishly designed intelligent products that inspire them to never stop pursuing their best selves and best futures.
More information about TECNO PHANTOM X2 Pro wins , please visit:
PHANTOM X2 Pro 5G Eco-Friendly Edition | Gold Award in Media and Home Electronics-Phone and Other Communications Technology
PHANTOM X2 Pro 5G Eco-Friendly Edition | Bronze Award in Design for Society-Eco-Sustainable-Design