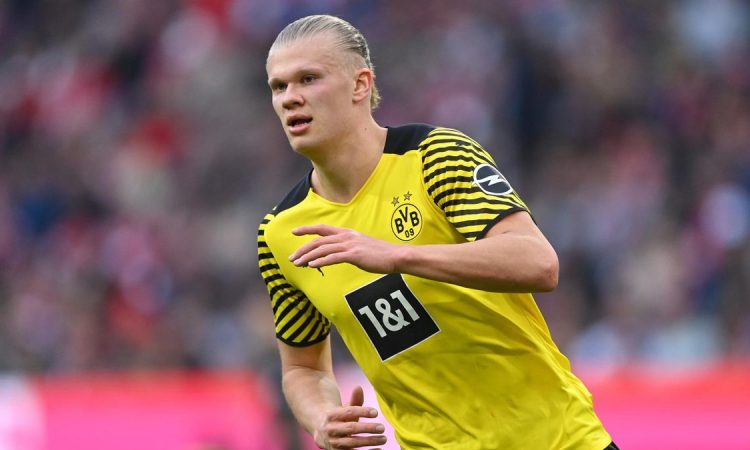 Borussia Dortmund will only receive €40 million from Erling Haaland's summer transfer to Manchester City – with the remaining €20 million going to one of his former clubs.
City confirmed they'd agreed terms with Dortmund for the 21-year-old on Tuesday and he's already passed a medical.
Haaland will officially become a City player on July 1 and the reigning Premier League champions will pay a total of €60 million.
Interestingly, Dortmund will have to share part of that fee with RB Salzburg, who Haaland was bought from in 2020.
An official statement reads per BVBWLD: "With the realization of this transfer deal, the management expects a positive effect on the key earnings figures (EBITDA, EBIT) for the 2022/2023 financial year of a magnitude of around 35.0 million – 40.0 million euros."
Haaland is regarded as one of the world's top talents and he's scored a whopping 28 goals in 29 appearances this campaign.
A number of top European side were interested, including Paris Saint-Germain, Bayern Munich and Real Madrid.
It's been widely reported that Haaland's €64 million release clause would be active in 2022 but City have managed to bag him for a little bit less.
City are currently top of the league and on course to win their fourth title in five years.
They've been functioning without an orthodox striker for most of the year however.
Sergio Aguero left at the end of last season and City failed in their attempt to sign Harry Kane from Tottenham Hotspur.
In addition to Haaland, City will be bolstering their attack with the addition of Julian Alvarez from River Plate.
Manager Pep Guardiola was asked about Haaland ahead of Wednesday's game with Wolverhampton Wanderers but he remained tight-lipped.
He said: "Everybody knows the situation, I shouldn't talk because I don't like to talk about the future or next season.
"Dortmund and Man City told me I'm not allowed to say anything until it's completely done. We'll have time to talk.
"I'd love to talk, they tell me don't say anything until the legal actions [are done]. We'll have time to talk, not because I don't want."