22 year old Indian man, streams his own suicide on Facebook Live after his girlfriend got engaged to another man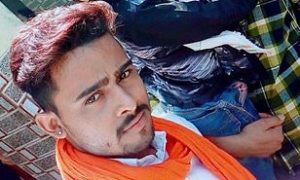 A 22-year-old man identified as Shyam Sikarwar committed suicide on Facebook after his girlfriend left him for another man.
The depressed lover posted shocking footage on Facebook in which he hanged himself inside a complete in the village of Raybha few miles away from Agra.
According to the Times of India, Sikarwar popularly known as "Raj" left a four-page suicide note in which he apologised to his family and told them to donate his organs.
A page on one of the suicide note reads:
"I miss her and can't live without her. I can't bear the fact that she is getting married to someone else"
It is not known if Sikarwar had broken up  from the unknown woman or if they were still in a relationship at the time of her engagement.
Ajay Kaushal, a police spokesperson from Achhnera, said: 'The victim's body was found hanging inside the temple premises by local residents.
The victim's profile was deactivated from the Facebook by his family members.
Tags :
Bizarre
India
Suicide