Monkeypox hits Lagos, Government on High Alert.
Two cases of the deadly viral monkeypox disease have been reported in Lagos state. The highly infectious virus has hit the Commercial capital of Nigeria a week after the first case was reported in Yenagoa, Bayelsa State.
It would be recalled that the highly infectious disease caused by the monkeypox virus and transmitted to humans by rodents and primates first surfaced in Yenagoa about a week ago. The Bayelsa state authorities had revealed that 10 cases of infection had been recorded and about 49 people who were in contact with infected individuals were being monitored.
Officials of the Lagos state government revealed the two cases on record are being investigated and measures are in place to prevent a widespread of Monkeypox among residents of the mega city.
The state Commissioner for Health, Dr. Jide Idris, while addressing a press conference on Monday, stressed that  awareness and sensitization on the viral disease among residents of the state is crucial to preventing an outbreak of monkeypox in the state.
Read also Official: NECO 2017 Exam Time Table
"Though no confirmed case has been recorded, there is the need to sensitize members of the public and provide adequate information on measures for prevention and control of the disease in line with the policy of the State Government," he said. "I need to state that though there is no specific vaccine for the disease, vaccination against Smallpox has been proven to be 85 percent effective in preventing Monkeypox. There is also no specific anti-viral therapy for Monkeypox, however, the disease is self-limiting and could be managed conservatively."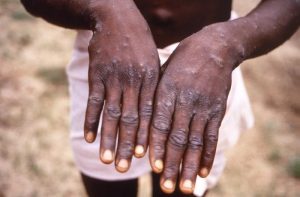 "The symptoms in human is similar to those seen in the past in smallpox patient although less severe. "Monkey Pox should be suspected in any person with rash, fever, chills, sweats, headache backache, lymphadenopathy, sore-throats, cough and shortness of breath."
"Residents are urged to adequate measures in order to reduce the risk of contracting the diseases." "Health workers should have a high index of suspicion against any person with the above symptoms in order to improve case detection."
"I need to state that though there is no specific to a vaccine for diseases, vaccination against smallpox has been proven to be 85 percent effective in preventing Monkeypox."
"There is also no specific anti-viral therapy for Monkeypox." "However the diseases are self-limiting and could be managed conservatively."
"The preventive measures to be taken against the spread of the disease include; avoiding close contact with infected people; avoiding consumption of bushmeat and dead animals; cooking of meat and meat product thoroughly before eating and washing hands with soap and running water frequently and thoroughly."
Tags :
Lagos
monkeypox
viral