6 Years after, Nigerians salute Osinbajo's stewardship.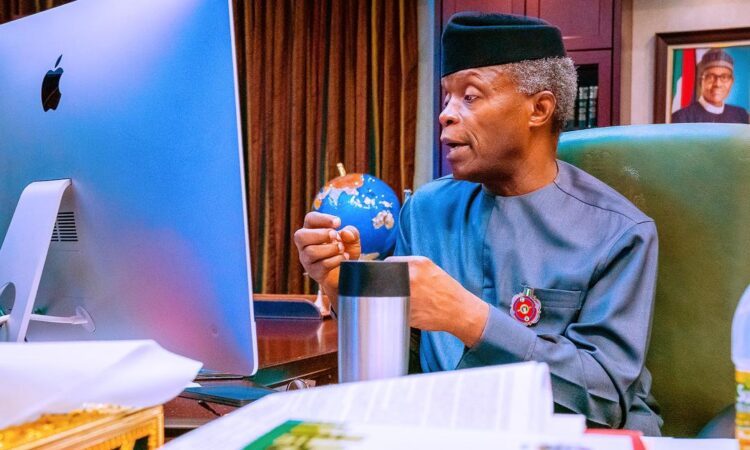 Nigerians on Wednesday applauded the significant achievements of Vice President Yemi Osinbajo in the past 6 years as Vice President.
It would be recalled that since the Vice president assumed office six years ago his numerous contributions in the Buhari- led administration that cuts across the major aspect of the economy ranging from the creation of N-Power,, Trader Moni, Market Moni and the rest have constantly been commended by Nigerians.
While Many expect that he takes up roles outside his constitutional jurisdiction by taking certain decisions against the orders of the President, many praised him for his efforts in ensuring that the economy stays afloat through his Economic Sustainability Plans meant to provide aid to Nigerians greatly affected by the COVID-19 pandemic.
Lashing on the aforementioned achievements Nigerians have taken to social media to chronicle his giant strides since his assumption as Vice President.
The catching phrase "Be like Yemi" used my many of them created a buzz on the social media space
'Be like yemi' served as an appeal to leaders to be patriotic, by embodying the personae of the Vice President, who himself has demonstrated a great deal of patriotism in the face of daunting challenges
They bared their minds via comments posted on different social media channels, expressing their joy on Osinbajo's style of leadership and urged other political office holders to take a leaf from his stewardship.
"BE LIKE YEMI a man who has always stood for the rule of law and in the interest of all Nigerians, regardless of ethnicity. In his capacity as as Acting President, he fired the former DG, SSS, a Fulani man for that matter, when he violated the sanctity of the National Assembly." one Thomas Blessing, wrote on Twitter.
Another, who twitted from his Twitter handle @AdewunmiCollins exposed the competence of Osinbajo as the one who always delivers "When the pandemic hit our shores, d president directed the VP @ProfOsinbajo to work out a plan in a bid to stay afloat the fallout of the COVID 19 Pandemic on our economy. Osinbajo came up with a plan @ESP and delivered it to the president. The rest is now history. BE LIKE YEMI"
Also, a Nigerian, who tweeted from his handle, @BolaDaunsi wrote, "Nigeria will be a great nation only if even half of those at the helm of affairs can BE LIKE YEMI. The name surely resonates. @ProfOsinbajo always advocates all needful reforms not only in the different sectors, but also within the different arms of Govt"
Another, commenting via @Olaoye, quoted Osinbajo's stance of security, "Despite our security challenge, the values of equity, justice and fairness across communities nationwide can be addressed with the Nigerian union- VP. You can BE LIKE YEMI
One, who tweeted via FrancisOke said, "VP Osinbajo launched the ESP Cash Transfer Scheme facilitated through a wholly technology-based approach called the Rapid Response Register with plans to give 1million households COVID-19 N5000 monthly Cash Transfer for 6 months. BE LIKE YEMI"
Likewise, another Twitter user tweeting via @HannahAdedoyin2 stated "At an event held in May 2019, President Muhammadu Buhari commended Osinbajo's efforts and said he was glad that the school feeding programme had improved attendance in schools. BE LIKE YEMI"