Top 10 Popular Tourist Attractions in Northern Nigeria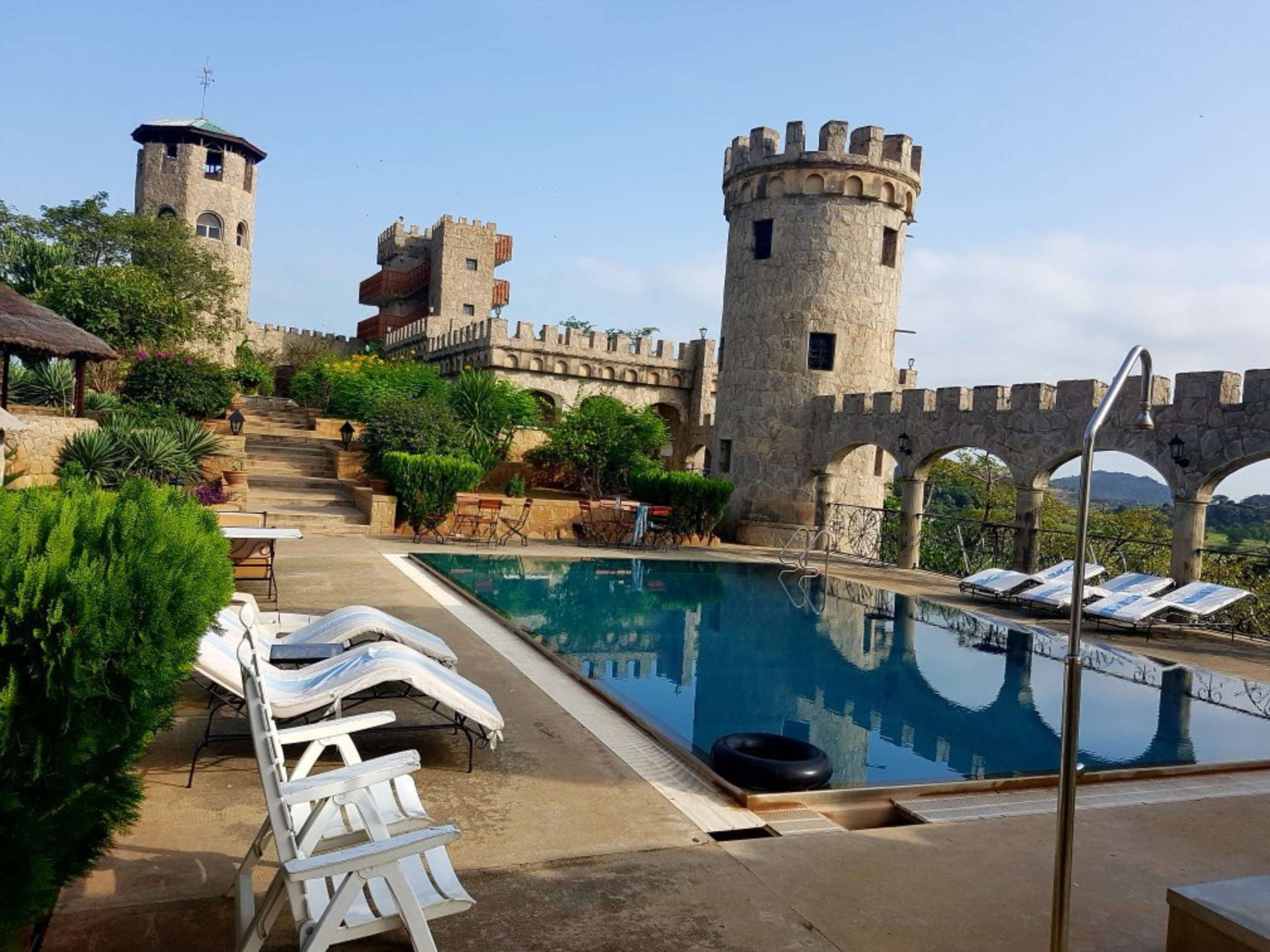 Tourist attraction in Northern Nigeria– In this post we will be looking at the best tourist attraction in Northern Nigeria.
It is a general belief that Northern Nigeria is riddle with chaos and terrorism alone. However, it is filled with must see attractions.Hundreds of locations draw thousands of tourists to natural landmarks, historic sites and exciting places.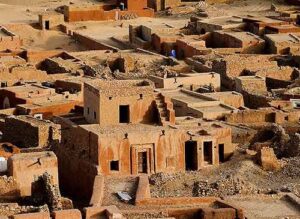 Some are old, some are new. Some are geological wonders. Some are manmade structures. Here are our picks for the top 10 must see attractions in Northern Nigeria.
Top 10 Popular Tourist Attractions in Northern Nigeria
1. Gashaka-Gumti National Park
It would be impossible to miss the Gashaka-Gumti National Park on a trip to Adamawa. This is a breathtaking national park in Nigeria and it is Nigeria's largest national park.  The national park was created from two game reserves in 1991 and is in the eastern provinces of Taraba and Adamawa state to the border with Cameroon. Here you will find over 103 mammal species and over a million birds.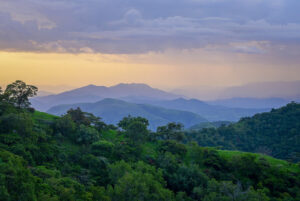 The total area covers about 6,402 km2, much of the northern GGNP is savannah grassland, while the southern GGNP sector of the park has a rugged terrain characterized by very mountainous, steep slopes as well as deep valleys and gorges, and is home to montane forests. Altitude ranges from ranging from about 457 metres (1,499 ft) in the northern flatter corner of the park, up to 2,419 metres (7,936 ft) at Chappal Waddi, Nigeria's highest mountain in the park's southern sections. It is an important water catchment area for the Benue River. There is abundant river flow even during the markedly dry season. Enclaves for local Fulani pastoralists exist within the park boundary that allow for farming and grazing.
2. Ancient Kano Walls
There are much more to the beautiful medieval city of Kano when you see the impressive ancient Kano walls. This 14km radius earth monument has a spiritual, cultural and historical significance. It is associated with the Emir's Palace.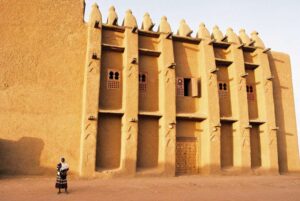 The Ancient Kano City Walls are made up of Dala Hill where it was founded, Kurmi Market and the Emir's Palace. The Ancient Kano City Walls originally had an estimated height of 30 to 50 ft and about 40 ft thick at the base with 15 gates around it
3. The Ancient Nok Settlement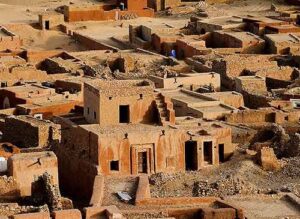 From Jaba, Kaduna state, the antiquities from the Ancient Nok Settlement are seen in galleries and museums across the world. This little archaeologists' masterpiece is a place you need to see in your lifetime. It was here that the Terracotta figurine was discovered in the world.
4. Kanji Dam
When it comes to the wonders of human creativity, Kanji Dam makes that possible. Located in Kanji, Niger State, Kainji Dam is one of the longest dams in the world. It is also the first dam to be built in Nigeria. It is around 50 years old dam and still fully functional. It is constructed across the famous river Niger.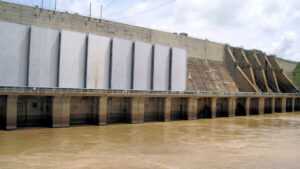 Construction of the dam was carried out by Impregilo (a consortium of Italian Civil Engineering Contractors) to designs by Joint Consultants, Balfour Beatty and Nedeco, and began in 1964 to be completed in 1968. The total cost was estimated at US$209 million (equivalent to about US$1.3 billion in 2019 dollars), with one-quarter of this amount used to resettle people displaced by the construction of the dam and its reservoir, Kainji Lake.
5. Yankari National Park
Yankari National Park is a beautiful and enormous wildlife park located in Bauchi State. It is home to several natural warm water springs, as well as a wide variety of flora and fauna. Yankari National Park is arguably the most popular tourist spot in Northern Nigeria.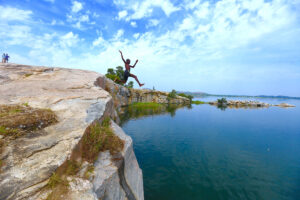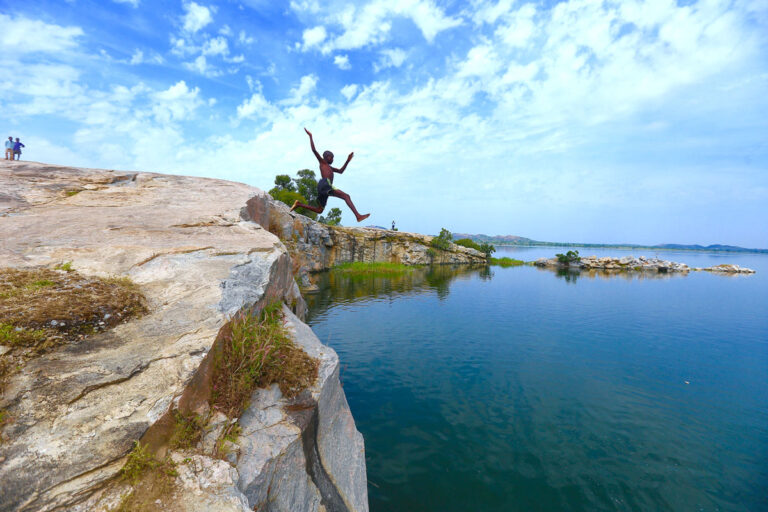 Yankari National Park is a large wildlife park located in the south-central part of Bauchi State, in northeastern Nigeria. It covers an area of about 2,244 square kilometres (866 sq mi) and is home to several natural warm water springs, as well as a wide variety of flora and fauna. Its location in the heartland of the West African savanna makes it a unique way for tourists and holidaymakers to watch wildlife in its natural habitat. Yankari was originally created as a game reserve in 1956, but later designated Nigeria's biggest national park in 1991. It is the most popular destination for tourists in Nigeria and, as such, plays a crucial role in the development and promotion of tourism and ecotourism in Nigeria. It is also one of the most popular eco-destinations in West Africa
6. Kajuru Castle
Kajuru Castle is located in Kadiri village in southern Kaduna State. It is a luxury villa, built between the years 1981 and 1989. The castle was built by built by a German expatriate in Nigeria, living in Kaduna at the time. The gorgeous architectural masterpiece of the Kaujru castle is a sight to behold and can contain up to 150 guests.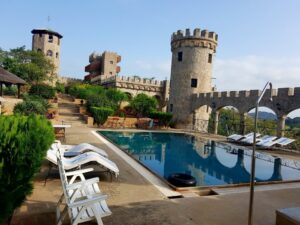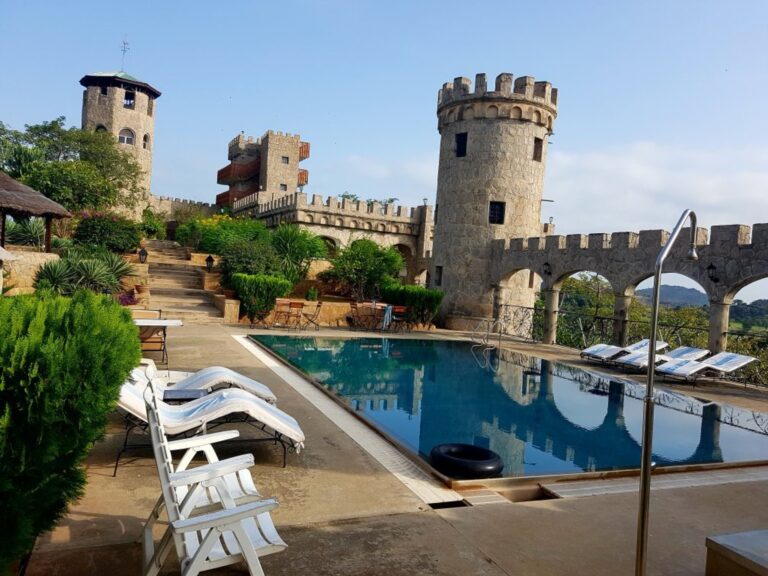 The castle is located at about 45 km from Kaduna on a mountaintop in Kajuru (Ajure) village, Kaduna State. Built with 1 meter thick granite stone in a fanciful medieval-inspired Romanesque style, it is adorned with turrets, an armory and a dungeon. The castle is privately owned, and has the capacity to contain 150 guests
7. Gurara Waterfalls
The amazing Gurara Waterfalls is named it after two gods once worshipped by Gwari people: Gura and Rara. The Gurara Waterfalls is a breathtaking spot to enjoy wildlife or go fishing in the Gurara River. Gurara Waterfalls is a tributary of the River Niger.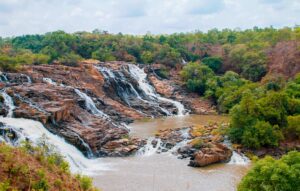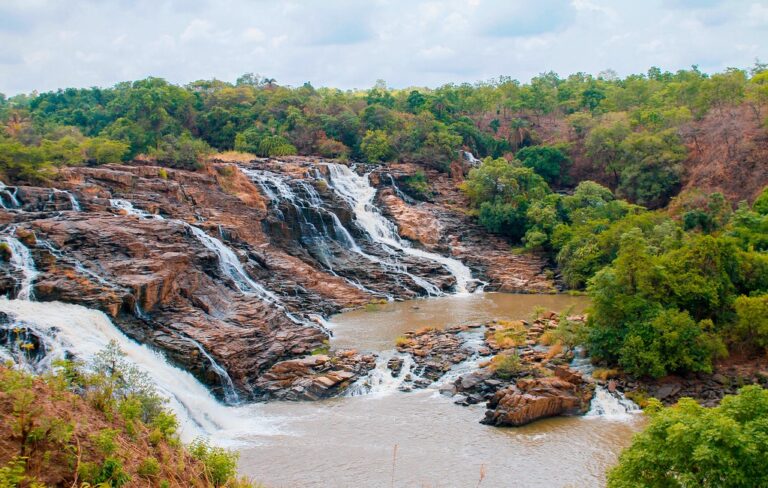 According to oral history, Gurara Waterfalls was discovered by a Gwari hunter called Buba in 1745 before some Europeans discovered it in 1925 after they found it as a recreation centre. Prior to the discovery of the waterfalls by the Europeans, Gurara Waterfalls was worshipped by people living in communities around it. Oral history also has it that Gurara Waterfalls and Gurara River were named after two deities called Gura and Rara
8. Kamuku National Park
This national park provides a charming insight into the life in Nigerian medieval times. It is called the Kamuku National Park. The park is located in the west of Kaduna State.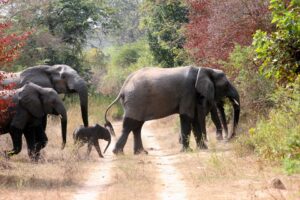 The park is located in the west of Kaduna State, and is adjacent to the Kwiambana Game Reserve to the north west and 14 km away from main town.[1] It was established in 1936 as the Native Authority Forest Reserve of Birnin Gwari under the Northern Nigeria Government.
9.The Surame Cultural Landscape
Located in Sokoto State the Surame Cultural Landscape is blissful with lush forest and rich history.
10. The Queen Amina's Wall
In the Zazzau city, a well-fortified wall was built to defend the ancient city by Queen Amina of Zaria, who is famous for her smart military acts and strategies. Interestingly, this wall still stands sublimely in the modern Zaria city and is one of the popular tourist attractions in Northern Nigeria.