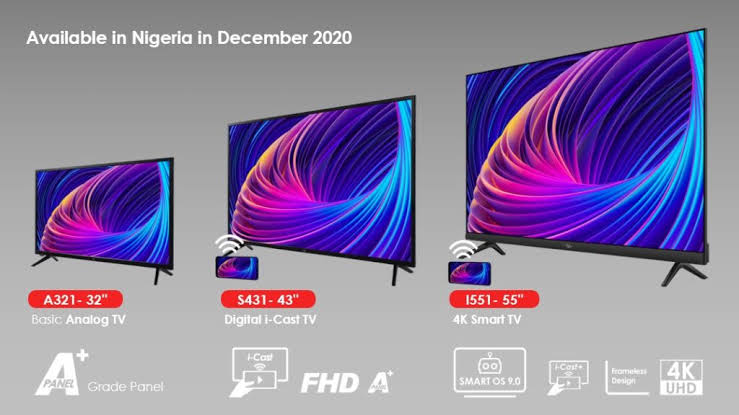 Itel has entered the Android TV market with its new G-series Smart TVs, which have been released in Nigeria. The company has released four models in all, ranging in size from 32 to 55 inches. In this article we will be taking a  look at their features, specs, and expected costs.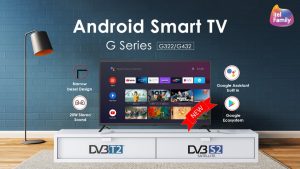 Itel hasn't released the pricing yet, but it has stated that the televisions will be available for purchase in December.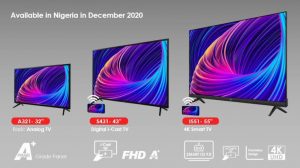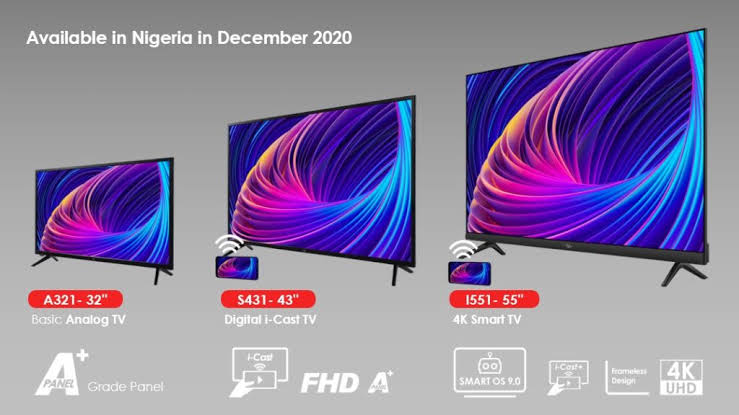 itel G3230IE and itel G4330IE
Itel's 32-inch and 43-inch Android TVs, model numbers G3230IE and G4330IE, respectively, have HD ready and FHD displays. The resolutions of these displays are 1366 768 pixels and 1920 1080 pixels, respectively. They also have a 170° viewing angle and 3000:1 and 4000:1 contrast ratios, respectively.
These two TVs contain 1GB of RAM and 8GB of storage, respectively. They run Android TV 9 and have 1xTuner, 2xHDMI, 1xMini AV, 1xUSB, 1xRJ-45, 1×3.5mm jack, and 1xOptical input.
itel G3230IE(32-inch) expected cost- N96,000 – N97,000
itel G4330IE(43-inch) expected cost-N161,000 – N162,000
itel G4334IE and itel G5534IE
The itel G4334IE and itel G5534IE, on the other hand, come in 43-inch and 53-inch sizes, respectively, and feature a 4K UHD display with a resolution of 3840*2160 Pixels with 1300:1 and 1200:1 contrast ratios.
These two Android TVs, unlike the previous models, feature slightly broader viewing angles (178°). In addition to the ones listed above, they include 2GB RAM and 8GB inbuilt storage, run Android TV 10, and have 3xHDMI, 2xUSB connectors, 1xMini AV, and Mini-YPbPr connections.
Apart from that, all four models have frameless design, 60Hz refresh rate displays, 24W(12*2) Dolby Audio speakers, Bluetooth remote with Voice control for Google Assistant(Hotkeys for Amazon Prime, Netflix, and YouTube), Play Store, Google Assistant, Chromecast built-in, Wi-Fi, and Bluetooth connections.