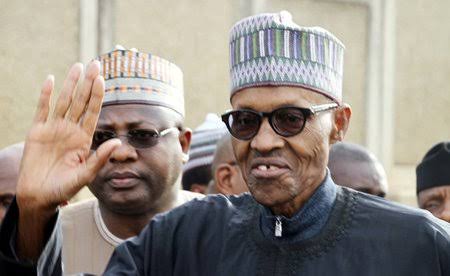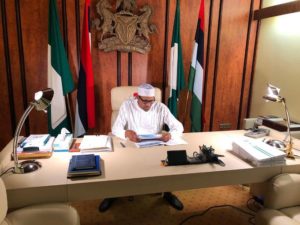 "Where is Buhari?" That's the question on my neighbors lip, my 4 year old sibling, my pet and everything that has life in Nigeria.
Since the coronavirus outbreak in Nigeria,  Nigeria President has gone into hiding. At the time of writing, Nigeria has recorded 65 cases of coronavirus and our president has been mute. No daily updates, or assurances on the pandemic like other presidents. Nigerians are in a state of fear and panic and he has not appeared on TV to give Nigerians hope.
Since news broke out that Abba Kyari tested positive for coronavirus, rumors of Buhari testing positive flew around.
Despite the federal  government insisting that Buhari tested negative, Nigerians found it had to believe because Kyari recently returned from Germany, a high-risk country, and attended meetings with the president.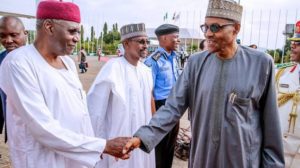 To make things interesting, Controversial investigative journalist, Kemi Olunloyo has claimed that President Muhammadu Buhari is very sick.
According to Olunloyo, a ventilator has been taken to the ICU in Aso Villa to allegedly attend to the President. She went on to claim that the President contracted the virus from his chief of staff.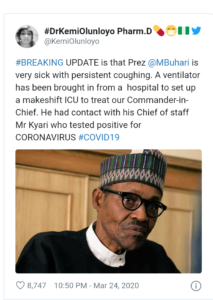 Yesterday, Jackson Ude, who served under President Goodluck Jonathan's government, published an audio on Twitter of a Nigerian lady who claims to have first-hand knowledge of the President being sent outside Nigeria for medical treatment.
The lady claims she has a friend whose husband is an air force pilot and was asked to fly the President and his chief of staff out but could not because he's under quarantine.
Another pilot was allegedly procured and flew Buhari and his top official out to receive treatment outside the country.
Reacting to the leaked audio, Bashir Ahmad, Buhari's personal assistant on new media claimed the audio was fake and was recorded to cause panic.
To be frank, presidents of other countries have been giving their citizens daily updates concerning coronavirus but Buhari has been silent. Camera shy or cowardice? Only God knows.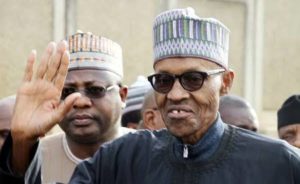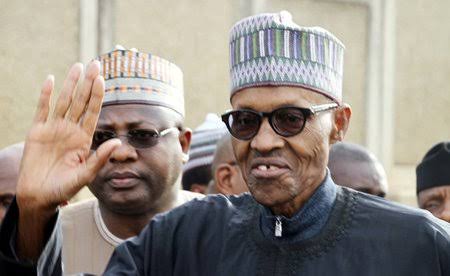 Well, If this silence continues, many Nigerians will forced to believe that the man who they voted to lead them has absconded like a thief in the night. Some says he is in Dubai others say he is in Cuba. Where is Buhari? If you see him, please tell him this is not the right time to play hide and seek.
Tags :
Buhari
Coronavirus