BVN: See why you might be at risk of losing your funds to Federal Government.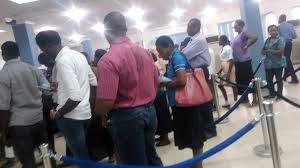 A Federal High Court sitting in Abuja has granted a request by Attorney General of the Federation, Abubakar Malami, for a temporary forfeiture of all funds held in bank accounts not linked to BVN — and whose ownership could not be absolutely identified.
The court also granted the Nigerian government the authority to seize all funds held in accounts without proper documentation of account owners' credentials, according to a report by the PREMIUM TIMES.
It is widely speculated that thousands of bank accounts containing billions of Naira remain unlinked to BVN since the CBN instructed commercial banks to halt the BVN enrolment exercise in 2015.
The presiding Judge, Nnamdi Dimgba, ordered all the 19 deposit money banks (DMBs), operating in the country to release to Nigerian government names of accounts not yet connected to BVN; account numbers; their outstanding balances; domiciling locations; and domiciliary accounts without BVN and where they are domiciled, PREMIUM TIMES reports.
Nigerian deposit money banks listed as respondents in the ex-parte suit are: Access Bank, Citi Bank, Diamond Bank, Ecobank, Fidelity Bank, First Bank and First City Monument Bank.  Guarantee Trust Bank, Heritage Bank, Keystone Bank, Skye Bank, Stanbic IBTC Bank, Standard Chartered Bank, Sterling Bank, Union Bank and United Bank for Africa, Unity Bank, Wema Bank and Zenith Bank.
The court ordered all commercial banks to disclose any investments made with funds and to withhold authorisation for any outward inflow of funds from the accounts. They are also compelled to submit all details of such transactions to the Nigeria Inter-Bank Settlement System, NIBSS, and the CBN for authentication.
The judge directed all concerned banks to publish all bank accounts not linked to BVN in national newspapers with a 14-day notice for parties with interest in such accounts to come forward and justify why their funds should not be forfeited to the Nigerian government.
The CBN, a joint respondent alongside the 19 DMBs, was also ordered to appoint an official who will examine all the details submitted to the apex bank for compliance.
This latest directive is in line with  Section 3 of the Money Laundering Act, 2011, which states that banks must, "ensure that documents, data or information collected under the customer due diligence process is kept up-to-date and relevant by undertaking reviews of existing records, particularly for higher risk categories of customers or business relationships."
The Bank Verification Number BVN – a unique, verified identification number introduced by the CBN in 2014 – can be used for transactions across all the banking platforms in Nigeria. Despite having extended deadline for BVN enrolment to 31st October, 2015, several hundreds of thousands of account owners were unable to enroll into the BVN system.