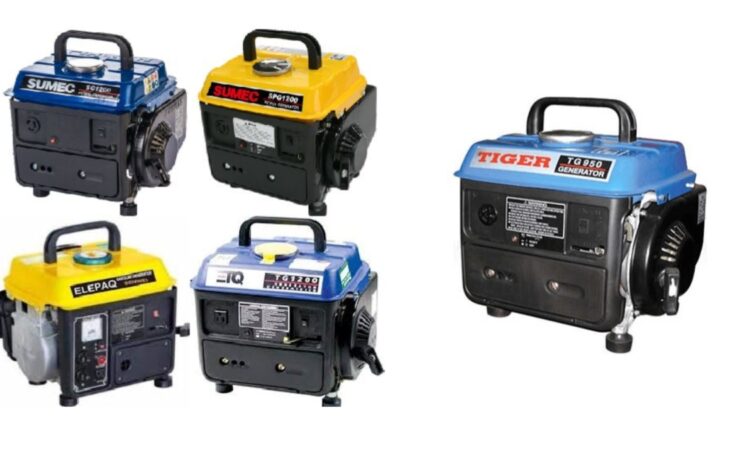 Tiger Generator Price 2023- Wanting to know the current prices of Tiger Generator in Nigeria alongside their User's guide, you're in the right place!
Tiger generators, popularly called "I beta pass my neighbour" in Nigeria's colloquial English parlance is a popular choice among Nigerians.
The brand has made a reputable name for itself as a viable alternative to the epileptic electricity supply common in most parts of Nigeria.
Its portability and affordability made Tiger generators the number one choice for use in homes, salons, small shops and business centres.
Tiger generators effortlessly carved a niche in the Nigerian market while thriving on the unavailability of constant power supply.
Its ability to fit right in into the income profile of the majority of Nigerians while providing solutions to the power shortfall in the country was indeed a perfect match.
Tiger generators were once the market leaders in the industry. However, the influx of other brands like Sumec Firman, Elepaq and Tigmax into the Nigerian market has seen the popularity of Tiger generators wane a bit.
This is as a result of the stiff competition that emerged. Nevertheless, Tiger generator is still one of the leading brands in the Nigeria market.
Prices of Original Tiger Generator in Nigeria
Here are some popular power ratings of Tiger generators with their average prices in Nigeria. You must note that these prices may slightly vary depending on your bargaining power and location in Nigeria.
| Type | Price(₦) |
| --- | --- |
| Tiger TG950 650VA Generator | 25,000 -35,000 |
| Tiger TG2700 2KVA Generator | 60,000 – 95,000 |
| Tiger TG1850 1.2 KVA Generator | 42,000 – 55,000 |
| Tiger TG3700 2.5KVA Generator | 75,000 -105,000 |
| Tiger TNG2500A 2KVA Generator | 65,000 – 120,000 |
| Tiger TNG3500A 2.5KVA Generator | 80,000 -120,000 |
| Tiger EC2500CX 2KVA Generator | 90,000- 140,000 |
| Tiger EC3800CX 2.5KVA Generator | 99,500 -140,000 |
| Tiger EPN4000DX 2.5KVA Generator | 80,000 -150,000 |
These above-listed power ratings are for Tiger generators rated 50Hz, which is used in Nigeria. In countries with 60Hz rating, the power rating may vary.
Tiger generators are easily available all over Nigeria. However, it is advisable to buy your Tiger branded generators from accredited dealers and electronic shops. This is to ensure that you get the best quality you desire.
You can also buy your Tiger Generator from reputable online stores like Jumia and Konga and take advantage of some discounts they offer on Tiger generators.
Pros of Tiger Generators
1. Portability: Tiger generators are generally known for their portability. They are not cumbersome and can be easily carried from place to place.
2. Affordability: This is an upper edge Tiger generators have over other brands. You don't have to break the bank to get one for your home or business.
3. Easy Maintenance: Tiger generators are easy to service and maintain. Moreover, its spare parts are easily accessible at your local electrical store at reasonable prices.
4. Low Petrol Consumption: Tiger generators became a choice brand as a result of its fuel-efficient engines. And this enables customers to take advantage of its lesser petrol consumption rates.
Cons of Tiger Generators
1.Wear and Tear
Depend on how often you use your Tiger generators; you may have to call on your local electrician to service the parts every 2-3 weeks.
Additionally, you may have to replace some non-functional parts regularly. And this can be very tiring and time-consuming.
2. Load Restriction
As a backup power supply unit, Tiger generators are limited to their power ratings. Not all house appliances are to connect to your Tiger generator as it can result in overloading.
Electric iron, air conditioners, heaters are a few of the devices that shouldn't be in power when using Tiger generators.
3.Temporary backup
Tiger generators cannot serve as a permanent backup for power failure. It is not advisable to use the power generating set for more than six hours at a stretch.
4.Noise and air pollution: Most power generators are known to make so much noise while emitting toxic smoke into the environment. And Tiger generators are no different.
Safety tips to adhere to while using Tiger generators
Just like most electric gadgets and equipment, Tiger generators come with a user's manual. The manual helps to guide buyers on its proper use, maintenance as well as safety tips.
You will do well to read the user's manual and follow its instructions strictly to enjoy your product. Here are some few safety tips you should know:
1. Tiger generators are purely for outdoor use. The generating set should be at least 15 feet from the house. This is to prevent the inhalation of carbon monoxide fumes from power generators, which is dangerous for our health.
2. You should protect your Tiger generator from the weather elements like rain and sun. Generally, generators pose electrical risks, especially when operated in wet conditions.
It is advisable to construct a generator house to protect it. And always ensure your hands are dry before touching the generator.
3. Turn on the generator before plugging electronic gadget, ensure you turn on your appliances and lights one to avoid overloading the unit. Also, remember that generators are for temporary usage; prioritise your needs.
4. Keep children and pets away from your Tiger generator. Many of its components are hot enough to burn you during operation.
5. Be sure the generator is off and cool before fueling it.
Conclusion
Ardent adherence to these safety guidelines and basic operating instructions will ensure your safety as a user. Moreover, it will enable you to enjoy a long-lasting product.
Now you all this information at hand, you can hit the market and buy the Tiger power generator.