Digifon BOOM-Q: The Ultraportable Bluetooth Speaker You Can Count On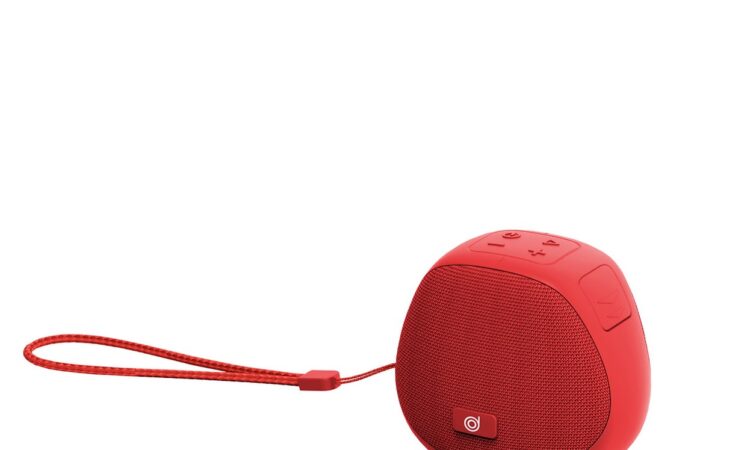 When it comes to ultraportable Bluetooth speakers, not many are as compact, rugged, and provide quality sound fully loaded with thumping bass as the Digifon BOOM-Q. If you've always wanted a compact Bluetooth speaker with rich sound without breaking the bank, you've got to stop here.
Digifon has been pumping out some really affordable audio devices—that don't compromise on sound and build quality—for quite a while now. They've got a series of Bluetooth earbuds and portable speakers that you can count on, and the latest BOOM-Q compact Bluetooth speaker is one of the excellent ones.
The portable speaker produces shocking rich bass with crystal-clear high and mid frequencies that would make you question if that's possible on such a tiny speaker. It's not all about the small head but the big brain inside. BOOM-Q pairs with your device over a Bluetooth 5.0 connection, paving the way to flawlessly transfer audio data over a solid wireless connection with low power consumption.
Talking of power consumption, you've got a remarkable battery life that makes you forget the charger for a while. BOOM Q provides over 9 hours of continuous playback, allowing you to focus on having a good time rather than getting disturbed by some irritating low battery warning.
Beautiful sound in a Compact package
How compact can a good-sounding speaker be? BOOM-Q is tiny enough to fit perfectly in your palm. It sits in your pulse, so you don't have to worry about extra luggage when you need to carry a Bluetooth speaker with you. Just slip the BOOM-Q into your handbag and get going.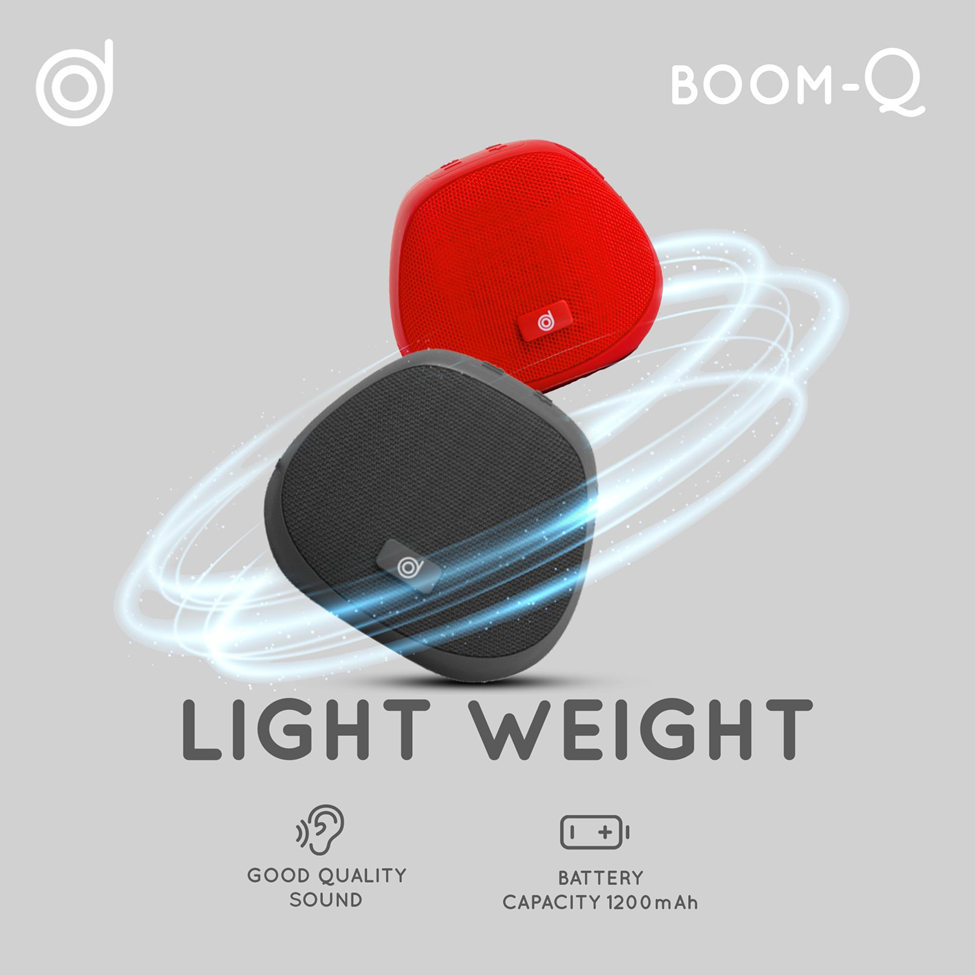 Is the portable size a barrier to high-quality sound? No way! BOOM-Q is an accurate definition of "small but mighty." Thanks to its large speaker and well-tuned sound drivers, this ultraportable speaker provides you with that massive, bassy sound you've always wanted.
When it's time for immersive music enjoyment, you'll be shocked with its thumping bass, crystal-clear highs and mids, and immersive 360o sound effect at a highly amplified volume without distortion. That's made possible by powerful speaker hardware inside the tiny body.
The BOOM-Q is your perfect lightweight speaker with good sound quality. You won't find many as good as it at its affordable price point.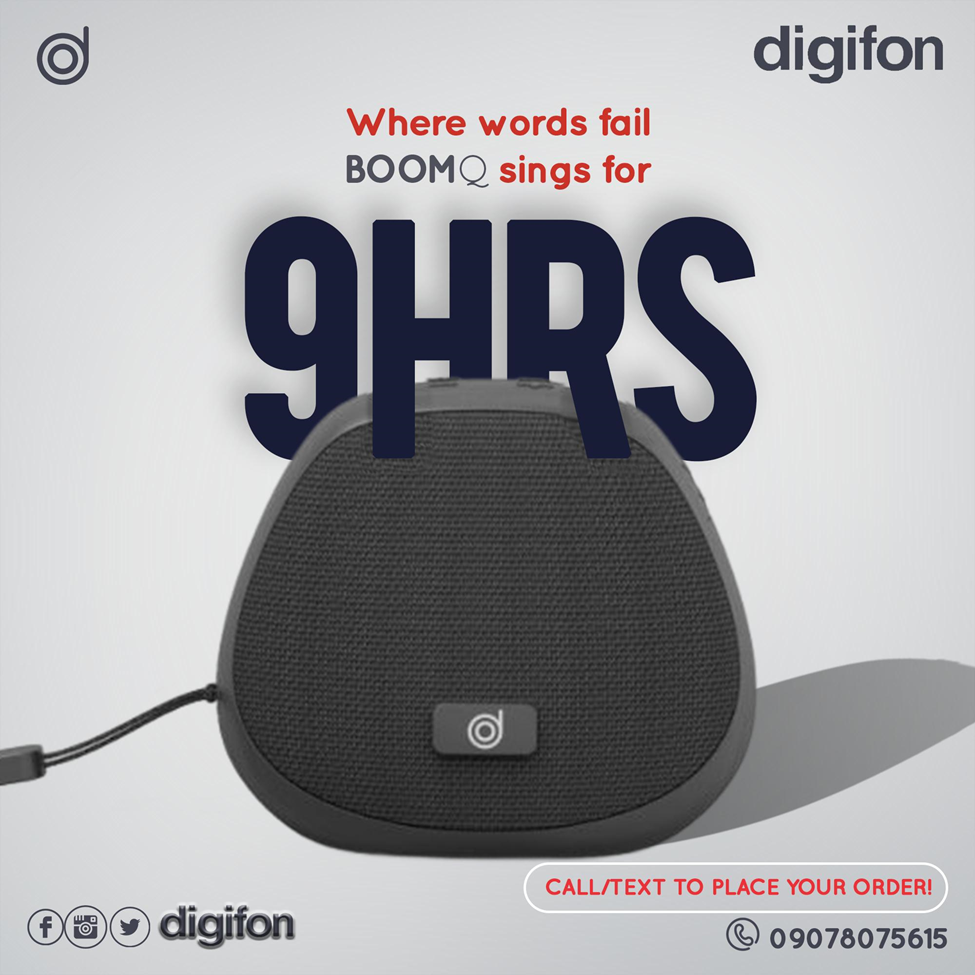 Keeps playing for solid 9 hours
Do you also get annoyed with the incessant low-battery warning that won't let you enjoy your music after a few hours of playing some rechargeable speakers? It's not a thing on the BOOM-Q!
Even as small as it is, it keeps playing for longer hours when other sounds fail.
Equipped with a large battery capacity of 1200mAh, you're bound to experience uninterrupted music playback from the day to your bedtime. Once fully charged, BOOM-Q offers you a solid 9 hours of nonstop high-quality, satisfactory listening.
The portable but mighty Bluetooth speaker is what you can bring on for long listening sessions without thinking about sudden power outages or getting frustrated with some incessant low battery warning.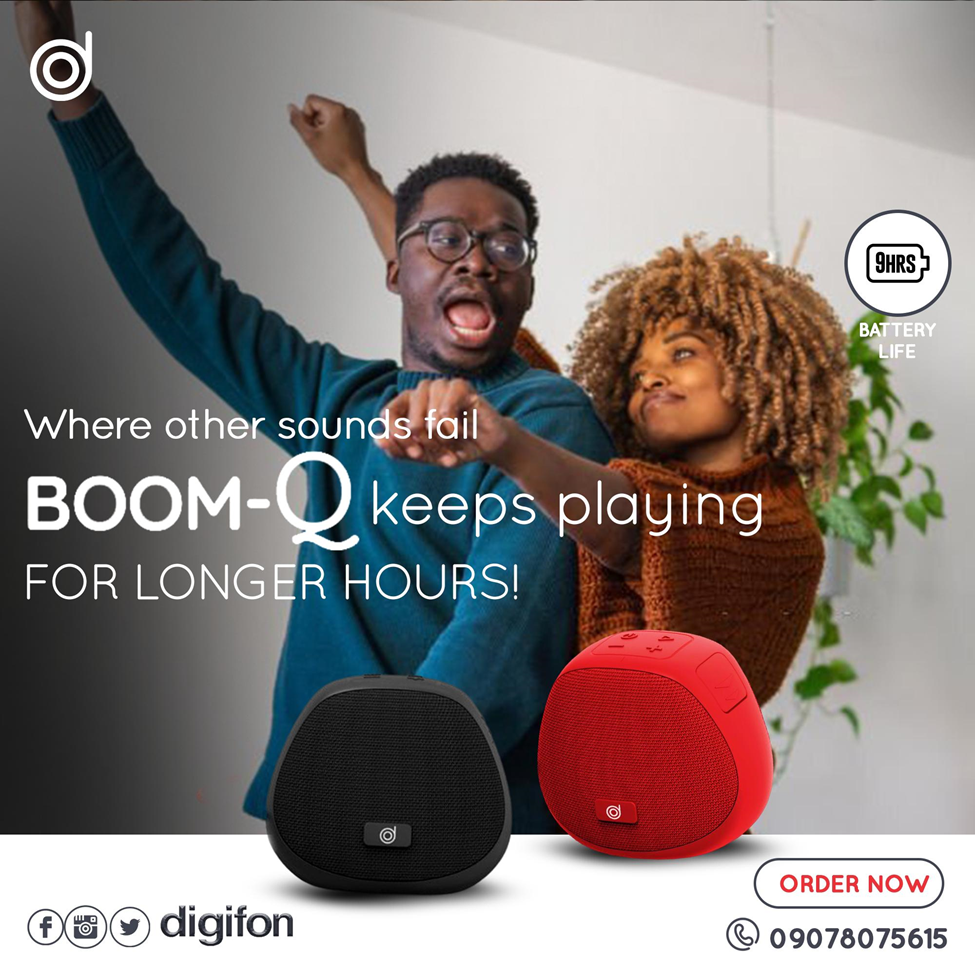 Connect with your devices in one touch
When it comes to connectivity and compatibility, BOOM-Q pairs up swiftly with any of your Bluetooth-enabled devices, including smartphones, computers, smart televisions, gaming consoles, and more. With an upgraded Bluetooth 5.0 chip, your high-quality audio files are transferred over a speedy and strong connection without consuming too much power.
The portable speaker remembers and automatically connects to previous devices when turned on.
Be less concerned about having your phone so close to the speaker or hanging around to maintain a robust signal. Once paired up, BOOM-Q stays connected with the same crispy sound production up to a 10-meter range. Feel free to stroll to the kitchen or take your portable speaker to the shower while your phone is lying peacefully on the couch in the living room. It won't disconnect.
The sound gets even wider with two speakers.
In the same vein, the upgraded Bluetooth chip in the digifon BOOM-Q lets you connect two speakers for an immersive, stereo listening experience. Pair up two BOOM-Q portable Bluetooth speakers for a louder and full double-channel stereo effect.
Bring the concert-hall vibe to your room with two of these speakers: one on the left corner and the other on the right. Whether you're watching a movie or listening to your favorite music playlist, it plays simultaneously without noticeable delay or complex setup.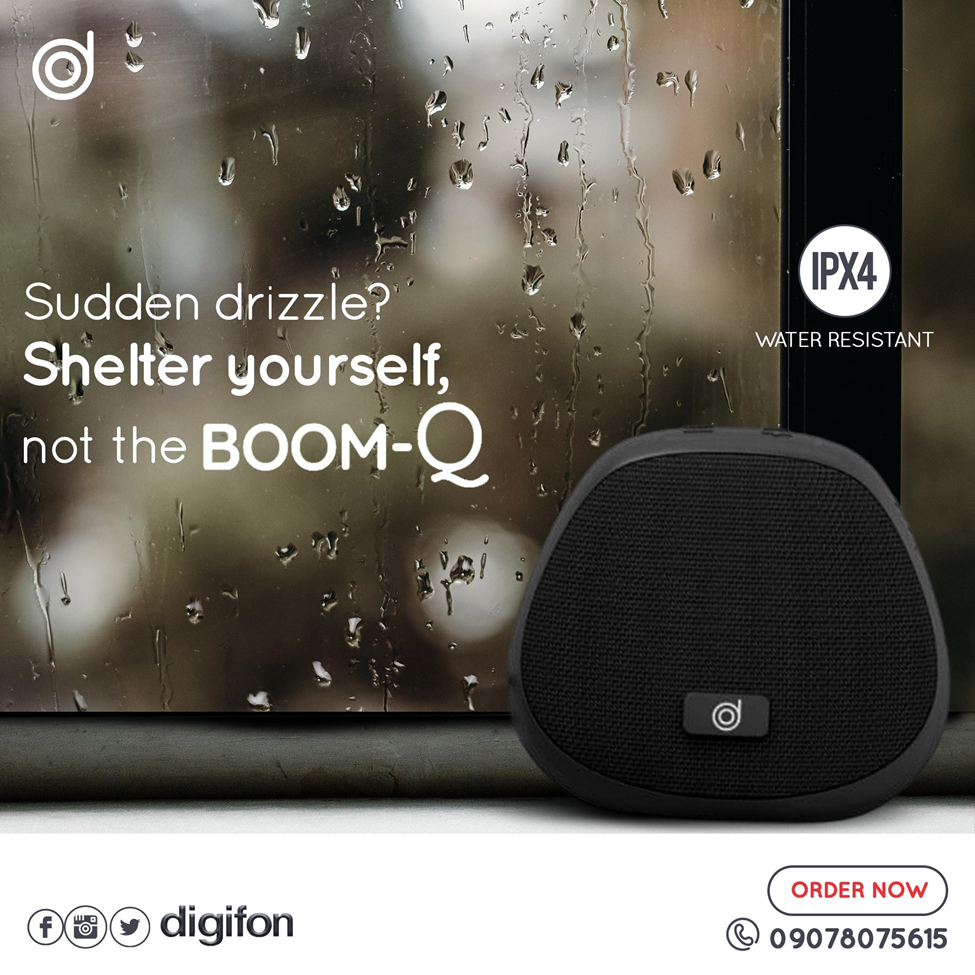 You can take it to the beach or get it bathed with dust. No problem
From sudden drizzles on the playground to occasional water spills near the pool, you need not worry about them damaging your compact BOOM-Q Bluetooth speakers. The awesome IPX4 ratings on this speaker give you all-around protection from sudden water spills, rain, showers, and even dust and sweat. You can take it to the beach, pool, playground, and just about anywhere without a doubt or fear.
When showered with splash of water or heavy dust, all you have to do is wipe off your BOOM-Q with a soft cloth. It doesn't interrupt your enjoyment or give you the fear of losing the speaker. Not many portable Bluetooth speakers at this price point have such a decent feature.
You don't have to break the bank to get your desired portable Bluetooth speaker.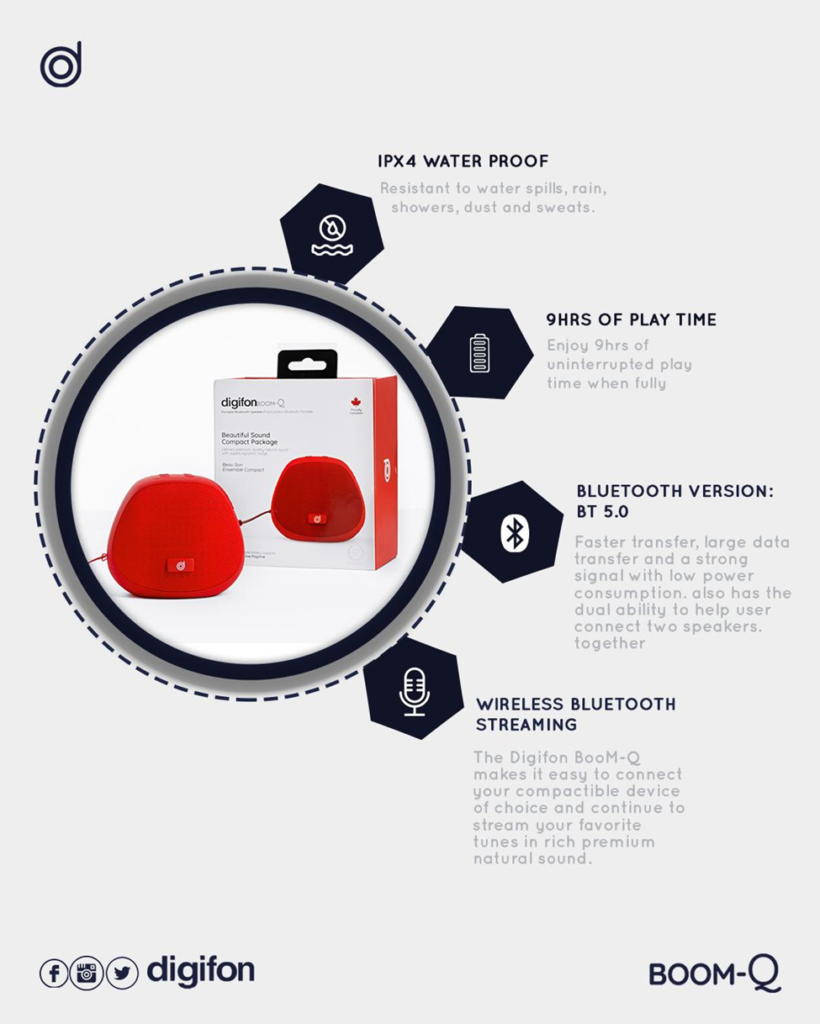 Today, some portable Bluetooth speakers are more expensive than many midrange smartphones. But how do you get to enjoy a similar premium experience without breaking the bank? That's where digifon portable Bluetooth speakers come in.
The latest iteration of the BOOM-Q compact Bluetooth speaker comes at an incredibly affordable price. Not many brands offer such top-notch high-end features within your means.
Its ultraportable size ensures you can take it anywhere without getting overloaded.
With its large hardware speaker and shockingly good sound output with thumping bass, BOOM-Q offers the same experience with some huge Bluetooth speakers. It's all about the brain inside and not the big head.
With up to 9 hours of continuous playback, you can rest assured of getting uninterrupted listening experience.
With an upgraded Bluetooth 5.0 chip, BOOM-Q plays back your high-quality audio files with no issue. You get long connection range, all without consuming too much battery.
You can take it to the beach, poolside, or get it drizzled with water. You're protected with solid IPX4 ratings.
Ready for even wider and louder stereo listening experience? Bring along two BOOM-Q speakers and make them sing simultaneously with no noticeable lag.
You can get the BOOM-Q tiny Bluetooth speaker from Konga online or visit any of these digifon offline stores:
1. All Slot Stores
2. All Royalline Stores
3. All Glo Outlets
4. Office R Us (Mega Plaza)
5. Obejor Gadgets (Computer Village)
6. Avix accessories (Port Harcourt)
7. iMate Stores.
8. Harmony Gadget
9. Casper Gadget
10. Hatel (Oshogbo)
11. Konga Offline (Saka Tinubu)
12. Dax Communication (Saka Tinubu)
13. Admor Links Abeokuta
Still don't know where to get one? You can get a huge discount on the ongoing December Promo Sales – Call 09078075615