EndSARS- Edo State Prison Break: All You Need To Know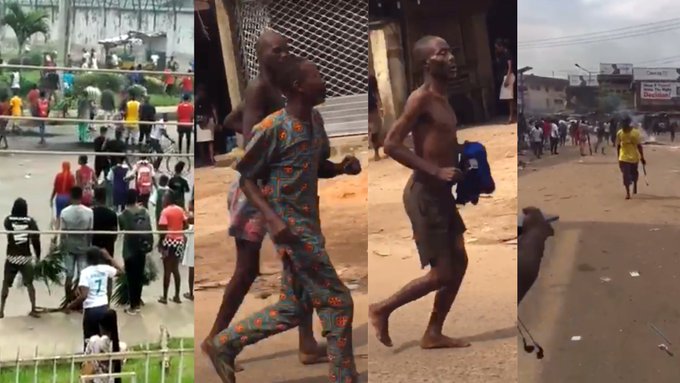 Edo State Prison Break– Reports and video footage circulating on social media reveal that prisoners have broken out of a prison in Benin, Edo State Nigeria.
Just In: Prisoners break out of Sapele prison in Benin!! Rt this aggressively for awareness!!#EndSARS #SideWithNigeria pic.twitter.com/OuKuNVffUK

— davvyd moore (@davvydmoore) October 19, 2020
Other news media sites have also confirmed the development.
I understand some hoodlums claiming to be protesters attacked a prison in Benin. I believe genuine #ENDSARS -ers would never associate themselves with such criminal elements. We condemn such criminal acts in their totality. The quest for change isn't an opportunity to criminality

— JJ. Omojuwa (@Omojuwa) October 19, 2020
Hired thugs have attacked the Edo State prisons to free prisoners. There has been a prison break in Benin right now as we speak.

Before TVC, Punch and all the compromised media houses switch the narrative, please let the world know that #EndSARS protesters have NO hand in this.

— #OurFavOnlineDoc 🩺🇳🇬🇬🇧💎 (@DrOlufunmilayo) October 19, 2020
Scenes from Benin city where a prison break has occurred pic.twitter.com/RNghiLYay1

— Pulse Nigeria (@PulseNigeria247) October 19, 2020
At the moment, there is confusion about who exactly broke the prisoners out. While some say hoodlums masterminded the act, some others are blaming it on the #EndSARS protesters.
Don't allow them pin the prison break at Sapele Road, Benin City on #EndSARS protests. The prisoners revolted & escaped. There are no videos of people going in, only prisoners jumping out.

— Osahon (@theOsahon) October 19, 2020
Reacting to the news, the Edo State Government announced a 24-hour curfew across the state.
BREAKING: Edo Government Declares 24-hour Curfew | Sahara Reporters https://t.co/H0WULZz3Ke@GovernorObaseki pic.twitter.com/4wGm6IEJyU

— Sahara Reporters (@SaharaReporters) October 19, 2020
The curfew is to take effect from 4:00pm, October 19, 2020, till further notice.