THE HiOS BATTERY LAB – Are you usually worried about overcharging your battery? Or afraid that your battery would run out fast or get bad? Or you live in a part of the world where power supply is erratic? Then I've got good news for you as regards all your concerns about keeping your phone battery in good shape. The HiOS battery Lab is the solution to all your worries.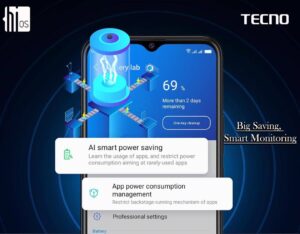 The HiOS battery Lab is an in-app found on TECNO HiOS devices. It uses AI intelligence to help you conserve and manage your battery. It is an effective app that helps monitor your apps and their power consumption hence you can know which apps take up a large chunk of your battery usage.
The HiOS battery Lab is found in the settings of your Tecno phone as shown in the picture below: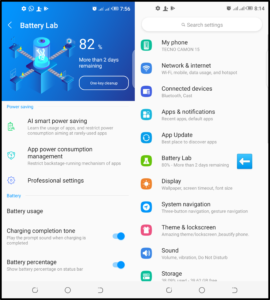 On opening The Battery Lab, you'll see the percentage of battery left and an estimate of how long the battery can last if left on standby in this case 82% left with more than 2 days remaining.
Underneath the percentage, you'll find a one-key cleanup setting which helps to clean up background apps taking up battery usage.
The Battery Lab has the following key features under two broad categories: Power saving and Battery.
Power saving:
AI smart power saving
App power consumption management
Professional settings
Battery
Battery usage
Charging completion tone
Battery percentage.
AI power saving
This helps to save your battery life by a AI smart strategy reminder and battery saver options. AI smart strategy reminder helps conserve your battery by learning your using habits that is the way you use your phone, then it would auto-switch on airplane mode during the time when your phone is left unused at night and auto-switch it back on when it's around the time you usually use your phone in the morning. Like in the picture below, the phone user usually stop using her phone around 10:30pm, thus AI smart strategy would out the phone on airplane mode at 10:40pm and switch off airplane mode at 3:46am as she starts using her phone around 4am in the morning. This is the auto pre-set mode. You can change the timing of auto switching airplane mode on and off inactive settings option.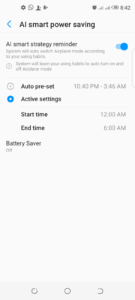 Battery Saver works by turning off or restricting background activity, some visual effects and other high-power features which helps to extend battery life.
Under battery saver, you can set a schedule on when to auto turn on your battery saver which helps to conserve your battery e.g. at 20%, you can also choose to turn off your battery saver when your phone is fully charged (i.e. 90%)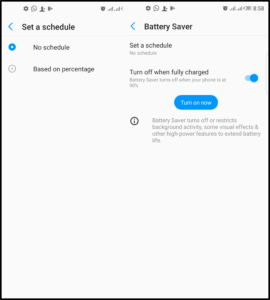 Read also SUPERB BATTERY LIFE: New itel smartphone pass two weeks standby test
App Power Consumption Management
This helps to restrict the backstage-running mechanism of apps. On opening this feature, you'll see various apps that run backstage. You have four options to deal with these apps:
App smart power-saving: which would restrict the backstage running.
No restrictions: This would allow the app run backstage without any hindrance.
Smart shut it down in background: which would stop the app from running in the background by shutting the app down smartly.
Background running is prohibited: which prohibits the app from being run in the background at all.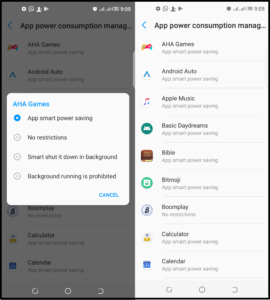 Professional Settings.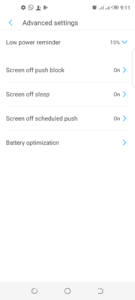 This is the advanced settings and has 5 features underneath it:
Low Power Reminder: which you set at what battery percentage do you want your phone to remind you that it's low which can be as low as 10% to 75% as you define what low power means to you.
Screen Off Push Off Block: this feature when turned on helps to avoid app messages from frequently waking up the screen, you can also choose apps that would bypass this setting as it shows the list of your apps and you can choose to turn this setting off for a particular app which you don't mind it frequently waking the screen.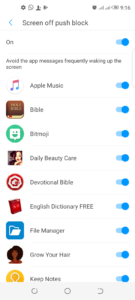 Screen Off Sleep: This feature shuts down background apps five minutes after the screen goes off. You have the option of selecting apps which can escape this when you turn on this setting as the list of your apps is also available under this.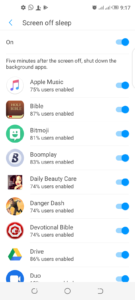 Screen Off Schedule Push: This helps avoid apps being frequently woke up under standby status, you can so set for certain all's to avoid this setting.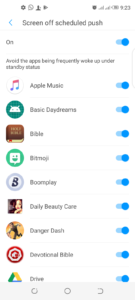 Battery Optimization: this helps apps in optimizing battery usage by restricting apps from using background battery.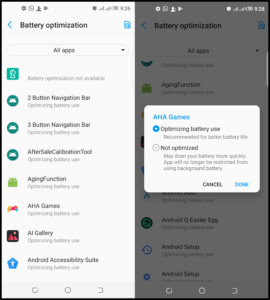 Battery
The first feature under battery is
Battery Usage: which helps in showing percentage of battery used by apps since last charge.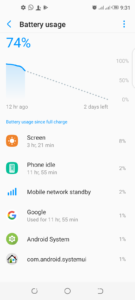 Charging Completion Tone helps to alert you when your battery is fully charged and power is automatically disconnected to prevent overcharging, you can decide to turn this time off if you desire.
Battery Percentage shows the percentage of your battery in the status bar this helping you conscious of your battery use. You can also turn this off if you so desire.
With all these amazing ways of optimizing battery usage, you can see that Tecno has the best intentions for it's users and would stop at nothing to improve Tecno user's experience. The HiOS Battery Lab is one very important innovation aimed to help Tecno users control how their battery is being used by background apps and stay in charge of optimizing battery usage. This is one more reason to patronize Tecno, the phone brand that thinks of helping it's customers in every way.