How To Become A Priest In Nigeria (2023 Guide)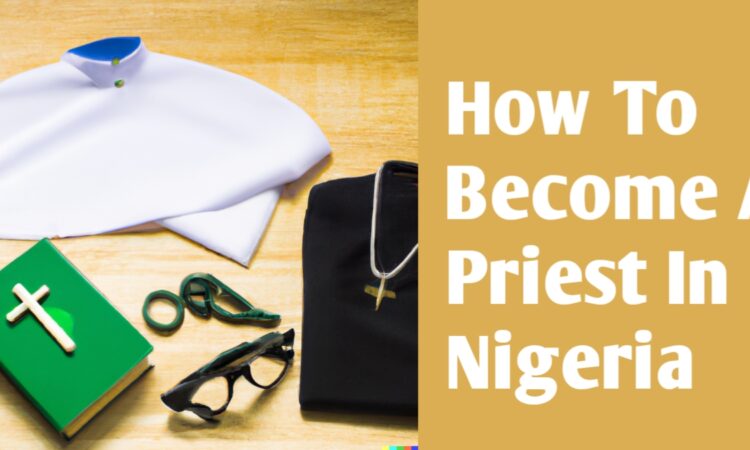 The Catholic Church plays an important role in Nigeria, with millions of followers across the country. For those who feel called to serve the Church as a priest, there is a specific process to follow in order to become ordained. This article will provide an overview of the steps required to become a priest in Nigeria, including education and formation requirements, discernment, ordination, and ongoing formation and ministry.
Preparatory Education
The first step in becoming a priest in Nigeria is completing the necessary educational requirements. These include a secondary school school education, as well as a university education in Philosophy and Theology.
Secondary School Education
It is expected that anyone seeking to become a priest in Nigeria will have completed their secondary school education, with a focus on academic subjects, especially in English Language and Christian Religion Studies (C.R.S). It's also an advantage for the candidate to have some basic knowledge about the Catholic faith, which will be an advantage for the person during the formation process.
University Education
After completing high school, those who wish to become priests in Nigeria must pursue a university education. The following are the required degrees for those who wish to become a priest in Nigeria:
Bachelor's degree in Philosophy: This program provides a foundation in Catholic theology and philosophy, preparing students for further studies in theology.
Bachelor's degree in Theology: This program provides a deeper understanding of Catholic theology, focusing on biblical studies, sacraments, Church history, and pastoral ministry.
Some candidates may choose to continue their education with post-graduate studies, but this is not a requirement for ordination.
Discernment and Formation
After completing the educational requirements, those seeking ordination will enter a period of discernment and formation.
Discernment
The discernment process is an important step in determining whether an individual is truly called to the priesthood. Discernment begins by meeting with a spiritual director or vocation director, who can provide guidance and support as the candidate explores their calling. Through this process, the candidate will gain a deeper understanding of the priesthood and whether it is the right path for them.
Formation
If an individual is deemed to have a calling to the priesthood, they will enter a period of formation. Formation is a process of spiritual, personal and academic development.
Novitiate: A period of one year where the candidate will live in a community, follow a spiritual program and reflect on one's vocation.
Philosophy and Theology studies at a Seminary: A period of four years where the candidate will live in a community and undergo formation in Philosophy and Theology.
Practical training: Candidates will spend time in practical training such as pastoral work and mission trips, to enable them to apply what they have learnt in seminary and grow in maturity.
Ordination
After completing the formation process, those seeking ordination will be ordained first as a deacon, and then as a priest.
Diaconate Ordination
The first step in ordination is becoming a deacon. This is a temporary ordination that allows the candidate to serve the Church in a limited capacity for one to two years. During this time, the candidate will serve in various capacities such as assisting the priest during Mass, perform Baptism, Weddings, Funeral Rites, and Catechize the faithful. This period is a time of testing and preparation for the candidate, to ensure that they are ready to take on the responsibilities of the priesthood.
Priestly Ordination
After serving as a deacon for one to two years, the candidate will be ordained as a priest. This is a permanent ordination, and it means that the candidate can now perform all the sacraments. The ordination is done through the sacrament of Holy Orders, which is performed by a bishop. This sacrament confers the power and grace to exercise the threefold office of the priesthood (teaching, sanctifying and leading) to the candidates and the person is then officially a priest.
The ordination rite includes the imposition of hands, the consecratory prayer, and the anointing of the hands of the candidate with chrism, which is blessed by the bishop during the Mass of Chrism. This signifies the candidate is consecrated by the Church, set apart and empowered to carry out the ministry of the priesthood.
After ordination, a priest will typically be assigned to a parish or other ministry, where they will begin serving the spiritual needs of the community.
Ongoing Formation and Ministry
Becoming a priest is not a one-time event, but rather a lifetime commitment to ongoing formation and ministry.
Continuing Education and Formation Opportunities
Once ordained, priests will have access to a variety of continuing education and formation opportunities to help them continue to grow in their understanding and practice of the Catholic faith. This can include workshops, retreats, conferences and continuing education classes, as well as opportunities for ongoing spiritual formation and personal growth.
Assignments and Responsibilities
These formation activities can be done at the diocesan, national or international level. They are an opportunity for priests to learn from experts in their field, to share their experiences with their peers and to renew their commitment to serving the Church.
As a priest, one will have a variety of assignments and responsibilities, which will be assigned by the bishop. These can include serving in a parish, working in a school, serving as a chaplain, and more.
Generally, the priests will be expected to:
Celebrate Mass and other sacraments, such as Baptism, Confirmation, Anointing of the Sick, and Reconciliation.
Counsel and provide spiritual guidance to parishioners.
Serve the needs of the community, including visiting the sick and homebound, and providing pastoral care to families.
Preaching and teaching the Catholic faith
Administering the sacrament of Confirmation, Anointing of the Sick, and Reconciliation.
Priests are also expected to follow the guidelines set by the bishop's conference and the Vatican, which govern the pastoral ministry in the diocese.
Life of Celibacy and Service
Priests are expected to live a life of celibacy, which is the choice to remain unmarried and abstain from sexual activity. This is seen as a way of dedicating oneself fully to the service of the Church.
Additionally, priests will be expected to live a life of service, dedicating themselves to the spiritual needs of their parishioners and the wider community. This means being available for the people, being a good listener, providing spiritual guidance, being a good example, and more.
Conclusion
Becoming a priest in Nigeria requires a significant commitment of time, energy, and resources. It is not a decision to be taken lightly, and requires a deep understanding of the Catholic faith and a sincere desire to serve the Church.
However, for those who feel called to the priesthood, it can be a deeply rewarding and fulfilling experience. It's important to take note that the process is not easy but with perseverance, patience and willingness to surrender one's life to God, it can be achieved