Living in Bondage bagged 7 awards at the recently concluded 7th edition of AMVCA. King of Boys on the other hand went home empty-handed to disgust of many Nollywood fans.
Read Also: Top 5 old Nollywood movies that deserve a remake
Living in Bondage or King of Boys, which is a better movie? Confused? Well, let's put these two blockbuster films in the boxing ring, and go on from there.
The Plot
Living in Bondage is the sequel to the 1992 classic Living in Bondage. 
Twenty-seven years after the events of the original movie, Nnamdi Nworie the secret son of Andy Okeke's follows is father footsteps in joining a notorious secret cult Brotherhood of The Six to gain wealth. But is new found wealth comes with a deadly price.
Andy who is now a pastor. Having experienced the evil side of occultism uses an investigate journalist   to warn his secret son and save him from The Six before time  runs out.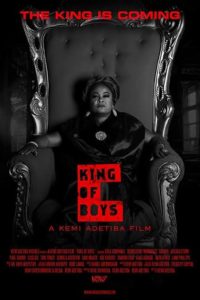 King of Boys on the other hand follows the story of Alhaja Eniola Salami, a businesswoman and philanthropist with a checkered past and a promising political future. She is a pillar of society — loved by many, feared by most, and truly known by a select few.
As her political ambitions see her outgrowing the underworld connections responsible for her considerable wealth, she's drawn into a power struggle that threatens everything she holds dear. To come out of this on top, she will need every ounce of the cunning, ruthlessness, and strategy that took her to the top, as well as the loyalty of those closest to her. But who can she really trust?
---
The Characters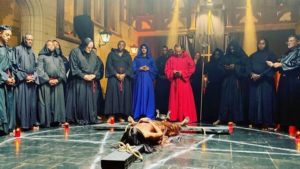 Living in Bondage did so well in having Nollywood's occultic master  Kanoyo O Kanoyo who acted as High Priest Omego. Other notable characters include :
Kenneth Okonkwo as Andy Okeke
Ramsey Nouah as Richard Williams
Nancy Isime as Stella
Munachi Abii as Kelly
Shawn Faqua as Toby
Bob-Manuel Udokwu as Mike
King of Boys also had a pool of talented actresses and actors like; Sola Sobowale,  Jide Kosoko, Adesua Etomi, and Toni Times.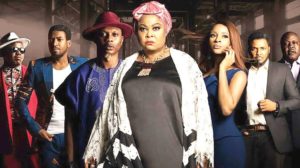 Last but not least let's give a round of applause for the one and only Reminisces. He was amazing  as an actor on his debut movie.
---
The Action and Drama.
Action wise, Living in Bondage  was sort of lacking. The movie had so much charm and wit, the average action was easily forgivable. However, the action takes an extra jolt of energy in King of boys. The fighting scene s were visually stunning, along with Sola Sobowale who was nothing but brilliant. 
Read Also: Best websites to download Nigerian movies 
Drama wise, that's where living in Bondage shined over king of boys. The jokes, suspense were  well paced and put in the right place. King of boys  while captivating at times, almost felt too predictable.
Regardless, both movies are highly entertaining.
---
Overall
Kemi Adetiba  and Ramsey Nouah have really outdone themselves, delivering two great Nollywood films that connect to the Nigerians and the rest of the world. Personally, I still feel Living in Bondage is better than King of boys, but not by large margin at all. You would have to try very hard not to like either of these. They're both fun and enjoyable!
---
What Nigerian series are you currently watching? None? Then you need to read this: Top  5 Nigerian series  you should be watching in 2020