I need your products to make Senators' wives love me – Man begs sex therapist, Jaruma (Photo)
Popular sex therapist Jaruma , has gone on her page to share an interesting message she received from a Nigerian man seeking help from the Kanyamata expert.
The man who confessed to being a 'Yahoo Boy' had asked for her products that would make his victims pay him. He had gone on to ask for more products that would make the wives of senators to find him attractive and irresistible.
Jaruma's products have gained a popularity for being charms and concoctions used to ensnare men even though she's referred to them as aphrodisiacs and the likes. The man had thought it to try his luck with some voodoo from the sorceress but his request fell through.
See their chat below :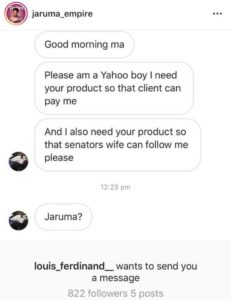 Tags :
Jaruma
viral