Tecno Spark 5 vs Tecno Spark 5 Air: Is There Any Difference?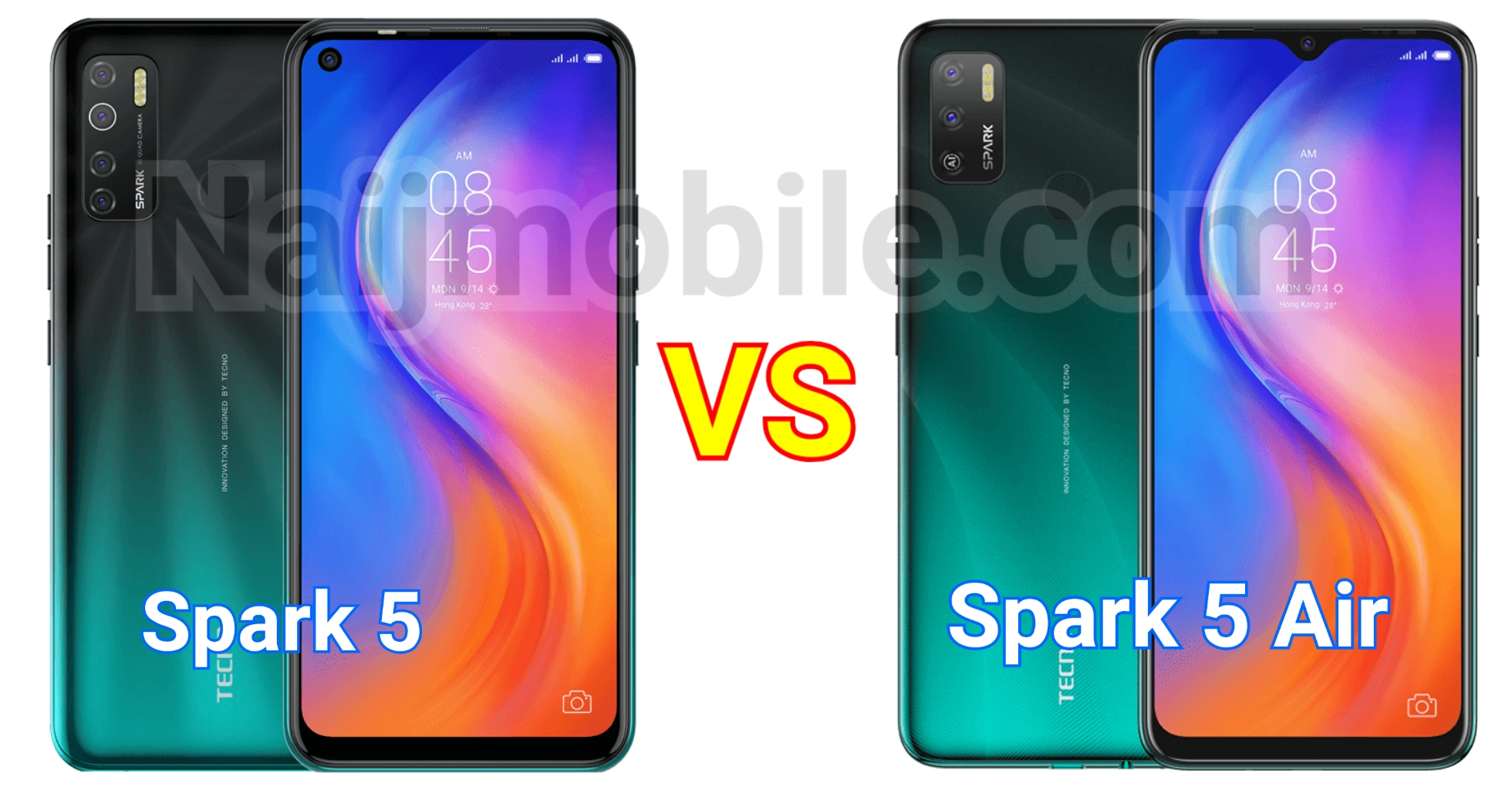 Over the years, every generation of the Tecno Spark series has always created a higher buzz than the previous generation.
Read Also:TECNO'S NEXT SMARTPHONE IS RUMOURED TO HAVE 5 CAMERAS!
The Spark 2 got more attention than the Spark K7, the Spark 3 than the Spark 2, and so did the Spark 4 than the 3. And now, Tecno had recently unveiled the Spark 5 series as you would expect, the device is making waves across Africa. The Spark 5 series features the Tecno Spark 5and  Spark 5 Air.
Since Tecno Spark 5 series made its debut, many people have been confused, either to buy the Spark 5 or the  Spark 5 series.
Well, the easiest way to that decision is knowing what actually is the difference between both device: like the Camera, battery size, and so on. So in this simple comparison post, Naijmobile.com will
be placing side-by-side, the Tecno Spark 5 against the  Spark 5 Air, in order to aid your purchase decision.
Tecno Spark 5 vs Tecno Spark 5 Air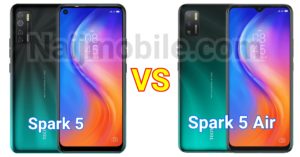 Now it's time to answer the question in the post title: Is there any difference between the Spark 5 and the Spark 5 Air? Oh yes, there are some differences, For example;
1.  The screen of the Spark 5 Air is larger than that of the Spark 5. The Spark 5 Air has a 7 7″ Dot Notch Screen as against the 6.6″ Dot-in Display on the Spark 5.
2.  Is that all? Not yet! There are also differences in the Camera. The Spark 5 comes with quad rear cameras while the Spark 5 Air has three cameras on the rear.
Well, amidst the differences, the Spark 5  and Spark 5 Air are top-notch devices that will offer you value for your money.
Buying the Tecno spark 5 will cost you N49,000 while the Spark 5 air goes for N47,000. Both phones are offered in four colour options and runs on 2GB RAM as well as a robust 5000mAh battery.
Read Also: 5 Practical ways you can extend smartphone battery life
So this is all we know so far, but if you think we left out something important, please use the comment section below to share your opinions.
Thanks for reading, naijmobile.com
---
We urge you not to republish a part or whole of this content elsewhere without giving credit to Naijmobile which must contain a backlink. No tiff our contents o. We report to Google and we always win. 
Tags :
TECNO
TECNO SPARK 5
TECNO Spark 5 Air
TECNO Spark 5 series