SexForGrades: Top 5 Nigerian lecturers that have been accused of sexual harassment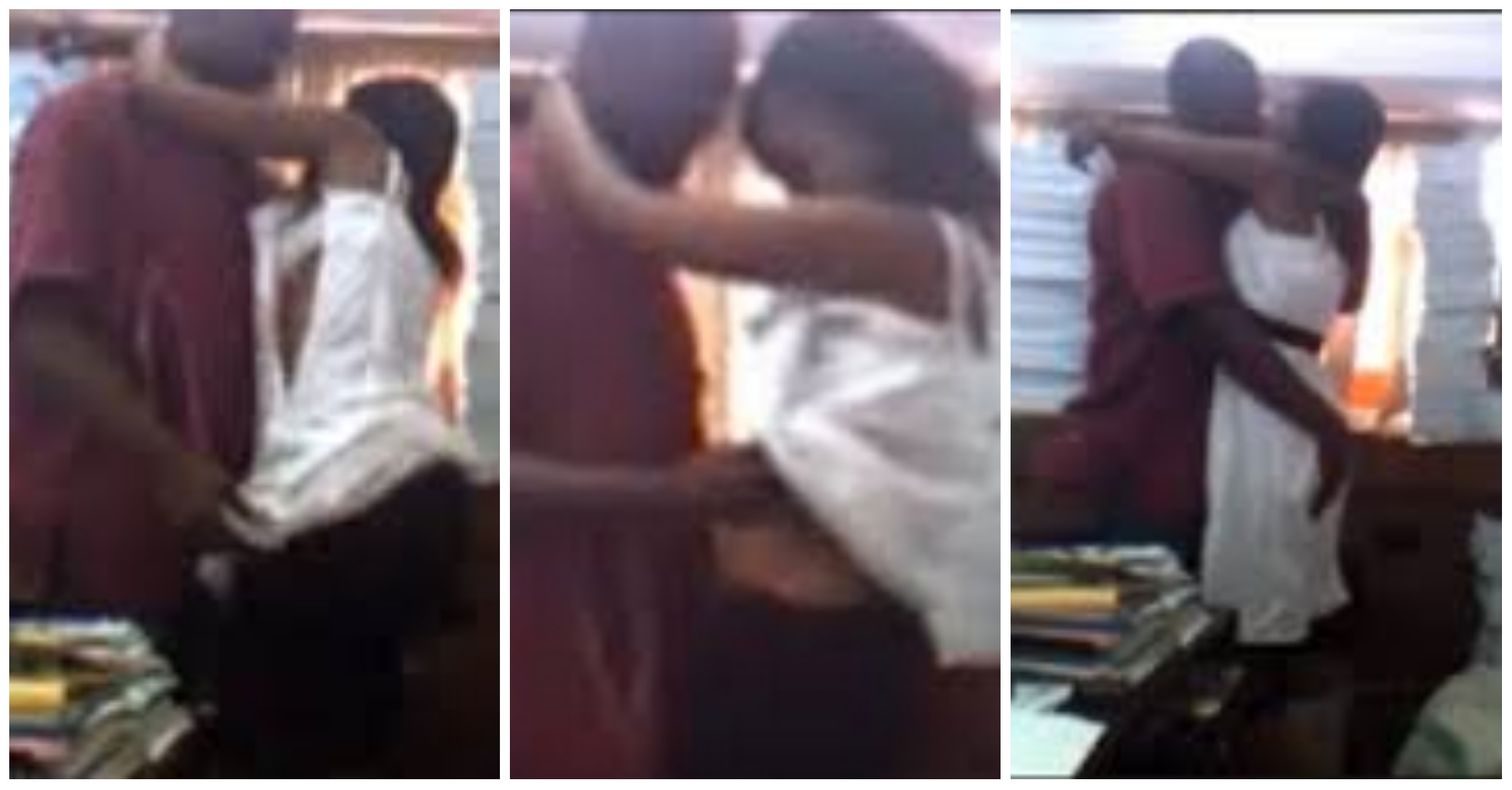 Unilag lecturer caught in a sex-for-grade scandal.
Dr. Boniface, a Unilag lecturer, and a head pastor of a local Foursquare bible church was probably preaching the gospel in his church before he realized he was in a hot soup that is really going to 'burn his face' to the extent he would stay away from the public for many months.
For the past few hours, Dr. Boniface has been the name on the lips of every Nigerian after he was exposed in a video by BBC Africa where an undercover journalist, Kiki Mordi, disguised as a 17-year-old admission seeker.
The investigation is part of a broader one that uncovers the sex for grade crises in universities in Nigeria and Ghana. Mr. Boniface Igbeneghu invited the 'admission seeker' to his office for 'tutorials' and at their first meeting asked: "how old are you?". After responding, the lecturer commented on her appearance.
"Don't you know you are a beautiful girl? Do you know I am a pastor and I am in my 50s but if I want a girl of 17 years, all I need is a sweet tongue and put some money," he said
The lecturer continued with the harassment of the undercover reporter unaware that he was being filmed. In the wake of this scandal, the University of Lagos has suspended Dr. Boniface Igbebeghu.
Well, this is not the first time this is happening, Multiple claims of sexual harassment have become a feature of every female undergraduate and barely a day goes by when we do not see a fresh spate of claims of harassment being made against female undergraduates by male lecturers. Here are the alleged sexual harassment allegations against five prominent university lecturers in the past.
1. Funa Banana vs Lecturers of University of Port Harcourt
In April 2018,  a Twitter user, Funa Banana tweeted about the most unbelievable accusation on sexual harassment that happens on the campus of the University of Port Harcourt. Funa Banana who is said to be a former student of the University of Port Harcourt tweeted
"UNIPORT lecturers don't just ask to sleep with you, they also demand threesome and you must pay for the hotel room and they still end up giving you E."
The tweet went viral as it came amid the controversial shaving of some students at Covenant University. However, no lecturer name was mentioned as the allegation only started and died on Twitter. According to Funa, every university in Nigeria face such challenges.
2. Funke Dezarn vs Dr. Francis Fakoya (OAU)
An alumnus of the Obafemi Awolowo University, Funke Dezarn, on Sunday, January 7, 2018, decided to expose Dr. Francis Fakoya, an ex-lecturer who was said to have his power as a lecturer to fail Medical Students who refused to have sex with him.
Dezarn wrote:
"Oprah's speech on Golden Globe tonight inspired me to post this.

"Dr.Med.Dr" of , Nigeria, you destroyed many young lives through your sexual harassment. As that was not enough, you used your power as a teacher to Medical Students, to fail any student that refused you.

Some of the student victims repeated the class, some like me were lucky to have just a resit, while some were thrown out of Medical school. I chose to say NO to you and you failed me in Anatomy 2 times (Part 2 and Part 3), which are the only failures I have on my transcript!!! I remember your words to me both times, a day before both exams, "Agree to sleep with me or you fail and resit the exam".

Wherever you are tonight (St George's University, Medical School, Caribbean Island), for all the lives you affected negatively, TIME'S UP!!!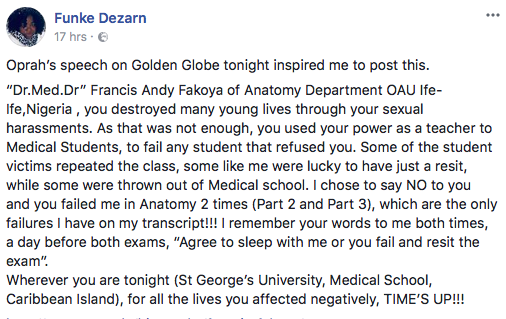 Just like the first allegation, this was also swept under the carpet.
3. Aigbeme Okonkwo vs Prof Louis Egwari
A few days after Funke accused her lecturer of failing female students for not having sex with him, Aigbeme Okonkwo, a graduate of the University of Lagos accused a UNILAG lecturer, Prof Louis Egwari of sexual harassment in 2006.
According to her, she went to the lecturer's office regarding her course work and a few minutes after entering his office, the lecturer stood from his seat got closer to her and molested her.
4. Professor Olusegun Awonusi vs Unknown student
In June 2018, an unknown female student at the University of Lagos accused a professor Olusegun Awonusi of the English Department of the institution of always harassing female students each time they go to his office.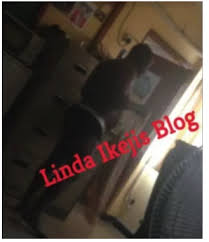 To authenticate her allegation, the unknown student released nude pictures of the lecturer in his office. However, an investigation into this allegation has been swept under the carpet.
5.   Monica Osagie Vs Prof Richard Akindele
Richard Akindele, a professor at the Obafemi Awolowo University (OAU), found himself in the middle of a sex-for-grade scandal. A leaked audio conversation between the lecturer and a female student, Monica Osagie went viral on the Internet on Monday, April 9, 2018. In the viral audio, the professor could be heard asking the unidentified lady to have sex with him five times before he boosts her exam score from 33 to a pass mark. After a couple of months of investigation, Prof Akindele was dismissed from Obafemi Awolowo University.
Tags :
Nigerian Universities
sex for grade
sexual assault
Sexual harrassment
UNILAG