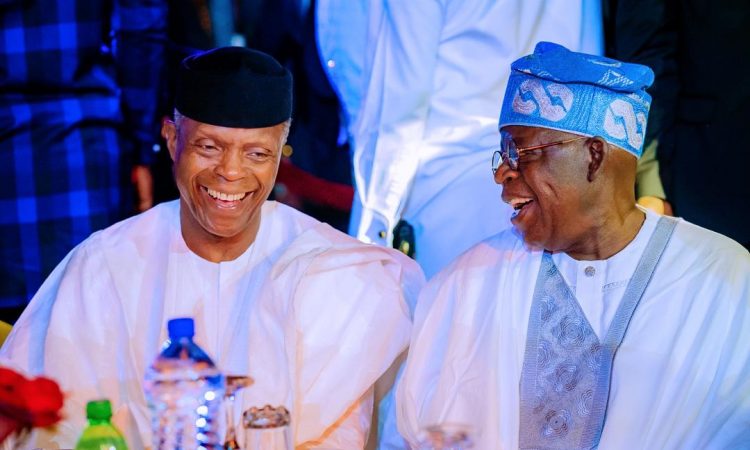 The 2023 electoral circle moves closer as Nigeria's President Muhammadu Buhari has less than two years to complete his second term in office after his historic win on a joint ticket with Vice President Yemi Osinbajo, in 2015. Political discussions across the country now verge on who takes over the topmost office in 2023.
The torchlight for the right candidate is a trending topic and the engagement has taken a centre stage in the media space. Political analysts and experts have set a premium for the topic which has also triggered public discussions.
The Nigeria's two major political parties; the All Progressives Congress (APC) and the opposition Peoples Democratic Party (PDP), have been busy jostling for suitable candidates for the hot job.
Evidently, the 2023 presidential election has thrown up so much in the air while there are still ongoing bickering and embroilment in both the APC and PDP over the control of the soul of their parties.
But, what appears more important is the interesting way some sections of the media have begun playing up the alleged presidential aspirations of two notable personalities in the ruling All Progressives Congress (APC) in the persons of the current Nigerian Vice President, Prof Yemi Osinbajo, SAN, and the former Lagos State Governor, Asiwaju Bola Tinubu, who incidentally is the national leader of the ruling APC.
The two top shots have a long history of father and son relationship that started out in the administration of Lagos State more than over two decades ago, when the Vice President served as the Attorney General of the State and Commissioner for Justice, after which he also proceeded to offering legal and constitutional advice until his new role at the presidency.
With the 2023 presidential election in sight coupled with the widespread and dominant clamour for a Southern presidency, the former Lagos State Governor and the Vice President have been at the centre of discussions. There have been reports and speculations that Tinubu and Osinbajo might be individually interested in the presidency seat though both men have yet to publicly declared any intention to contest the exalted office in 2023.
While the Independent National Electoral Commission (INEC) has not given a go-ahead for 2023 politicking, some persons even the news media have resorted into different kinds of divisive engagement amongst the two presidential hopefuls.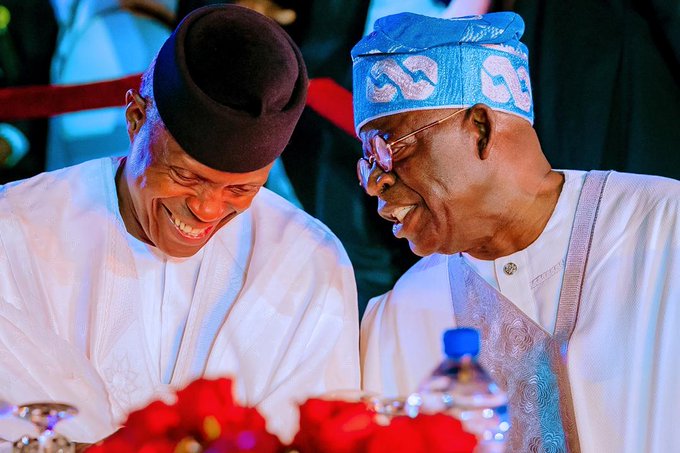 One good example was a recent news publication from a particular online media platform of Thursday, October 21st, 2021 under the headline: "VP Yemi Osinbajo Drops Presidential Ambition For Tinubu Ahead Of 2023."
The report claims one of Osinbajo's reasons for jettison his presidential ambition was "the divisive dimension in which supporters of both Tinubu and Osinbajo have been engaging themselves in the unofficial campaign."
It was also stated in the report that one unnamed aide had claimed he over heard the Vice President telling close associates and members of the Redeemed Christian Church of God (RCCG) who paid Osinbajo unofficial visit at the Presidential Villa, saying "he has dropped his presidential ambition for Tinubu ahead of 2023."
Reading the whole news report was indeed a torrid exercise. The writer penned the story in a blur of incomprehension, riddled with inaccuracies and outright falsehood, and such can only happen with someone obnubilated by corrupted thoughts.
First and foremost, how possible does a person drop an ambition he hasn't made known to the public? From the last check, the Vice President has not declared interest in the 2023 presidential race and his office has continually distanced itself from different political and social groups mobilizing for the support of Osinbajo's 2023 candidacy.
Then, as for the reported visit of Osinbajo to Tinubu's home following his return from London this past weeks after a knee surgery. As far as the public space is concerned, Osinbajo is yet to visit Tinubu and there is no way the two will face off without the knowledge of the media. No news outfit would want to miss out on breaking such story considering the political situation that defines such visit. So, where is the news of him visiting the APC national leader coming from? Definitely it is a lie from the pit of hell.
In a statement made by the Special Adviser on Political Matters to the President, Babafemi Ojudu, on October 11th, 2021 he said "Osinbajo and Tinubu are members of the ruling party and both men welcome politics without bitterness and divisiveness."
The presidential aide who works in the office of the Vice President went further to clarify that there is no conflict of political interests between the two politicians.
"We are not unaware of some people who may want to foist a crack among our leaders. Such an attempt is abortive. Osinbajo and Tinubu's relationship dates way back and it shall continue to wax strong.
"Let me, therefore, call on individuals and media houses engaged in this act to desist from doing so. The APC remains one single, indivisible party and Osinbajo remains a loyal member of the party who respects both the party structure as well as its leadership," Ojudu concluded.
While it is true that Vice President Osinbajo is one of the nurtured talents of the national leader of the ruling APC, it is believed Osinbajo, will forever be grateful to the former Lagos State governor, being someone with a credible personality, especially as a pastor, who understands the God's fondness for gratitude.
Be that as it may, it is also good to note that, some political actors within the party are equally contributing to the ensuing controversy following the formation of the Southwest Agenda for Tinubu (SWAGA). Yet, the person they named the group after has not even publicly identified with it.
As if that was not enough, just on October 21st, a former Minister of Works said to be the national chairman of SWAGA, Senator Dayo Adeyeye, was reported in a section of the media to have said that 16 governors of the All Progressives Congress (APC) were supporting Tinubu's presidential aspiration. How?
Though everyone has a right to make free speeches, but as we know, governors' decisions are not what they shroud in secrecy. They either communicate it on their own or through their spokespersons authorised to do so. We are yet to see any statement to that effect.
Adeyeye reportedly said in Ado-Ekiti, the Ekiti State capital, while inaugurating the parallel APC ward and local executives, that, "they were queuing behind the APC stalwart because of his administrative acumen, mental capacity, rare leadership quality and unequalled political structures which cut across the six geo-political zones."
Truly, no one is in doubt of Tinubu's ability to lead. Recalled way back in 1999 to 2007 as the governor of Lagos State, Tinubu was a force to reckon with. Remember, when his fellow governors under the Alliance for Democracy (AD) that produced the Southwest governors including Tinubu then, could not win a second term in their states, it was only Tinubu that won in Lagos. He only left office after his second term to become a Senator, and when he was through with the Senate, ever since then without holding any political office, Tinubu has remained relevant in national politics till date.
As we can see, no one is in doubt of the qualities Adeyeye attributed to Tinubu. But, all these essential and distinguishing attributes, as a matter of fact, are same we know of Osinbajo, who today stands out as the best Vice President Nigeria has produced with his sterling and qualitative representation in power. Without mincing words, Osinbajo is a true "son" of Asiwaju, he really resembles his godfather! Tinubu himself must be happy to know this.
But all the APC governors Adeyeye reportedly said have allegedly bought into the undeclared Tinubu's presidential aspiration, not even limiting it to them now, their colleagues in the opposition People's Democratic Party (PDP) too have publicly shown unalloyed respect to the personality and attested to the leadership qualities of Vice President Osinbajo, who is the chairman of the National Economic Council (NEC), whose meeting all governors attend as members. Some of them have equally played up Osinbajo as a leader to follow as discussions on 2023 elections gather momentum.
Only on October 14th, Ekiti State Governor Kayode Fayemi, who is the Chairman of Nigerian Governors Forum (NGF), described Vice President Yemi Osinbajo has a "huge bridge builder," and "a leader worthy of emulation." He spoke in Ado-Ekiti where Vice President Osinbajo was a special guest of honour at the Ekiti State Economic Development and Investment Summit, where he delivered the keynote address and also joined a panel discussion involving the Ekiti Governor and other governors from Lagos, Edo and Kaduna.
Dr Fayemi said: "We have for a VP someone who is a huge bridge builder," as he specially acknowledged the ability of Prof Osinbajo to bring governors representing states and the FG together on the major issues of national interest. He noted that the Vice President is "someone who is able," and a leader whom he said has "got shock absorbers to withstand the pressures from the States." These are qualities needed to be the President of a nation.
He also lauded Prof Osinbajo's achievements in government, saying: "At this point I would specially acknowledge the role of our keynote speaker, His Excellency, the Vice President of the Federal Republic of Nigeria, Professor Yemi Osinbajo in implementing the Economic Sustainability Plan (ESP) which played a significant role in restoring the economy back," while he commended the leadership role of the Vice President in ensuring Nigerian states survived the Covid-19 pandemic.
Speaking further, Governor Fayemi praised the Vice President, whom he said had used his office and leadership capabilities to develop a bipartisan approach to administration and implementation of the ESP, which he said led the nation out of the pandemic-induced recession, through the "sincerity of purpose and partnership between the federal and state governments, we can achieve results."
That was Fayemi's position, an APC governor, and he didn't sound as someone who will oppose the interests of Osinbajo at any direction he chooses in furthering his political career come 2023.
Before his visit to Ekiti, Vice President Osinbajo had been to Kaduna State, as he was also invited by Governor Nasir El-Rufai, to be the special guest of honour at the KADINVEST 6.0, where he commissioned the solar power plant at a market in Kujuru Local Government community of Kusuwan Magani.
Same thing happened at this event, as Governor El-Rufai addressed the crowd who trooped out to welcome the state visitor, he also lauded the VP's leadership qualities, saying: "Vice President Osinbajo has provided excellent leadership that even the opposition party's governors commend him for that.
El-Rufai is also an APC governor, he still has more to say of Osinbajo thus: "You care for people, you care for Nigerians and you care for unity in diversity. You care about differences in religion and ethnicity and you always promote peaceful coexistence. This community, Your Excellency, needs an apostle like you to bridge unity and peaceful coexistence."
Likewise, another APC governor, Abdullahi Sule, had joined the teeming pro-Osinbajo campaigners even when he hasn't given anyone a go-ahead to campaign for him not to now talk of declaring an interest in a presidential office.
Notwithstanding, on September 20th, 2021, Governor Sule, welcoming Sule a political group, the Progressive Consolidation Group (PCG), who had visited to sell the Vice President as a potential presidential material ahead of the 2023 polls, described Osinbajo as a "sellable product."
Governor Sule said: "We have the opportunity of having a gentleman that is a total party person, loyal man to Mr President. And I believe you are selling him earlier than he is selling himself, which is the way it is supposed to be. His statement here attested to the fact that Osinbajo has not told anyone he is contesting for the presidency.
He spoke further: "You are speaking about continuation, which is what we believe here in Nasarawa State. You have been speaking about consolidation, and we know the challenges of consolidation and continuation of our party. This is a political party that is lucky or unlucky to be built around one man. And for us, the progressive governors are seeing at how do we sustain the party beyond the one man.
"Then you want more details to be talking about Professor Osinbajo; a man of God, a professional lawyer, a family man; a man that I have come to respect, because I was even given the opportunity to speak on his last birthday on behalf of the governors," Sule noted.
Governor Sule told his visitors that: "If you are going in that direction to sell this gentleman (Osinbajo), not every product is sellable, but Osinbajo is a sellable product," adding that, if the ruling All Progressives Congress (APC) would be willing to field him as their candidate, he has earned his support. The governor has spoken his mind as a straightforward person who won't antagonise Osinbajo's interest anytime, any day.
To cap it up, talking of the respect for Vice President Osinbajo as beyond tribal, religious or political party's affiliation, on September 25th, 2021, when Prof Osinbajo visited Akwa Ibom State, as a guest of the People's Democratic Party (PDP), Governor Udom Emmanuel, it is still same torrent of commendation poured on the Vice President.
Speaking, his host, Governor Emmanuel, who had invited him to inaugurate the 21-storey Dakkada Tower, in Ibesikpo Asutan Local Government Area, in celebration of the state's 34th anniversary, described Osinbajo as the "pride of Nigeria," saying jocularly, "how I wished our special guest was not going today, these women want to dance but we have to let the Vice President to go," calling the Vice President "our brother, our teacher, our pastor, our mentor."
This is how people speak well of Osinbajo across different divides in Nigeria, including the governors who have openly identified with the Vice President. So, as Nigerians, we need not wait on anyone to tell us the mind of our governors as far as 2023 is concerned. Yet, Tinubu's personality as the national leader of APC who equally commands respect across the party's hierarchies is not in doubt. No conflicting status, no identity crisis. When it is the time, after a candidate emerges at the party level, the Nigerian electorate will elect their leader.
But as of now, what remains to be seen is both the political godfather and son have not yet publicly declared their interest in the 2023 presidential race. Whether that will happen sooner, later or never it is still a matter of time and a puzzle still yet unsolved