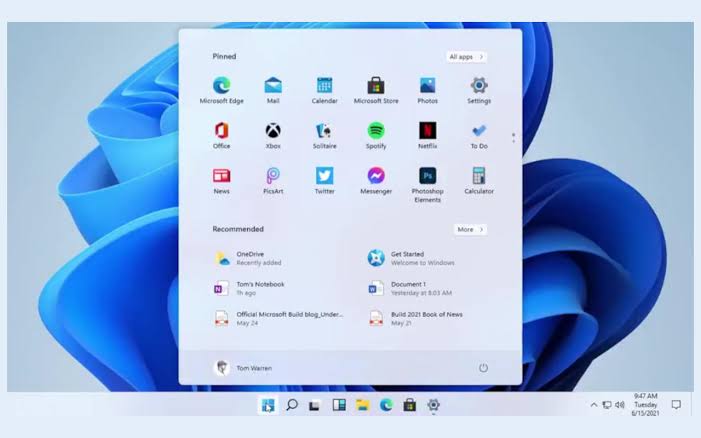 Anyone with a newer Windows 10 PC will be able to get a free upgrade to Windows 11 this Christmas season. The redesigned desktop operating system includes a long-rumored interface refresh, improved game features ported over from Microsoft's Xbox consoles, and a new app store with access to both Windows and Android apps.There's a lot to be said about Windows 11, but if all you want to know is what's new, look below.
1.Gaming in Auto HDR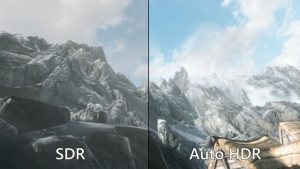 Windows 
11 
will 
be 
able 
to 
automatically 
change 
the 
lighting 
and 
color 
to 
fit 
the 
HDR 
requirement 
if 
you're 
playing 
any 
vintage 
or 
non-HDR 
games 
on 
PC.
This 
capability 
has 
long 
been 
available 
on 
Xbox 
consoles, 
so 
it 
was 
only 
a 
matter 
of 
time 
until 
it 
made 
its 
way 
to 
gaming 
PCs.
Over 
1,000 
games, 
including 
Age 
of 
Empires 
Definitive 
Edition, 
Rocket 
League,
Day 
Z, 
and 
Doom 
64, 
will 
have 
auto 
HDR 
enabled,
according 
to 
Microsoft.
2. Apps for Android are now available in the Microsoft Store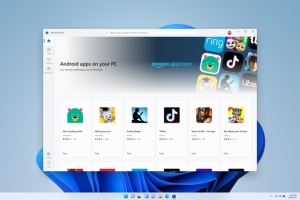 Windows 11's biggest surprise is that it can run Android apps. Unfortunately, Android apps aren't fully integrated into the Microsoft Store; instead, you'll have to go to the Amazon Appstore to locate them. You may launch them from the taskbar or the Start Menu, and you can even snap them like any other Windows application.
Thanks to a new "Intel Bridge" compiler that allows Android apps to run on x86 systems, Android apps can now run on Windows 11. What's more, this Intel tool works just fine on AMD and Arm-based processors, implying that Android apps should function on any PC.
On a more minor note, the new Microsoft Store will include streaming video from a variety of companies and providers, including Disney+. With "wireless connect," Windows 11 also allows you to project media to your 4K TV.
3. A New Look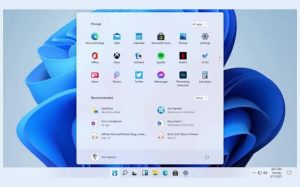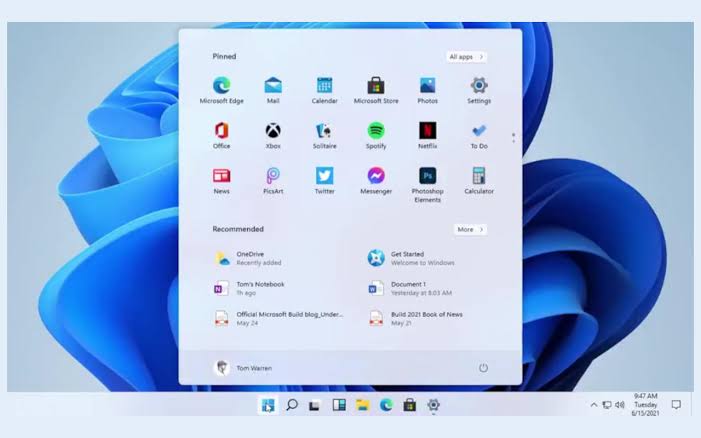 The center-positioned taskbar is, of course, the most prominent feature of Window 11's new design. Windows has long featured a start button on the far left, but it's now moved closer to the center to make it more accessible to users with huge panels or ultrawide displays.
Softer graphics, such as softened corners, dynamic transitions, and enhanced transparency effects, are also included in Windows 11. For example, the widget panel is now put on a sheet of glass that flies in from the right and may be layered over all of your open windows.
4. Way quicker
Microsoft claims that Windows 11 is all about speed, and that it will be 40 percent faster at waking from sleep, Windows Hello logins, surfing with Edge and any web browser, and background Windows updates.
Microsoft has announced a new feature called Direct Storage for gaming that allows games to send content directly to the graphics card. In principle, this should result in faster loading times and graphics rendering.
5. Snap Layouts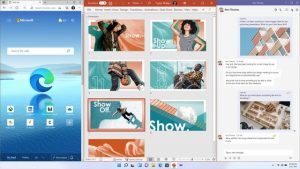 Windows snapping has been around for a long time, but with the popularity of larger and ultrawide screens, being able to snap Windows to four corners isn't as handy as it once was. Snap Layouts, on the other hand, give you a lot more alternatives, such as lining up three windows side by side, one huge window with two smaller ones stacked on the side, and so on. While you're working on your multi-window setup, Windows 11 will keep track of which apps you have open and how they're organized in a Snap Group that's saved to the taskbar.
6. Widgets for Windows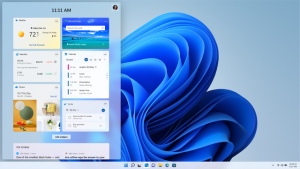 Widgets are back as the centerpiece of Windows 11, which Microsoft refers to as a personalized feed powered by artificial intelligence. Weather, stocks, and maps are just a few of the widgets included in the package. Microsoft, on the other hand, has paid special attention to the news stream widget, which is tailored to your preferences, whether it's international politics, Esports, or local news.
All of the widgets land on a sheet of glass that flies in from the left, which you can place over all of your open windows.
7. Tablet Mode is Now Available
For Windows tablet users, Windows 11 provides a better experience. The UI changes subtly when you switch your smartphone to tablet mode or remove it from the keyboard, with greater space between icons and larger touch targets. New animations make resizing and moving windows around by touch much easier. Touchscreen gestures such as a three-finger side swipe to snap a window or a three-finger down swipe to reduce it have been added to Windows 11.
Tags :
Windows 11