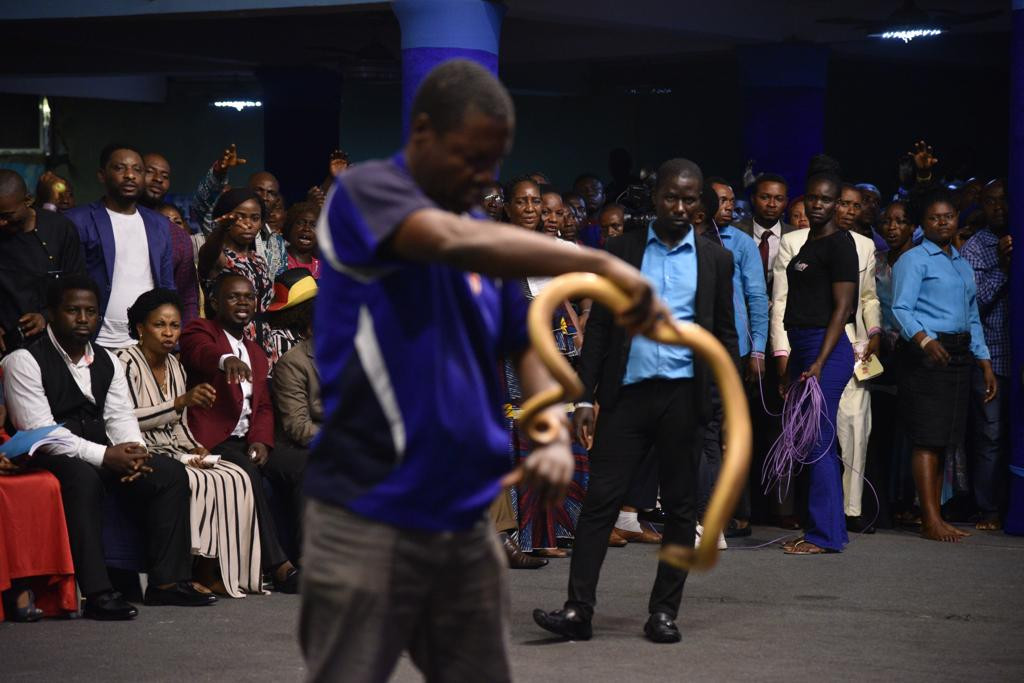 During a prophetic Sunday service in  the popular Christ Mercyland Deliverance Ministry, Warri, Delta State, also called Mercy City aka 'The Arena of Solution and Power,' as the man of God was moving in the midst of the congregation ministering deliverance and prayer to them, he came across a certain man, Mr. Rufus Agbede from Ondo State. The man was aggressively trying to attack the prophet saying that he should stop spraying the water of life that his spirit rejected it.
Drama started when Mr. Agbede claimed to be the ruler of Sabrokay kingdom who has come to take back his subjects whom the prophet has delivered. He came prepared with three fearful cobra snakes and a calabash. The snake man a claimed to have initiated 1,999 persons into the kingdom of darkness but came to initiate one more person to make it a total  2,000 as this will give him promotion in the kingdom of darkness.
Prophet Jeremiah Omoto Fufeyin asked the congregation not to be afraid but be prayerful  and after a fierce battle which lasted over an hour, the snake man gave up to the God of Prophet Jeremiah Omoto Fufeyin and was delivered. He received salvation and financial blessing of N200, 000, in cash, a Bible, and an anointed t-shirt.
Click to watch what happened……….
Tags :
Bizzare
Nigeria
Pastor