419? See How Dr Stella Immanuel defrauded Nigerians In 2008 (Video)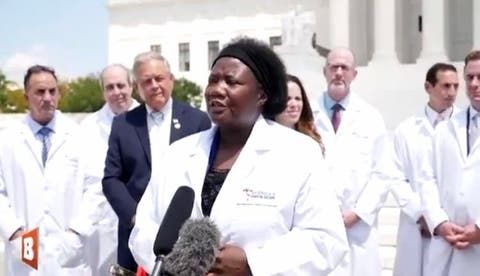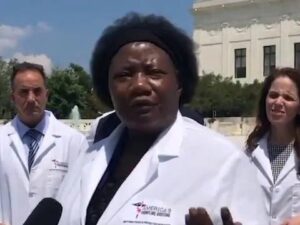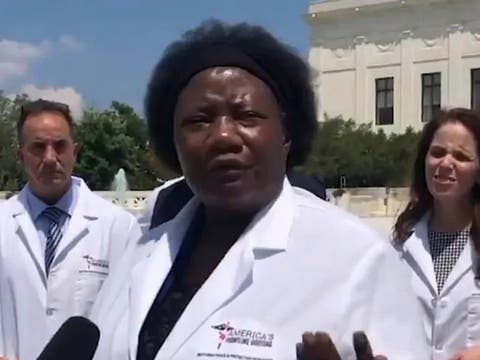 Dr Stella Immanuel, a U.S-based Cameroonian medical officer who stirred media on Tuesday after a video of her and her colleagues protesting at the premises of U.S Supreme Court of Justice went viral.
According to her, hydroxychloroquine drug, which was recently discredited, has cured over 300 infected patients in her clinic.
However, a renowned researcher, Dr Anthony Fauci, deflated the claims, stating that prevailing clinical trials have indicated hydroxychloroquine is not effective in treating coronavirus disease.
After the video surfaced on the Internet, a Nigerian lady whose name was not disclosed, accused the U.S based doctor of fraud.
According to the lady, the incident happened in 2007/ 2008 when the doctor arrived in Nigeria under the guise of being a devoted pastor.
She said, through Revival Assembly and Mountain of Fire, Dr Stella introduced to her and others, a business they felt was legitimate and would offer success.
The business, she said involved buying a router called Globalink at N44,000 each, which would allow owners to make free calls to all network.
She claimed before anyone could be a registered member, Dr Stella made them purchase at least 10 of the routers and also pay for a website at N120,000.
She added that she spent about N980,000 so that she could be a fully registered member to join the business.
Unfortunately, after going through the process and spending a fortune, they discovered the devices didn't work, and Dr Stella had not done the relevant findings on the device and its compatibility with Nigerian network providers.
When things went south, the lady claimed Dr Stella vanished into thin air, and all efforts to reach her proved futile.
Regrettably, the lady said it was the church platform through which she came and sold the idea to her and other folks alike, who invested in the business.
Narrating the ordeal, the victim said she went through hell for two years trying to recover from the loss she suffered but was elated after she saw the viral video of Dr Stella on the Internet.
She remarked that it was the opportunity she needed to expose Dr Stella for the fraudulent she is.
Watch the video made by the accuser Here