Meet the beautiful daughters of top Nigerian billionaires – Their Achievements & Biographies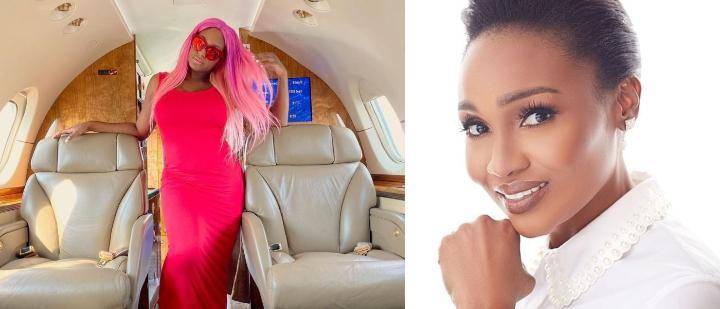 Children of billionaires have access to a world that many of us can only dream and fantasize about.
Here is a list of daughters of Nigerian billionaires, pictures of their enviable lifestyles and what they do for a living.
While some of these heirs have cashed in on their family names, many are striking out on their own, starting businesses or taking over the family business.
MOHAMMED INDIMI'S DAUGHTERS:
Billionaire Muhammadu Indimi, born August 12, 1947, is a Nigerian-based businessman. He founded Oriental Energy in 1990, of which he is still chairman.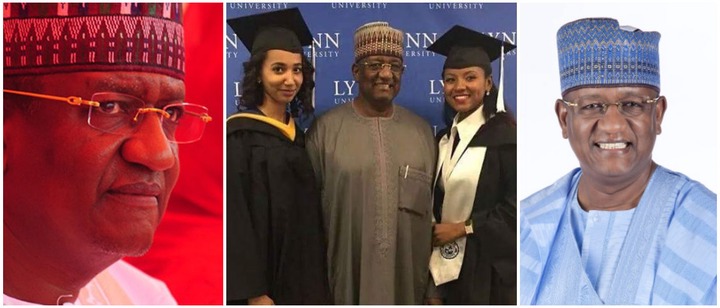 He is a former in-law of former Nigerian president and retired Nigerian Army general Ibrahim Babangida and a current inlaw to Nigerian president Muhammadu Buhari.
Meet his daughters:
ZARA & AMEENA INDIMI:
Zara and Ameena Indimi are the twin daughters of Maiduguri oil mogul, Alhaji Mohammed Indimi.
Ameena is the Senior Executive Vice President of Oriental Energy Resources Limited, a privately held Nigerian oil exploration and production company.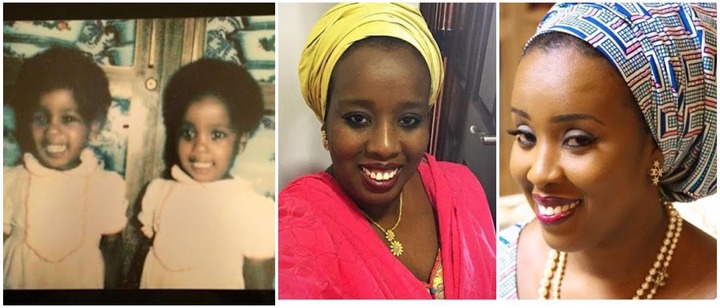 In a statement on Oriental's website, prior to becoming SEVP, Ameena acted in other capacities as Chief Operating Officer, Executive Director – Assets and as an Assistant Manager. She is also a member of the Board of Directors.
ADAMA INDIMI:
Adama, daughter of Maiduguri born billionaire, Alhaji Indimi, runs a health and beauty shop Amariam in Abuja.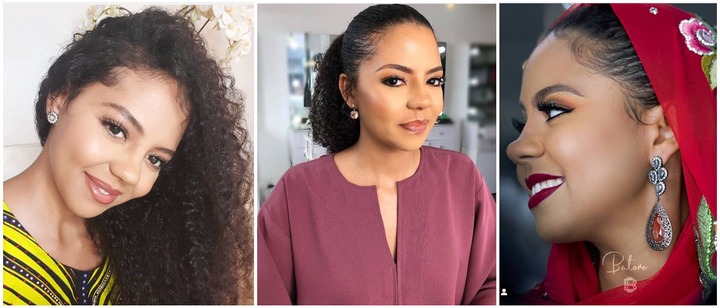 V.
She was the Chief Executive Officer (CEO) of the defunct Kauna Solutions Limited, a private limited company in the United Kingdom. The company served as a solution provider for organizations from all sectors wanting to partner with Niger entities both private and governmental.
ALIKO DANGOTE'S DAUGHTERS:
Billionaire Aliko Dangote GCON (born 10 April 1957) is a Nigerian businessman, investor, and owner of the Dangote Group.
As of November 2019, Dangote had an estimated net worth of US$8.9 billion.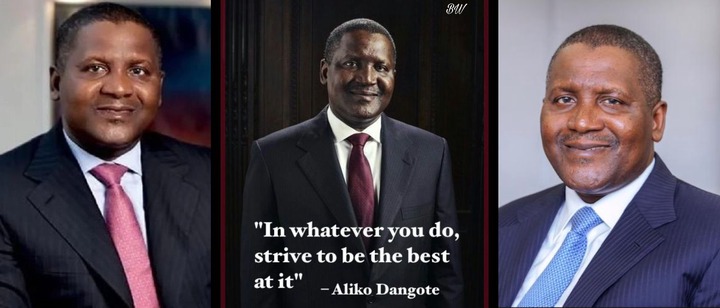 He is ranked by Forbes magazine as the 136th-richest person in the world and the richest man in Africa and peaked on the list as the 23rd-richest person in the world in 2014.
Reports say Dangote was married twice as well twice divorced.
The first time he was married was in his twenties. His parents had reportedly chosen the wife Zainab for him. Some time later, he fell in love with a friend of his daughters Nafisat Yar'auda (daughter of Umaru Musa Yar'auda) but the girl said "no" to the marriage proposal.
Later, he was married Maria AD Muhammad Rufai. This marriage was not a long lasting and also ended by divorce in 2017. Maria Muhammad Rufai is a daughter of former Commissioner for Woman Affairs and Human Services in Bauchi state.
Meet his daughters: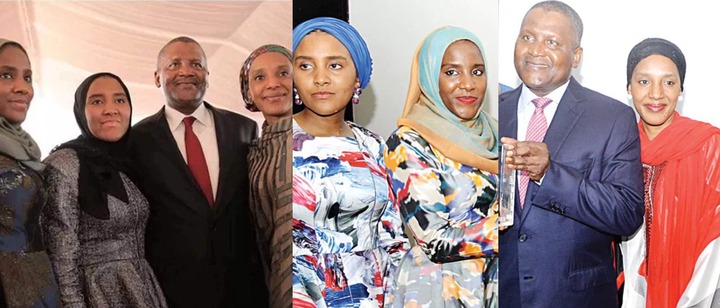 HALIMA ALIKO DANGOTE:
Halima is the Dangote's first daughter and in command of her father's conglomerate as its Group Executive Director, Commercial Operations.
The daughter of Africa's richest man and undoubtedly a pride to the Dangote family, Halima Aliko Dangote has served as the Executive Director of Dangote Flour Mills where she remarkably led the turnaround of the business from loss in turnover to a profitable status.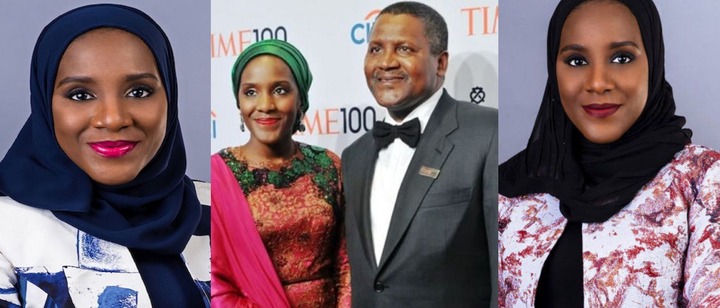 Previously, she served as Executive Director of NASCON, a manufacturer of salt, seasonings and related consumer products. She continues to serve as a Non-Executive Director of NASCON.
Halima is the president of the Board of The Africa Centre in New York. She is a Board member of Endeavour Nigeria, and is also a member of the Women Corporate Directors (WCD).
Halima, who has a strong passion for women empowerment, holds a Bachelors' Degree in Marketing from the American Intercontinental University, London, United Kingdom and a Master's Degree in Business Administration from Webster Business School, United Kingdom.
Halima studied marketing in London. She is a married woman now. Together with husband Sulaiman Sani Bello, they gave birth to two beautiful daughters, Aliko Dangote granddaughters.
FATIMA DANGOTE:
Fatima Dangote is a lawyer by profession and holds the position of Director & Executive Director-Commercial at NASCON Allied Industries Plc.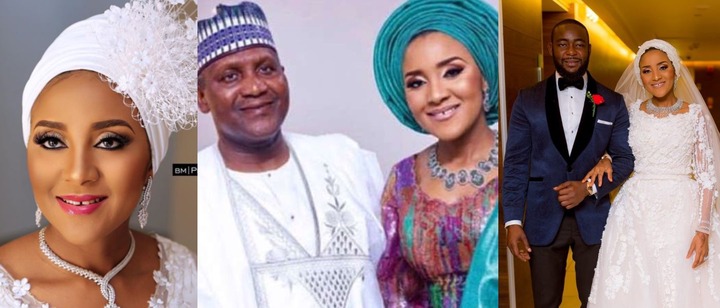 She is also on the board of Savannah Sugar Co. Ltd. and Member of Nigerian Bar Association.In her past career she was Associate at Banwo & Ighodalo. She received an undergraduate degree from the University of Surrey.
Fatima Dangote welcomed a bouncing baby girl with Jamil Abubakar, her husband in August 2019.
The good news comes more than a year after Nigeria stood still for the lovebirds massively lavish and star studded wedding ceremony.
In March 2018, Fatima got married to Abubakar, a pilot and the first son of Mohammed Abubakar, former Inspector General of police (IGP).
The spectacular wedding was attended by the second richest man in the world Bill Gates; Akufo Addo, Ghanaian president; and Mo Ibrahim, Sudanese-British billionaire businessman.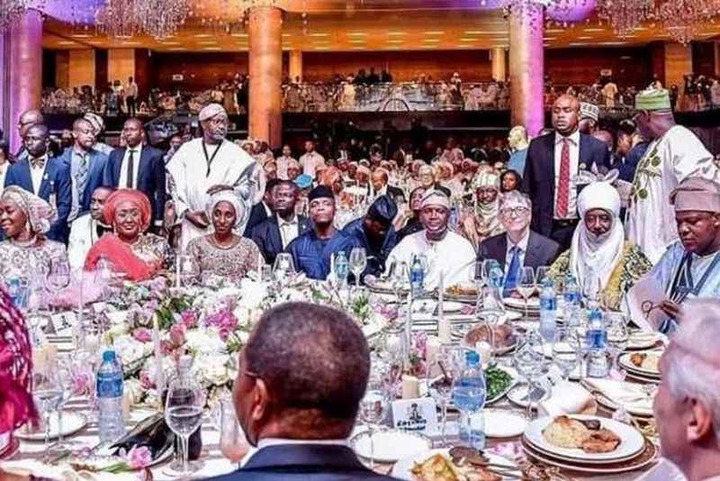 President Muhammadu Buhari; Bukola Saraki, former senate president; Yakubu Dogara, former speaker of the house of representatives, led top politicians to the wedding event.
Rilwan Akiolu, oba of Lagos; Adeyeye Ogunwunsi, ooni of Ife, were among the prominent traditional rulers at the occasion.
MARIYA DANGOTE:
Mariya Dangote is best described as the secretive daughter of Dangote. She hardly puts up stunt on social media or put her status in public space. Reports say she is one of the top managers in Dangote Group.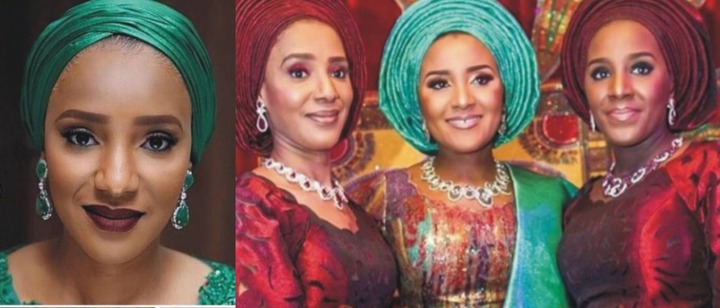 View pictures in App save up to 80% data.
She graduated from Coventry University in the United Kingdom, received a Master's Degree from the university.
MIKE ADENUGA'S DAUGHTERS:
Michael Adeniyi Agbolade Ishola Adenuga Jr, GCON (born 29 April 1953) is a Nigerian billionaire businessman, and the second-richest person in Africa.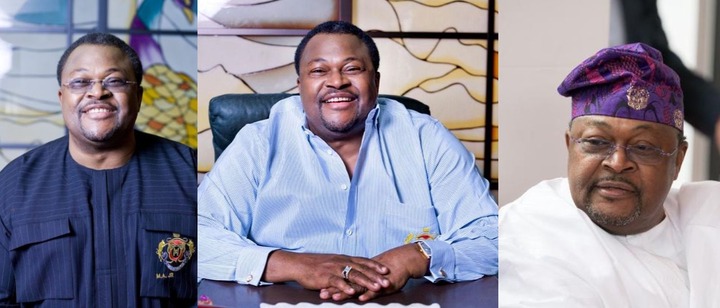 His company Globacom is Nigeria's second-largest telecom operator, which has a presence in Ghana and Benin. He owns stakes in the Equitorial Trust Bank and the oil exploration firm Conoil (formerly Consolidated Oil Company).
Forbes has estimated Mike Adenuga's net worth at $8.9 billion as of November 2019.
Meet his daughters:
BELINDA ADENUGA-DISU
Belinda "Bella" Ajoke Olubunmi Disu, nee Adenuga and better known as Bella Disu, was born 29 May 1986.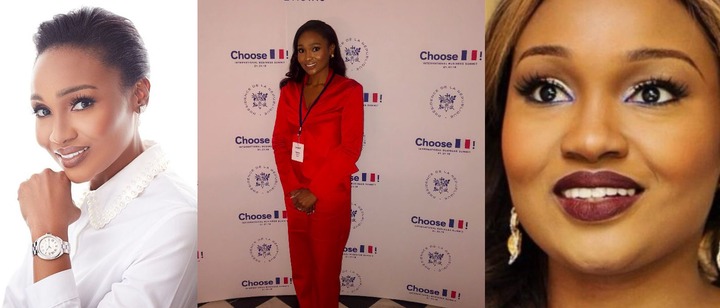 She is a Nigerian businesswoman, the executive vice chairman of Globacom, and a non-executive director of Julius Berger Nigeria Plc.
In April 2010, she married Jameel Disu, a venture capitalist, and they have two children.
OYIN ADEOLU ABAYOMI OLUFEKO:
Oyin Adeolu Abayomi Olufeko is the eldest daughter of billionaire businessman, Dr Mike Adenuga, Oyin Adenuga, now Mrs Oyin Adeolu Abayomi Olufeko.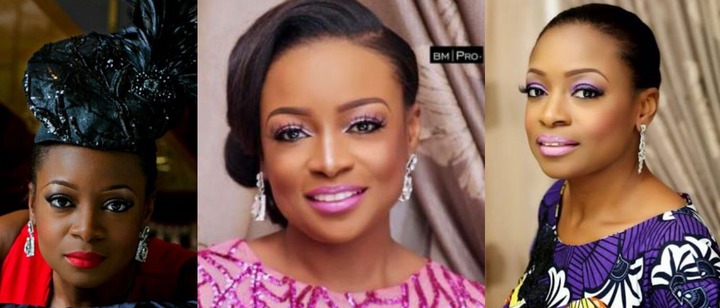 She worked with Equatorial Trust Bank as a Senior Manager and later worked with Consolidated Oil as an Executive Director.
Presently, Oyin runs Imaginative Buying Services, a company that gives Nigerians the opportunity to acquire products from the United States of America.
Oyindamola Emelia Adenuga, now Olufeko 39, was swept off her feet, by her beau a Nigerian-American award winning digital strategist by name Adeolu Abayomi Olufeko.
FEMI OTEDOLA'S DAUGHTERS:
Femi Otedola (born 4 November 1962) is a Nigerian businessman, philanthropist, and former chairman of Forte Oil PLC, an importer of fuel products.
Otedola is the founder of Zenon Petroleum and Gas Ltd, and the owner of a number of other businesses across shipping, real estate and finance.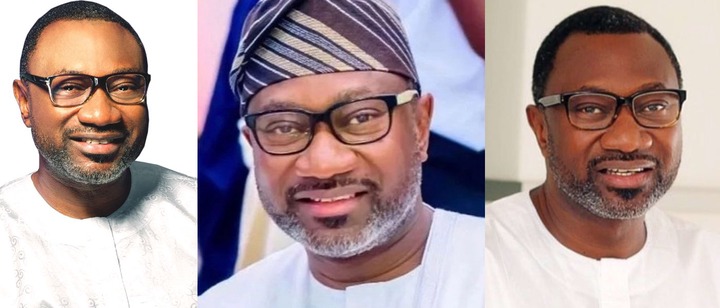 Billionaire CEO of Forte Oil, Femi Otedola, is blessed with three daughters. It is notable to know that his three daughters possess interests in entertainment. Florence is DJ Cuppy, Temi is a fashion entrepreneur and Tolani is a singer.
Meet his daughters:
TOLANI OTEDOLA:
Tolani Otedola is the first daughter of billionaire Femi Otedola, who learnt the rudiments of music in England.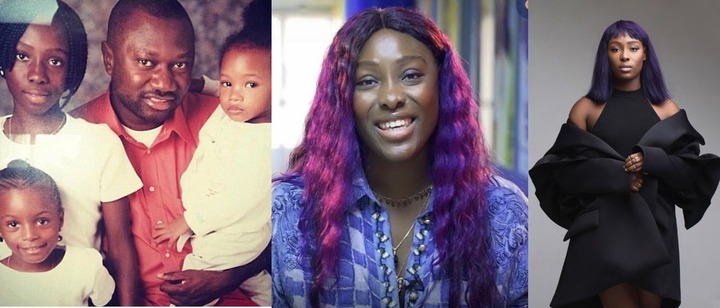 FLORENCE OTEDOLA:
Florence Ifeoluwa Otedola is professionally known as DJ Cuppy, a Nigerian disc jockey, music producer and songwriter.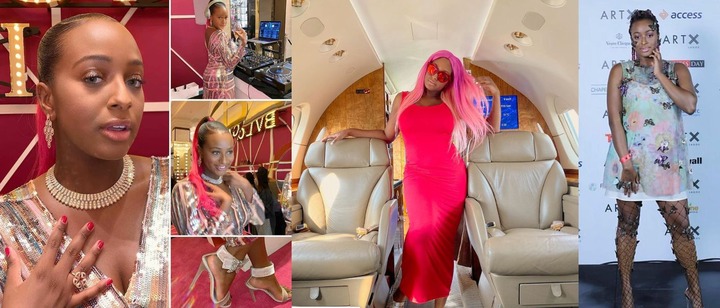 To this date, Cuppy's DJ skills have taken her to over 25 countries and she continues to fill dance floors across the globe.
TEMI OTEDOLA:
Temi Otedola is the youngest daughter of the Nigerian billionaire. She is 23 years old, the owner of a fashion, travel and photography blog, jtofashion.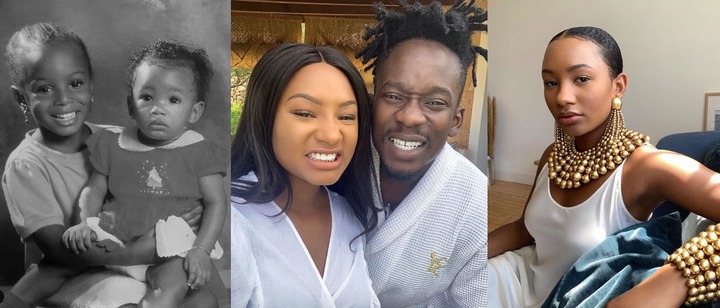 Temi Otedola is singer Mr Eazi's girlfriend.
TONY ELUMELU'S DAUGHTERS:
Tony Onyemaechi Elumelu (born 22 March 1963) is a Nigerian economist, entrepreneur, and philanthropist. He is the chairman of Heirs Holdings, the United Bank for Africa, Transcorp and founder of The Tony Elumelu Foundation.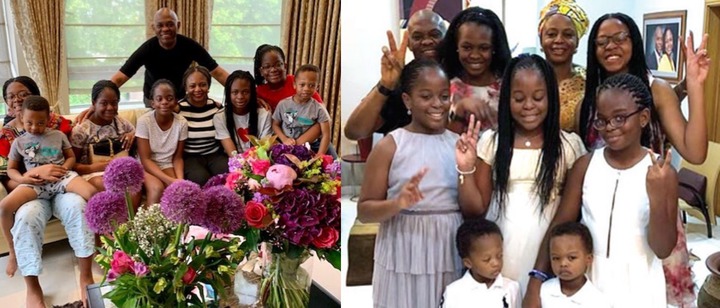 The Nigerian billionaire banker is the father of seven children – five girls, three of them triplets and two boys.
Princess Oge and Nneka Elumelu interned at their father's business, Heirs Holdings in 2017.
The triplets are still young.
MICHEAL ADE-OJO'S DAUGHTER:
Michael Ade-Ojo, OON (born June 14, 1938) is a Nigerian business magnate.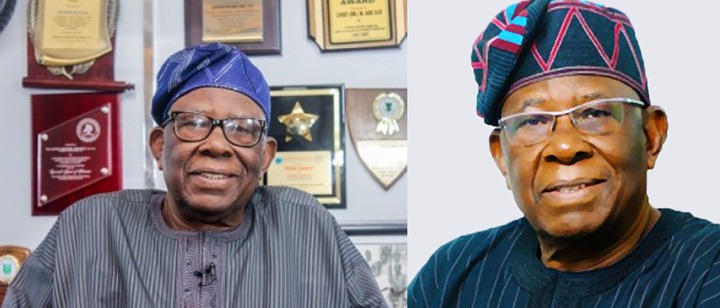 Chief Michael Ade-Ojo is the founder of Elizade University, Ilara Mokin, Ondo State and Elizade Motors.
Today, the company which Ade Ojo started with just one support staff in 1971 has become a conglomerate with several subsidiaries including Toyota Nigeria Limited, Mikeade Investment Co. Ltd, Mikeade Property Dev. Co. Ltd, Classic Motors Ltd, Elizade Autoland Nigeria, Okin Travels Ltd, Oodua Creations Ltd, among others.
He began to sell various auto brands like Peugeot, Volkswagen, etc, before finally settling for Toyota, a product he turned to a household name in the country.
Meet his daughter:
DEOLA SAGOE
Deola Ade-Ojo formerly known as Deola Sagoe is a Nigerian entrepreneur and fashion designer.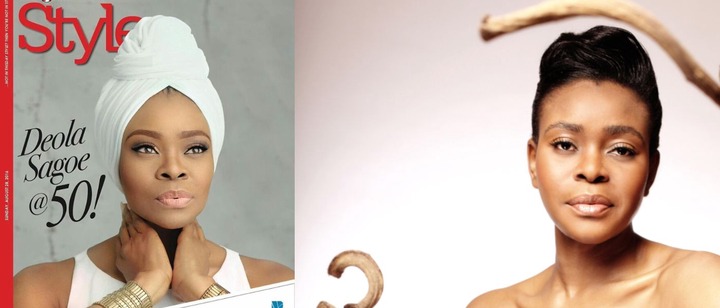 She is the founder and CEO of House of Deola, one of Africa's most sought after fashion brand.
Deola's unique approach to her craft has continued to put Nigerian on the global fashion map.
She has a few 1st's, the first black woman to present a collection at AltaRoma, Rome's celebrated Fashion week back in 2014 and the first Nigerian to have her own stand-alone show at the New York fashion week in September 2014.
Deola Ade-Ojo has a Bachelor's degree in Business Administration from University of Miami, Florida and a Master's degree in Finance & Management from University of Lagos State.
Deola was married to Koffi Sagoe though the couple separated due to irreconcilable differences. They are blessed with three beautiful daughters; Teni, Tiwa and Aba Sagoe.