Nano SIM vs Macro SIM : Uses, Differences and Compatibility
Nano SIM vs Macro SIM – You just bought a  new phone, you want to put your old SIM card in and you've realised it doesn't fit…. Don't worry, you're not alone.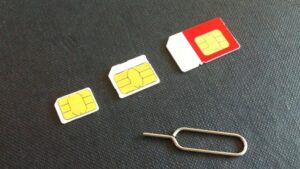 In this post, naijmobile.com will be showing you the differences, Compatibility, and uses between Nano Sim and Macro sim. There is no need to worry, we will make it SIM-ple to understand.
Are you ready? Let's get into it.
What does SIM mean?
SIM stands for Subscriber Identity Module. SIM cards are effectively mini circuit boards that identify your service provider and your mobile phone number.
What's A Standard Sim card
Standard SIM card is the first SIM card to be produced. A Standard measures 15 x 25mm. That was the general size of a Sim card before the evolution of the micro and nano SIM cards.
Since the birth of the micro and nano SIM cards, many smartphones have stopped using the Standard sim. However it is still being used in other areas like Mi-Fi, Wi-Fi, Router, tablets, feature phones e.t.c.
Read also How to Schedule Tweets on Twitter for Web Without an Ad Account
What's A  Micro SIM card
The Micro SIM card is a standard SIM card with the extra plastic around the circuit board trimmed off. This SIM measures 12 x 15mm and is  likely to be used for smartphones launched in 2010 till today.
What's A Nano SIM card
The Nano SIM card is the latest type of SIM card which only measures 12.3×8.8mm. It's used for newer smartphones, such as the TECNO Camon 12, Camon 15, Infinix Hot 9 etc.
What's The Difference Between A Micro SIM card and A Nano SIM card.
The size is the only difference between the nano-SIM and micro SIM cards. Both SIM cards have similar chips.
Nano SIM vs Micro SIM – Uses
The nano SIM card was introduced in 2012 while the micro SIM card came in far back 2003. Most phones produced in 2012 till today uses the nano SIM card option. You can visit a phone operator to help you trim your Standard Sim to a Nano SIM or Micro SIM with a SIM trimmer.
Nano SIM vs Micro SIM – Compatibility
Every network provider package it's sim in a Combi SIM fashion i.e. it comes in the standard SIM size, which can easily pull of to a micro SIM and even down to nano SIM card.
The SIM card option you choose solely depends on the Smartphone you're inserting it into.
Tags :
Macro Sim
Nano Sim