Checkout all the adorable Nigerian celebrity babies born in 2019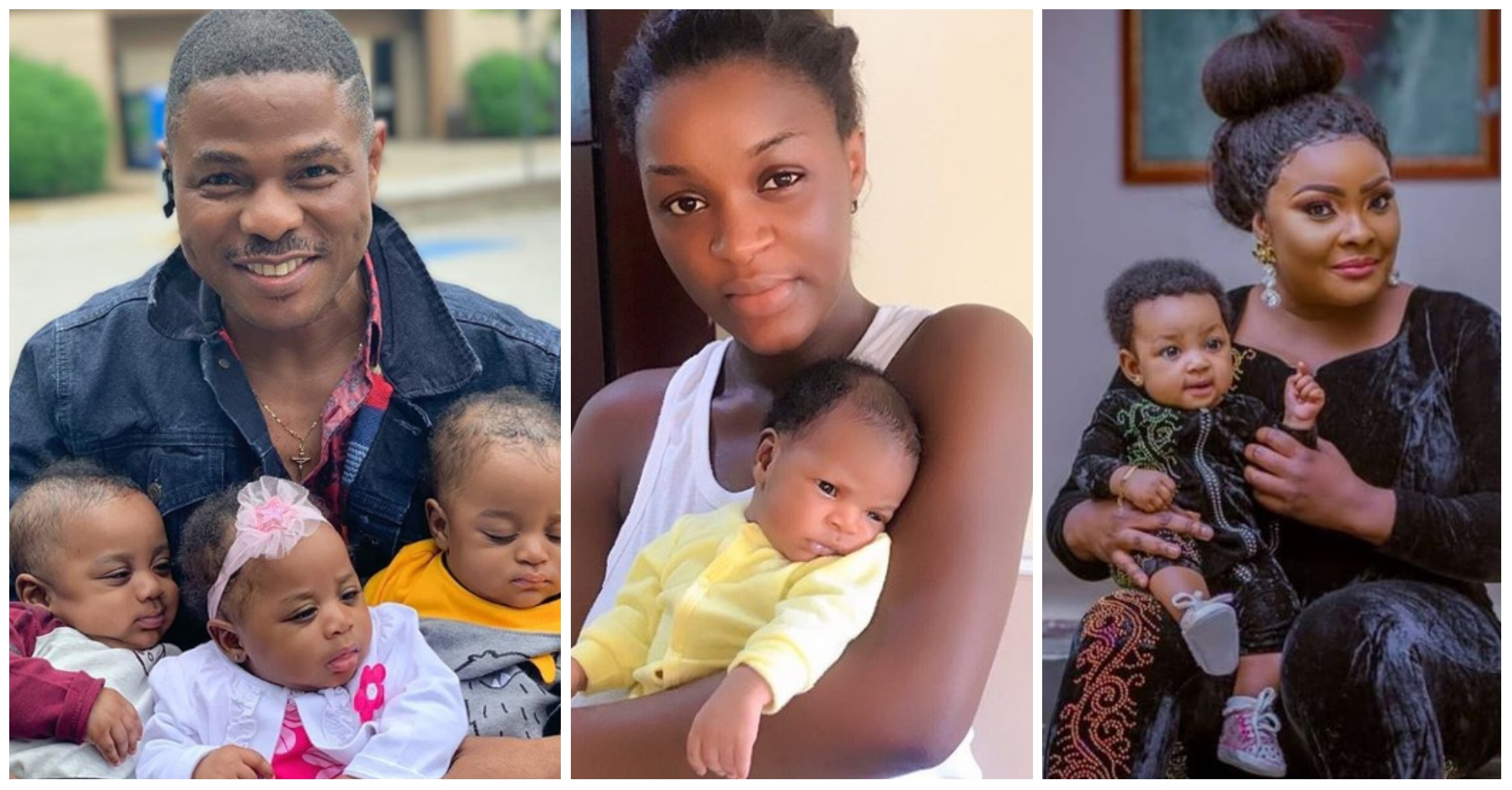 This year 2019, got off to very adorable start and seems to be ending in the same fashion with stars like Cha  cha Ike and Davido welcoming tiny addition to their families. It is always exciting  to see some new celebrity babies enter the world and we certainly have typed a lot of "Awwwn" when celebrities posted the pictures of their little ones on social media.
Naij Mobile have rounded up some of the Nigerian celebrities who welcomed babies in 2019. Scroll down for a whole lot of A-list-worthy cuteness.
Cha-Cha Ike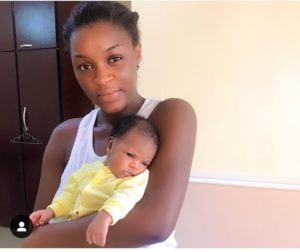 Nollywood actress Chacha Eke Faani  welcomed her third child ( boy)  with husband, Austin Faani on the 10th of 2019.
Faani shared the good news alongside a beautiful picture of the baby boy. He also revealed the baby boy's name,
Awesome Chukwuemerie Faani.
Ronke Odusanya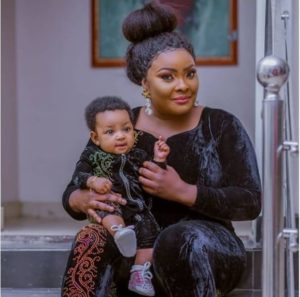 Popular Yoruba actress, Ronke Odusanya, became a new mother after she welcomed her child in August 2019. The excited film star shared the good news on her Instagram page as she said that giving birth is a whole new level of
experience
Ruth Kadiri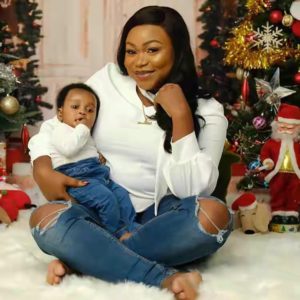 Ruth Kadiri welcomed her first child on August 26, to the delight of fans on social media. The actress gave birth to a
cute baby girl and later shared her photo online. After a successful  delivery,  the actress posted this on Instagram :
"Our sweet baby girl Reign Nwachinemelu Ezerika made her way
into this world on August 26, 2019. It still
feels like a dream. I'm not the perfect girl, but I'm blessed to have the perfect gift at this time of my life. With love from mommy. Erhmmm daddy loves you."
Gideon Okeke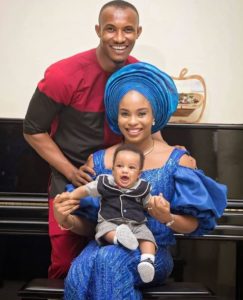 Nollywood Actor and model, Gideon Okeke  joined the rundown of Nigerian celebrities who had babies in 2019, as he welcomed his first child with spouse,
Chidera.
The Tinsel entertainer announced the
uplifting news on his Instagram page on
Tuesday, July 16, 2019, with a charming
photograph of his wife before the arrival of the baby.
As indicated by him, a star has been born into his household.
"My Shakara just start. EZRA is Here. Ekun l'ekun bi meeeehn…Now may the "Wise Men" proceed. A STAR IS BORN!"
Davido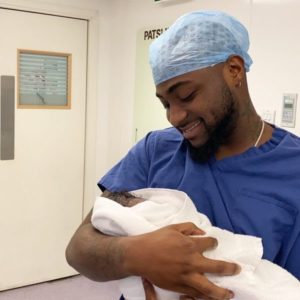 Davido became a father for the third time after his wife-to-be, Chioma, gave birth to his first baby boy David Ifeanyi
Adeleke. OBO already has two daughters from different mothers. The news of Davido's son's arrival was met with
joy on social media and the baby boy was named Ifeanyi Adeleke. Davido also immortalized the face of his baby on
an expensive piece of jewelry.
TBoss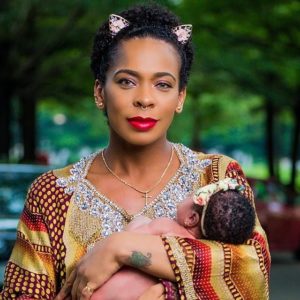 Reality TV star, Tokunbo Idowu, popularly.known as Tboss joined the exciting list of new mothers in the entertainment industry after she
welcomed her first child in September 2019. The Tattoo maestro also lost her estranged dad a few weeks after announcing the birth of her daughter. Tboss won't seem to stop teasing her curious fans over the identity of her baby daddy.
Nigerian celebrities that gave birth in 2019
Toyin  Abrham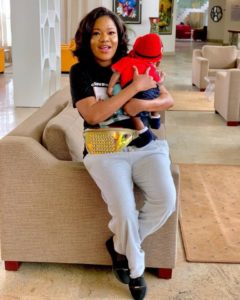 Popular actress Toyin Abraham, also welcomed her first child with husband this year. The news of the little one's arrival emerged on Wednesday, August 14, a month after traditional wedding photos of the actress and husband, Kolawole Ajeyemi.
Kenneth Okolie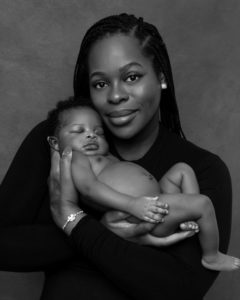 Handsome Nollywood actor, Kenneth Okoli, became a new daddy in 2019 after his wife Jessica delivered their first
child, a boy, on September 14, 2019.
Olamide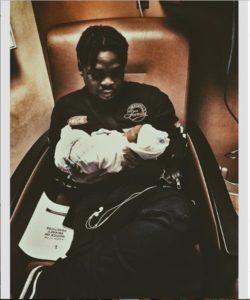 Talented Nigerian rapper, Olamide Baddo, welcomed a second child with his long-time lover, Bukunmi, in the USA. Recall that the rap act welcomed his first child, Batifeori Maximiliano
Adedeji, with the same lady, way back in 2015.
Tunde Owokoniran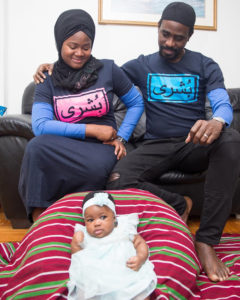 Nollywood actor, Tunde Owokoniran, and his wife, Tunmise, welcomed their second child, sometime in August 2019, in the United States of America.
D'banj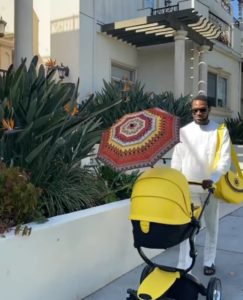 It was an uplifting news for superstar
artist, D'banj and his wife, Lineo Didi
Kilgrow as they take pleasure in the birth of their new child. The child will expectedly bring joy and satisfaction to the family and serve as succor for the son they lost tragically a year ago.
Esther Ene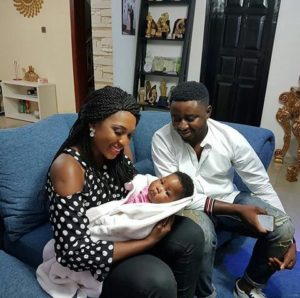 Esther Ene, a Nollywood actress, and her hubby, Philip Ojire, have welcomed their first child, a bouncing baby boy. Esther's hubby shared the uplifting news on his IG page. The couple got married in July 2016.
Omo Nnadi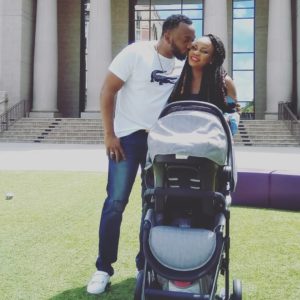 As the baby season keep on thriving in the celebrity world, 'Being Annabel' on-screen character, Oma Nnadi joins the list of Nigerian Celebrities that had babies in 2019  as she welcomes a second child with hubby, Noni.
The news of the birth of the couple's
second child was reported by Oma's
husband by means of Instagram on
the 3rd of October 2019. As indicated by him, they have welcomed a baby boy and mother and baby are doing well.
"And our son arrives. Maximum joy.
# happysoul Thank you, God, Thank you my wife @omannadi . Welcome to our world… Brian Buteaku Enem. (B.B ENEM)@omannadi," he wrote.
Yinka Ayefele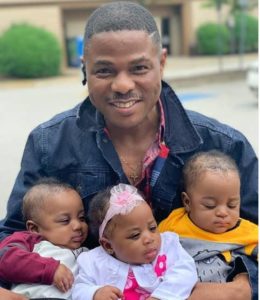 Gospel artist and producer, Yinka Ayefele and his wife, Tope welcomed a set of triplets into the family in 2019. Ayefele, owner of well known Ibadan radio station, Fresh 105.9 FM, affirmed that the set of triplets, two boys and a girl, were giving birth to in the United States.
B-Red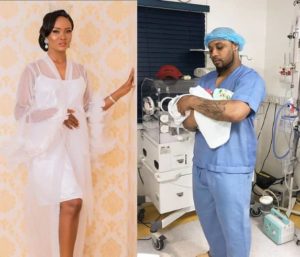 Davido 's cousin, B-Red announces birth of his son Jordan Adeleke today, Friday, November 29. He took to his Instagram page to make the announcement that he and his wife, Faith Johnson welcome a bouncing baby boy.
Nigerian celebrities that gave birth in 2019
Kalu Ikegwu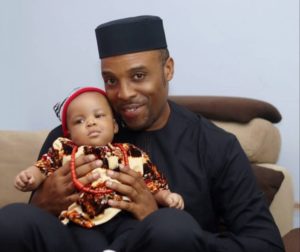 Tinsel actor Kalu Ikeagwu and his wife
Ijeoma Eze welcomed a baby boy on the 27th of January 2019.
"Love you Ijay, my lovely wife for giving me this wonderful gift,"  Kalu posted on Instagram.
Maureen Solomon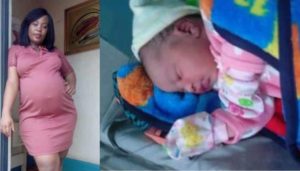 Nollyowood actress  Maureen Solomon became a mum again after waiting for 12 years to have a second child.
---
So,  there you have it, beautuful celebrity babies.  We hope for more celebrity babies in 2020.