How I got my Big Buttocks – Seyi Shay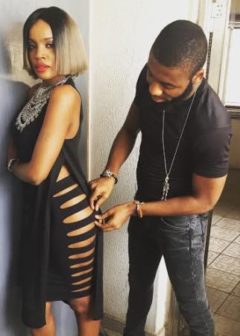 Nigerian musician, Seyi Shay has denied surgery or butt enlargement cream is responsible for the recent increase in the size of her backside.
In an interview with The Punch, Seyi Shay said: "I did not get this big bum through injections or surgery. If I did not do surgery on my boobs, is it my backside I would then operate on? Someone advised me to be doing squats. Till now , I spend most of my time in the gym. Having big buttocks was one of the good things that happened to me this year. I do 100 squats in the morning; in the afternoon I do 50 and then at night, I do another 100. It hurts a lot but it is worth it; I would not lie about that, the pain is worth it."
She told The Punch that her bum enlargement has been getting her compliments everywhere, including from designer, Sokayna, who designed the see-through outfit she wore in New York recently which went viral on the internet.
Read also; Prince Harry, Meghan Markle to Tie the Knot on May 19
"I have been getting a lot of compliments since my backside added. I wanted to do a boob job but I changed my mind and the reason is that I realised that I could fit into almost anything especially sample sizes from designers.
"One of the things that Sokayna complimented me for when I was in New York was my body . He said that his clothes were not specifically made for African bodies but I have an extraordinary body and I would be ' finished ' if I did a boob job . Everything fits, so I am happy with what God gave me."
Tags :
Seyi Shay