Glo Yakata Free Data – Check out everything you need to know about Glo Yakata, the ultra new plan available to all new and existing subscribers of Glo.
The Glo Yakata plan gives all of Glo's subscribers access to free data, free minutes to call other networks, unlimited Glo to Glo calls and many more. With the Glo Yakata plan, customers are awarded a lot of bonuses all at every time you recharge your Glo line.
Glo Yakata Free Data
Features of Glo Yakata plan
New customers who buy the Glo prepaid sim card are automatically activated into the Glo Yakata plan. Existing customers will have to subscribe by using the dial code *220#. 
As an Existing customer, you can confirm if you are on the Glo Yakata plan by dialing the code #100#
However, every Glo Yakata customer will have access to the following benefits:
Up to 6GB of data Every month for about 6 months
About 22 times the value (2,200%) on every N100 recharge to call all networks
Glo to Glo calls while using this plan are charged at 55k/sec for both main and bonus accounts
Calls to other networks are charged at 70k/sec for both main and bonus accounts
SMS charges are at N4/ SMS and N14 /SMS from the bonus account.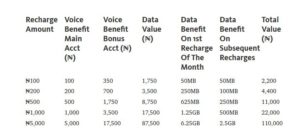 if you are on an existing data plan, Glo Yakata will simply add to your existing data plan and expire at the original date of the other plan. For example, N1000 gives N2GB for 30 days. and then you go about N200 for 250 MB on the Glo Yakata Network. all your data will now expire in 30 days!
In addition, the value in your main account and value in your bonus works for all networks. To check your bonus account, all you need to do is simply dial *220*1#.
Read also Airtel 2018 Cheapest Data Plans for Android and PC
Validity and conditions of using the Glo Yakata Free Data
The Glo Yakata plan is a simple and unique tariff plan that would give you an enormous supply of data. However, it comes at a price. All bonuses expire within 7 days of receipt and the Yakata bonus is not transferable to another. You can not buy a new data plan with your bonus. it cannot also be used to purchase any other value-added service.
Tags :
Glo Yakata