Mercy Lambo Moët deal: Cubana Chief Priest unfollowed Mercy on Instagram [Here is what allegedly happened]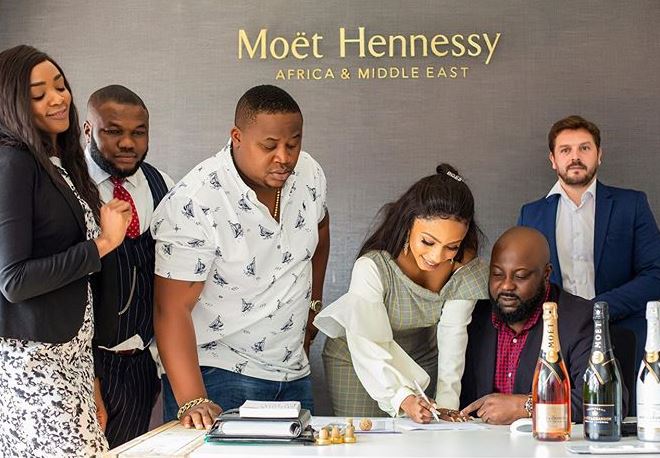 Mercy Lambo Moët deal – A few days ago, exciting news made its way online with reports of Big Brother Naija season 4 winner, Mercy Eke, signing an endorsement deal with champagne brand Moët & Chandon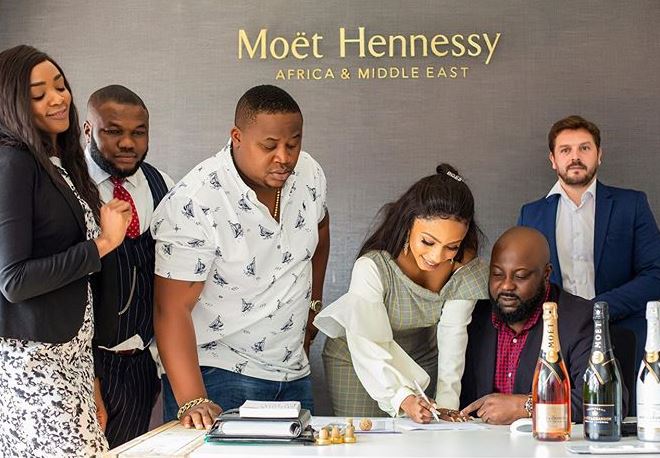 The news was immediately met with so much excitement from her fans as photos and videos of her at the Lagos Moët & Chandon office were posted on her Instagram page.
In one post, Mercy wrote:
https://www.instagram.com/p/B37EFldlQkV/
In another, she wrote:
https://www.instagram.com/p/B381HU6logU/
According to an unidentified lady on Instagram, Mercy was never signed to Moet. The lady shared screenshots of her chat with the representatives of the company who claimed the company does not have any ambassador programs open at the moment. According to the lady, Cubana Chief Priest is a distributor of Moet Hennessy, and Mercy is hiding under the guise of Cubana's relationship with the company, to pose as a brand ambassador.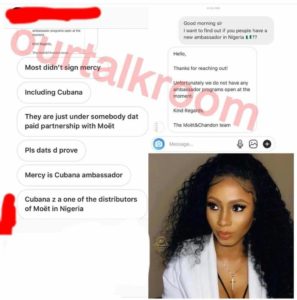 Cubana Chief Priest and Mercy are allegedly not in good terms due to this and this was confirmed after he unfollowed her on Instagram.
Here is what allegedly happened between Mercy and Cubana Chief Priest according to Instagram blogger, Cutie Juls;
Please be informed that it was Mercy's legal team who actually advised her to get proper management team immediately they started seeing through #cubannachiefpriest. :

Please also be informed that at the time of signing the fiasco Moët deal, Chief priest, I was told stylishly got Mercy to do most of what he wanted.

Yes there was the mention of N30m+. But that was supposedly going to go into Mercy's t&t, hotels, clothing etc anytime she supposedly attended "Moët&Chandon event" ?… all happening on the ticket of cubanna and not Moët.

So now as per new terms and conditions, any appearance Mercy makes will attracts a fee be it Cubana, Moet event, etc . No pay, No show

Too messy ?‍♀️. Thank God for the advice of the legal team which eventually saw the priest off. ✌️

https://www.instagram.com/p/B4YUT3cpDpx/