Check out all the major places CEO of twitter, Jack Dorsey visited during his tour in Nigeria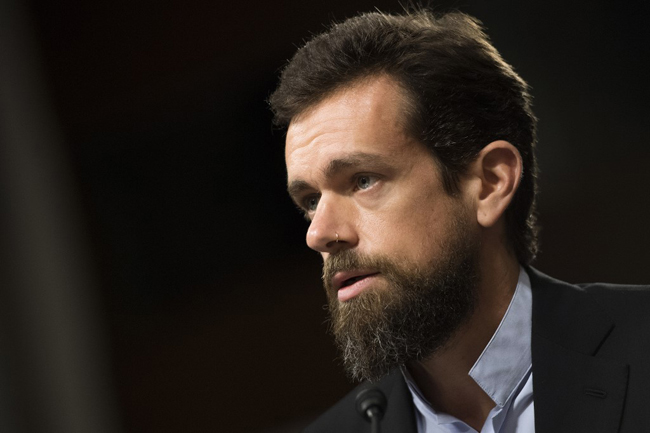 On Thursday, 7th of November 2019, co-founder and CEO of social media service, Twitter, and mobile payments company, Square, Jack Dorsey, came to Lagos, Nigeria on the first leg of an African tour that will span Ethiopia, Ghana, Nigeria, and South Africa. This is Jack's first visit to Africa, and his arrival was met with genuine excitement across Nigeria's social sphere.
The tour which lasted for five days saw Jack and 4 members of the Twitter executives making important stops so here is a list of all the major places he visited throughout the tour.
Co-Creation Hub
Talking with the entrepreneurs of @Cc_HUB! pic.twitter.com/F1isQmB8TQ

— jack (@jack) November 8, 2019
It's another August visit from a big Tech CEO from Silicon Valley! @jack CEO of @Twitter visited the Hub today to meet with founders and developers in the #technology ecosystem in #Lagos. pic.twitter.com/68Ok7EtODf

— Co-Creation Hub (@Cc_HUB) November 8, 2019
As part of his visit, @jack had a Q&A session with startups from our portfolio where he learnt about their work and shared his experience on building @twitter and @square. #CcHUB pic.twitter.com/RG2KP73URd

— Co-Creation Hub (@Cc_HUB) November 8, 2019
The University of Lagos
Visiting @UnilagNigeria! Great questions with students and staff. I'll be back pic.twitter.com/1lCQxrkxPx

— jack (@jack) November 8, 2019
Earlier today the University of Lagos Vice Chancellor, Prof. Ogundipe, received @Jack Dorsey, the co-founder and CEO of Twitter, and the founder and CEO of Square.@Jack is visiting Africa and Nigeria for the first time. He and his team are visiting #UnilagNigeria to learn… pic.twitter.com/PiKIfnKpgf

— University of Lagos (@UnilagNigeria) November 8, 2019
Thereafter, @Jack, @kayvz, @paraga, @michaelmontano, @TJay, @heySierra & @ANNFLAVOR joined the team @UnilagNigeria's Vice Chancellor's Office, where they were warmly welcomed by Management Team.

The Vice Chancellor, Prof. Toyin Ogundipe, informed the guests of our many feats… pic.twitter.com/1Tw08mM1gY

— University of Lagos (@UnilagNigeria) November 8, 2019
Andela Nigeria
Thank you for the tour and chat today ⁦@Andela_Nigeria⁩! pic.twitter.com/uROVPeBVmF

— jack (@jack) November 8, 2019
We started with a tour of the office, this was led by @senisulyman, our VP of Global Ops & @remidada, CEO of Spacefinish, the company that designed our beautiful space. #ThisIsAndela #TwitterVisitsAndela pic.twitter.com/qTm3mGJsid

— Andela Nigeria (@Andela_Nigeria) November 8, 2019
TechPoint Africa
Thank you @Techpointdotng! Great talking with you all. pic.twitter.com/hPUc7cXiLW

— jack (@jack) November 8, 2019
Highlights from the #TechpointMeetsJack with @Jack @kayvz @paraga @michaelmontano @QuotedReplies #JackInNigeria pic.twitter.com/XQgpohvWwn

— Techpoint Africa (@Techpointdotng) November 8, 2019
When @kayvz asked @QuotedReplies to come work at Twitter. #TechpointMeetsJack #JackInNigeria pic.twitter.com/8nhCAly4r6

— Techpoint Africa (@Techpointdotng) November 8, 2019
"Things went way better than I expected". @dara_tobi, creator of @QuotedReplies, reacts to getting a job offer from Twitter. He also discusses the fate of his viral Twitter bot in this interview https://t.co/ZVQKwH6mc3 pic.twitter.com/1wgYOxjHv5

— Techpoint Africa (@Techpointdotng) November 9, 2019
Art Cafe
A morning of conversations with incredible Nigerian builders at Art Cafe. Thank you all! Tag yourself in so I can follow you please. pic.twitter.com/74wszQK93v

— jack (@jack) November 9, 2019
Dinner with #womenintech
Thank you @jack @kayvz @paraga @michaelmontano for spending time with some amazing Nigerian #womenintech! pic.twitter.com/q9L60d1ohO

— Joke Adekunle (@JokeAdekunle) November 9, 2019
Ngozi Oknojo Iweala's house for young artists
At @NOIweala's house for young artists pic.twitter.com/dggVJgal5i

— jack (@jack) November 10, 2019
Thank you @NOIweala! ❤️,Twitter pic.twitter.com/jnNNasx2zh

— jack (@jack) November 10, 2019
Ventures Park
Spent the morning @theventurespark. Thank you! @vplatformhub pic.twitter.com/DFZZiKxRx7

— jack (@jack) November 11, 2019
AUST and the #AbujaTwitterCommunity
Thank you @AUSTNigeria and @NOIweala! We'll be back soon… #AbujaTwitterCommunity pic.twitter.com/bKhIANbA0E

— jack (@jack) November 11, 2019
It was a pleasure having you and your team on our campus today @jack.

Looking forward to welcoming you back on our campus and future collaborations with @twitter and @Square. https://t.co/yf4EOENwLS

— AUST (@AUSTNigeria) November 11, 2019
Tags :
Jack Dorsey
Nigeria
Twitter